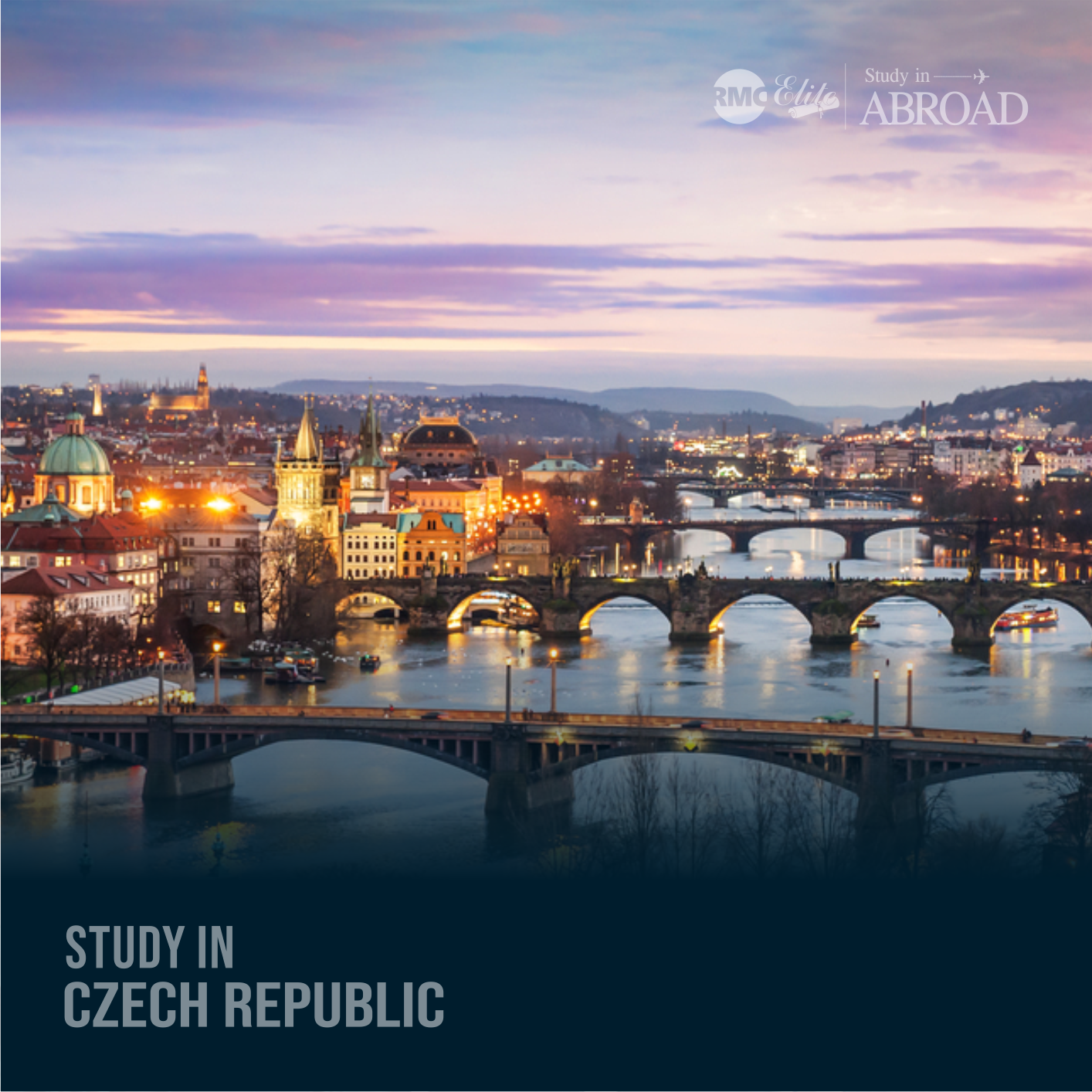 About Czech Republic
Study In Czech Republic: If you're looking for a unique European study abroad experience, look no further than to study in Czech Republic. Known for its impressive castles, vast selection of native beers, medieval old towns, and beautiful landscapes, the Czech Republic combines the best of East and West Europe to create its own hybrid flair. Czech Republic, also known as Czechia, a landlocked country in Central Europe, it is bordered by Austria, Germany, Poland, and Slovakia. The Czech Republic covers an area of 78,867 km², making it somewhat smaller than neighboring Austria, and also slightly smaller than the US state of South Carolina. The country has a population of 10.56 million people (in 2016), capital and largest city is Prague, spoken language is Czech, a West Slavic language.
The Czech Republic is famous for Prague, the historic center of Prague is a UNESCO World Heritage Site. Castles, there are several hundreds of castles, chateaus, and mansions in Czechia. Popular study abroad cities in the Czech Republic include the capital Prague, Liberec, Brno, and Olomouc. However, with 61 higher education institutions located in more than 20 towns across the country, there are many other fascinating locations to choose from.
Although many programs are offered in the Czech language, there are over 1,000 programs offered in English, as well as in other languages including French and German. Compared to many other European countries, the Czech Republic is also one of the most affordable – it is ranked as the 5th most affordable place to live in Europe. Higher education at public institutions remains free for all nationalities, although there may be certain fees incurred for administration and studying in a language other than Czech.
Why Czech Republic
Courses
Cost
Universities
Scholorship
Jobs
How to Apply
FAQs
Why Czech Republic
If you're looking for a truly unique experience as an international student, here are seven smart reasons why the Czech Republic should be at the top of your study abroad list.
Quality of higher education and research
Czech universities rank among the best in Central Europe and offer a wide range of options, whatever you want to study. Whether you choose to come for a summer school, an exchange program or to pursue a full degree program, you will always find something that suits your study needs best. International student Ahmed Salem from Yemen, who is studying at the Faculty of Chemical Technology at the University of Pardubice, shares his experience: "Education always plays a big role in every student's life, vision, ambitions and long-term goals.  One of the main reasons why I'm here almost graduating with a degree in medical laboratory is the quality of education. Universities provide a great methodology of teaching and involve technology to a greater level of understanding."
For courses taught in the Czech language at public universities, you don't pay tuition fees. But you don't have to be fluent in Czech to study in the Czech Republic. There are over 1000 degree programs available in English, and the fees are very reasonable.
The Czech Republic is a budget friendly place for international students. Depending on your location, lifestyle and spending habits, your monthly living expenses will range from €300 to €600 per month, including meals, accommodation, public transport and some leisure activities. "All universities are directly accessible by the most reliable transportation system in the world. It seems unbelievable that students get such a big discount (under 5 euros a month) for their transportation pass.
Top student cities in the world
In 2019, Prague and Brno repeatedly made it into the ranks of the Top 10 Best Student Cities. The capital of the Czech Republic was praised for the "affordability of everything and the fantastic sights", meaning that international students can enjoy this incredible city without breaking the bank. Brno, the second-largest city, had the highest student population, indicating that it is a city with a large student community, which is great for meeting new people!
One of the safest countries
Besides the affordability of Czech higher education, there is one more thing that you might want to share with your parents: the Czech Republic ranks as one of the top 10 safest countries in the world
Student life should include lots of adventures and joyful moments. Studying in the Czech Republic will allow you to live your life to the fullest! There's always so much to do in the historic but lively cities or in the amazing countryside. Additionally, studying in the Czech Republic places you in the middle of Europe and gives you a great chance to travel around. It only takes about 2.5 hours to go to Munich, Krakow or Vienna.
Student jobs and career opportunities
International students can work while studying, and having a part-time or summer job is quite common
Courses
Cost
Universities
Scholorship
Jobs
How to Apply
FAQs