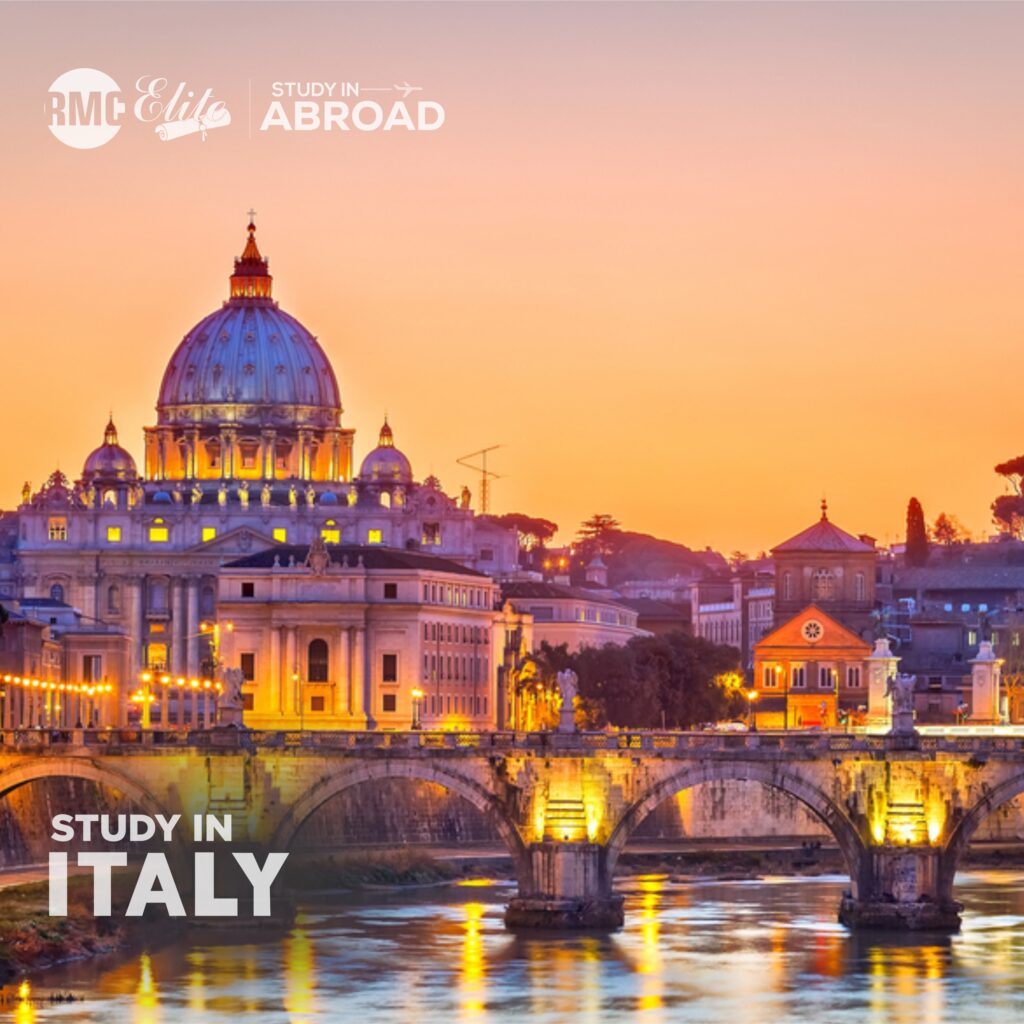 About Italy
Study In Italy : Italy's historic treasures and fine cuisine have captivated visitors for centuries. From the snow-capped Dolomites in the north to the warm Mediterranean culture by the sea in the south, the Italian region is diverse and exciting. Few countries are as exciting as studying in Italy for international students seeking affordable, quality education and a wide range of social and leisure activities.
The cultural importance of this country dates back to ancient times, with students studying history and archaeology everywhere. For many, Rome is an eternal city, the centre of an empire that stretched from the rainy England to the Syrian desert about 2,000 years ago. At its peak, it covered almost everything in Egypt, North Africa, and mainland Europe.
The ancient Roman ruins of Italy are as huge as they are today and tell only part of the story. The 14th and 17th-century renaissance began in Italy (Rinascimento) and brought innovation and revolution throughout Europe in the fields of art, architecture, philosophy, religion and scientific culture. To learn. Intellectual activity and creativity flourished, bringing the pearls of ancient and medieval thought to the modern world.
Why Study in Italy?
Here are some of the benefits of studying in Italy:
High-Quality Education: Italy has a long history of intellectual brilliance, with its universities ranking among the world's oldest and most prominent. Students can benefit from the knowledge of world-renowned professors and researchers at Italian institutions, which offer a diverse selection of courses and programs.
Language Learning: Italian is a widely spoken language, and studying in Italy allows students to learn or enhance their Italian. Because Italian is the language of culture, art, and design, and is spoken in areas such as fashion, food, and tourism, this can be good for both personal and professional development.
Employment opportunities: Italy is home to some of the world's most successful enterprises in fields such as fashion, design, engineering, and automotive. Students who study in Italy can gain significant skills and knowledge that will help them stand out in the job market, both in Italy and abroad.
International exposure: Italy is a popular destination for foreign students, and studying in Italy allows you to meet individuals from all over the world and create an international network.
Personal development: Studying in Italy may be a rewarding and challenging experience that allows students to acquire independence, adaptability, and resilience. It can also be an opportunity for personal development, self-discovery, and viewpoint expansion.
Overall, studying in Italy as an Indian student can be a good experience, but you must be prepared and conduct preliminary research.
Benefits of Studying in Italy
Italy Education System
Italy's educational system is divided into four levels
Primary education is compulsory and free in Italy for all children aged 6 to 11 years. It normally takes five years of schooling.
Lower secondary education is likewise compulsory, and it is available to kids aged 11 to 14 years. This level of study is referred to as secondary school and lasts three years.
Upper secondary education is optional and is available to students between the ages of 14 and 19. This level of study is referred to as scuola secondaria di secondo grado and lasts five years. Students at this level can select between numerous paths, including Liceo, Istituto tecnico, and Istituto professional, based on their interests and career ambitions.
Higher education is available in Italy through universities, polytechnics, and other institutes of higher learning. In Italy, there are both public and private universities, with public universities being less expensive than private ones. Entrance to universities is extremely tough, and students must pass an entrance examination to be admitted.
The Italian school system places a significant focus on academic accomplishment, and pupils are under a lot of pressure to do well on tests. The curriculum is demanding, and students are required to do extensive coursework and research. Nonetheless, creativity and originality are valued in the educational system, and pupils are encouraged to think independently and generate their ideas.
Broadly, the Italian educational system is considered well for its intellectual rigor and emphasis on excellence. It gives students a solid foundation in a variety of courses, as well as chances for personal and professional development.
Quality of Education
Italy has a long history of intellectual brilliance, and its education system is well-recognized. Following are some of the aspects that contribute to Italy's excellent educational quality:
Italy is home to some of the world's oldest and most prominent universities, including the University of Bologna, which was founded in 1088. These universities have a strong tradition of academic quality, producing numerous world-renowned professors and researchers.
High Academic Standards: Academic achievement is highly valued in the Italian school system, and pupils are expected to perform at high levels. The program is hard and demanding, and students must complete a significant amount of coursework and research.
Expert Faculty: Professors and researchers at Italian universities are highly qualified and experienced. Several of these professors are world-renowned specialists in their disciplines, bringing a wealth of knowledge and expertise to the classroom.
Emphasis On Research: Research is highly valued at Italian universities, and students are encouraged to participate in research projects and create their ideas. This emphasis on research helps to guarantee that students have the skills and information required to thrive in their vocations.
International Acclaim: Both domestically and globally, Italian universities are highly recognized. Numerous Italian colleges are regarded as among the best in the world, and degrees from Italian institutions are recognized and esteemed all over the world.
Overall, education in Italy is of excellent quality, and the Italian education system is renowned for its academic rigor, prestigious universities, professional professors, and emphasis on research.
Career Opportunities
Italy is known for its thriving economy and various industries, which provide a variety of career options for both native and international students. Here are some of the most important sectors and job possibilities in Italy:
Fashion and Design: Italy is well-known around the world for its fashion and design sectors, with cities such as Milan and Florence at the forefront of the fashion world. Studying in Italy can provide students with valuable skills and experience in fashion design, textiles, and marketing, leading to employment in fashion design, fashion marketing, fashion journalism, and other fields.
Engineering and Manufacturing: Italy has a strong engineering and manufacturing sector, including notable Italian brands such as Ferrari, Lamborghini, and Ducati. Studying in Italy can equip students with experience in engineering, robotics, automation, and other fields, paving the way for careers in automotive engineering, manufacturing, and other fields.
Food and Hospitality: Italy is well-known for its cuisine, and the food and hospitality industry contributes significantly to the Italian economy. Studying in Italy can provide students with excellent skills and experience in the culinary arts, hospitality management, and tourism, leading to professions in the food and beverage sector, hotel management, and tourism.
Arts and Culture: Italy is well-known for its rich cultural legacy, and the arts and culture industry contributes significantly to the Italian economy. Studying in Italy can equip students with knowledge of art history, music, literature, and other subjects, as well as lead to professions in museums, galleries, publishing, and other fields.
Information Technology: Italy's information technology sector is expanding, with corporations such as IBM and Microsoft establishing a major presence in the country. Studying in Italy can give students with knowledge in computer science, software development, and other fields, as well as opportunities in IT consulting, software engineering, and other fields.
Cultural Exposure
Studying in Italy gives students a once-in-a-lifetime opportunity to immerse themselves in the country's rich cultural history. Here are some examples of how studying in Italy might provide cultural exposure:
Art and Architecture: Italy is recognized for its stunning art and architecture, including the Colosseum, the Vatican City, the Leaning Tower of Pisa, and the Florence Cathedral. Students studying in Italy have the opportunity to visit these historic locations and learn about their history and culture.
Food: Italy is famous for its cuisine, with traditional dishes like pasta, pizza, and gelato known and adored all over the world. Studying in Italy allows students to enjoy these delectable delicacies while also learning about the traditions and culture that surround them. Italy is also well-known for its wine, with regions like Tuscany and Piedmont producing some of the world's best.
Music and Dance: Famous composers such as Verdi, Puccini, and Rossini have contributed to Italy's rich musical tradition. Students studying in Italy have the opportunity to explore the country's music and dance traditions, with festivals and performances taking place all year.
Language and Literature: Italy is well-known for its beautiful language as well as its rich literary legacy. Students can learn the Italian language and read the works of notable Italian writers such as Dante, Petrarch, and Boccaccio while studying in Italy.
Eligibility and Admission Requirements for Indian Students
Academic Requirements
Students who want to study in Italy from India must meet certain academic standards. Below are some of the most important requirements:
High School Requirements: Indian students wishing to pursue a bachelor's degree in Italy must have finished their high school education (12th grade) with honors. They must hold a recognized high school diploma, such as the All India Senior School Certificate (AISSC) or the Indian School Certificate (ISC) (ISC).
Bachelor's Degree: Indian students wishing to pursue a master's degree in Italy must have earned a recognized bachelor's degree with high grades in a comparable field of study. Certain programs may demand a specific curriculum or abilities, as well as a minimum GPA.
Entrance Tests: Depending on the program requirements, some Italian colleges may demand admission examinations such as the SAT, GRE, or GMAT.
Application Documents: Indian students must provide transcripts, recommendation letters, a personal statement, and a valid passport, in addition to any additional requirements stated by the university.
English Language Proficiency Requirements
The English language competency requirements in Italy vary according to the university and program of study. These are some important considerations for Indian students studying in Italy regarding English language competency requirements:
Language of Instruction: Some Italian universities provide English-taught programs, while others offer Italian-taught programs with some courses or programs in English. Before applying to a program, students should double-check the language of teaching. program is taught in English, the university may require students to verify their English language skills by taking tests such as the TOEFL, IELTS, or Cambridge English. The minimum required scores differ depending on the university and program.
Exemptions: Students who have completed previous English-language education or who are from English-speaking nations may be exempt from completing the English language competency tests.
Italian Proficiency Tests: Indian students who wish to study in Italian must pass an Italian proficiency test such as the CILS, CELI, or PLIDA.
Preparation Courses: Before beginning their program of study, several Italian universities may offer preparatory classes in English or Italian to help students enhance their language skills.
Application Process and Deadlines
The application process and dates for Indian students interested in studying in Italy differ based on the university and program of study. The following are some general measures to take:
Research: Indian students should look into many colleges and programs to pick the one that best fits their interests and qualifications. Students Must ensure that they meet the academic and language competency standards for the program to which they desire to apply.
Collect Documentation: Students should gather all of the university's required documents, such as transcripts, recommendation letters, personal statements, and a valid passport.
Apply Online: Indian students can apply online via the university's website. Some institutions may charge a non-refundable application fee.
Wait For a Response: The admissions process could take weeks or months. Students should check their application status on the university's website or by email frequently.
Acceptance and Enrollment: Once a student is accepted, they will be given an acceptance letter, which they should use to apply for a student visa from the Italian consulate in India. After acquiring a visa, the student must enroll in the university within the time frame specified.
Visa Requirements and Application Process
Indian students planning to study, have to fulfill the requirements to study in Italy for longer than 90 days and must obtain a study visa in Italy. The following is a summary of the visa requirements and application process:
Acceptance letter: To obtain a visa to study in Italy, Indian students must have a valid acceptance letter from an Italian university.
Students must apply for a visa at the nearest Italian embassy or consulate in India. Individuals can apply online or in person, depending on the regulations of the embassy or consulate.
A Valid Passport, a completed visa application form, a recent passport-sized photo, an admission letter from the university, proof of financial means, and proof of health insurance are all essential documents for a student visa.
Financial Means: Students must demonstrate that they have enough money to maintain themselves during their stay in Italy. This can take the form of bank statements, scholarship awards, or letters of financial guarantee.
Health Insurance: Throughout their stay in Italy, students must have appropriate health insurance coverage.
Visa Fee: The charge for applying for a student visa is non-refundable and varies based on the embassy or consulate.
Visa Processing Time: Because visa processing can take several weeks, students should apply early.
Arrival in Italy: Students must apply for a residence permit within 8 days of their arrival in Italy.
Top Universities for Indian Student in Italy
Top Universities and Ranking
| University | World Rank |
| --- | --- |
| Politecnico di Milano | 142 |
| University of Bologna | 166 |
| University of Rome - La Sapienza | 171 |
| University of Padua | 242 |
| Scuola Normale Superiore di Pisa | 275 |
| Sant'Anna School of Advanced Studies – Pisa | 301-350 |
| Vita-Salute San Raffaele University | 351-400 |
| University of Milan | 401-450 |
| University of Milan Bicocca | 451-500 |
| University of Rome II – Tor Vergata | 501-550 |
| University of Brescia | 601-650 |
| University of Pavia | 651-700 |
Campus Life and Facilities
Italian colleges provide a one-of-a-kind campus life experience with a vibrant and energetic student body. Following are some frequent facilities and activities found at Italian universities:
Student Services: Italian universities offer a variety of student support services, such as career counseling, academic advising, health services, and housing aid. These services are intended to assist students in navigating university life and achieving academic and personal goals.
Libraries: The libraries at Italian universities are well-equipped, with huge collections of books, journals, and digital resources. Many libraries also include study areas, computers, and access to research databases and online journals.
Sports and Fitness Facilities: Italian universities provide a variety of sports facilities, such as gymnasiums, swimming pools, tennis courts, and football fields
Cultural Activities: Throughout the academic year, Italian universities sponsor cultural events and activities such as concerts, exhibitions, and theatre shows
Student Clubs and Societies: Several student clubs and societies in Italian universities cater to a variety of interests, including sports, arts, music, and social issues.
Accommodation: Students at Italian colleges have a variety of housing options, including on-campus dormitories and off-campus residences. The university and location may have different housing possibilities.
Best Courses to Study in Italy for Indian Students
Top Universities and Ranking
Undergraduate and graduate courses in subjects such as engineering, science, humanities, business, art, and design are available at Italian institutions.
Mechanical Engineering
Civil Engineering
Aeronautical Engineering
Electrical Engineering
Business & Management
Interior Design
Fashion Design
Computer Science
Software Engineering
Financial Aid and Scholarships for Indian Students
Types of Financial Aid Available
Scholarships: Scholarships are available at Italian universities for overseas students, including Indian students, to help cover tuition and living expenses. These scholarships may be awarded based on academic achievement, financial need, or other criteria particular to the student's field of study. The Italian Government Scholarship, the University of Bologna Study Grants for International Students, and the Politecnico di Milano Scholarships for International Students are a few examples of scholarships accessible to Indian students and can also make studying in Italy free or at a minimum cost.
Student Loans: Italian banks provide student loans to international students to help them pay for their tuition and living expenses. Depending on the bank and the loan program, these loans may require a co-signer and may have varied interest rates and repayment lengths.
Work-Study Programs: Some Italian colleges provide work-study programs that allow students to work part-time while studying to help defray costs. These programs may incorporate on-campus or off-campus labor, and students may be required to obtain a valid work permit.
Part-time Work: During the academic year, international students in Italy are permitted to work up to 20 hours a week and full-time during the holidays. This can assist them in earning some more money to pay their bills.
External Scholarships: Indian students may be eligible for scholarships from outside organizations such as the Indian Council for Cultural Relations (ICCR), which provides scholarships to Indian students studying abroad in countries such as Italy.
Scholarships for Indian Students
Scholarships From The Italian Government: The Italian Government provides scholarships to overseas students, including Indian students, for undergraduate, graduate, and postgraduate studies. These scholarships include tuition, room & board, and living expenses. The application period for these scholarships often begins in March or April.
University-Specific Scholarships: Many Italian universities give scholarships to international students based on merit, financial need, or other factors. For example, the University of Bologna provides Study Grants to Foreign Students, whereas the Politecnico di Milano provides scholarships to international students participating in Master's degrees.
Living Cost in Italy as an Indian Student
Cost of living
The cost of living in Italy as a student varies according to the city and lifestyle you like. Following are some estimations of average monthly expenses for an Italian student:
The Cost of Accommodation: varies according to the type and location of the housing. A shared apartment might cost between €300 and €600 per month(Approximately Rs. 28.5K to Rs. 53K) on average, whereas a private apartment can cost between €600 and €1,200(Approximately Rs. 53.5K to Rs. 1.5 lacs) per month.
Food: Because eating out can be costly in Italy, cooking at home is a more cost-effective option. Students should expect to spend €150-€250 (Approximately Rs.14K to Rs. 23.7K) per month on groceries on average.
Transportation: Public transit in Italy is inexpensive, with monthly passes ranging from €30 to €50 (Approximately Rs. 2K to Rs. 6K) depending on the city.
Utilities: include power, gas, water, and internet access. Students should expect to pay roughly €100-€150  (Approximately Rs. 8K to Rs. 13K)per month for utilities on average.
Books and study materials: The cost of books and study materials varies depending on the course and the institution, but students may anticipate spending between €300 and €500(Approximately Rs. 26K to Rs. 40.7K) each year on books and other materials.
Personal expenses: such as entertainment, clothing, and travel are included in this category. Students should anticipate spending roughly €200-€300(Approximately Rs.14K to Rs. 20K) per month on these fees on average.
Accommodation Options
University housing: Many universities in Italy provide on-campus housing for students. This can be a convenient and cost-effective choice, but it may have limited availability and require advanced booking.
Shared flat: Renting an apartment with other students might save money. You can share rent and other expenses while also getting to know other students. Sites like Uniplaces, Spot home, and Housing Anywhere can help you find shared flats in Italy.
Private flats: While private apartments are more expensive, they provide greater privacy and independence. Private flats can be found through real estate agents and online platforms such as Immobiliare. it, or rental listings on social media groups.
Homestays: provide the opportunity to live with a local Italian family, practice the language, and learn about the culture. This choice may be more expensive than others, but it is an excellent opportunity to immerse yourself in the local culture.
Hostels: Hostels are a low-cost choice for short-term stays, and many provide individual rooms in addition to dorm-style lodging.
Food and Dining Options
Indian Restaurants: There are many Indian restaurants in Italy, especially in larger cities. These restaurants feature a variety of Indian food, from curries and biryanis to naan and samosas. Popular Indian restaurants in Italy include Jaipur in Milan, Shanti in Rome, and Saffron in Florence.
Halal Food: In Italy, various halal restaurants sell halal meat and other meals. These eateries cater to Muslim dietary constraints and are particularly popular among students from Islamic countries.
Several Groceries: stores in Italy sell Indian spices, rice, and other goods that can be used to make Indian recipes at home. Carrefour, Conad, and Esselunga are some of the most popular stores.
Street Food: Italian street cuisines, such as arancini (fried rice balls), panini, and porchetta (roasted pork), are also popular among students. Street food is frequently inexpensive and can be a fun way to discover the local cuisine.
Visa Transportation and Travel
Visa : If you are a student seeking to study in Italy, you must first obtain a student visa before entering the country. The following are some actions to take while applying for an Italian student visa:
Collect the necessary paperwork: which should include your passport, a completed visa application form, proof of enrolment in a study program, proof of financial means to sustain yourself, and any additional supporting documents.
Apply for a visa: A student visa can be obtained at the Italian embassy or consulate in your country. Before submitting your application, double-check the processing times and any additional requirements.
Attend the visa interview: As part of the visa application procedure, you may be required to attend an interview.
Transportation : Students have a variety of transportation alternatives in Italy, which are often efficient and economical. These are some choices for student transportation in Italy:
Public Transportation: In Italy, public transportation is widely available, with options such as buses, trams, and trains. For travel, students can frequently acquire reduced monthly passes or single tickets.
Walking and Biking: Several Italian cities are bike-friendly, and renting or purchasing a bike can be a cost-effective and environmentally responsible way to travel. Walking is another great way to visit cities and take in the surroundings.
Car-Sharing Services, such as Car2Go, Enjoy, and Share'ngo, are offered in various Italian cities as an alternative to standard car rentals.
Working While Studying in Italy
It is possible to work part-time while studying in Italy if you are a student. But, you should be aware of the following norms and regulations:
You Must Have a Valid Student Visa: If you are an international student, you must have a valid student visa to work in Italy.
Work Permit: Non-EU students must have a work permit to work in Italy. Students from the EU do not require a work permit.
Working Hours Maximum: As a student, you may work up to 20 hours per week during the academic year and up to 40 hours per week during the holidays.
Social Security Number: To work in Italy, you must have a valid social security number (codice fiscale).
Job Types: Students are frequently permitted to work part-time in jobs such as retail, hospitality, and teaching.
Language Requirements: Most occupations require knowledge of the Italian language, especially if you wish to interact with customers.
Taxes: You must pay taxes on your earnings. Yet, as a student, you may be qualified for some tax breaks.
Post-Study Work Visa
For overseas students who intend to stay and work in Italy after finishing their studies, Italy provides a post-study work visa. The work visa for post-study is also known as the "Permesso di Soggiorno for Sviluppo" or "Permit for Growth." The following are some major characteristics of the post-study employment visa in Italy:
Eligibility: You must have finished a degree from an Italian university or an equivalent degree from a foreign institution recognized by the Italian government to be eligible for the post-study work visa.
Validity: The post-study work visa is valid for 12 months and can be renewed for another 12 months if the renewal conditions are met.
Employment Search: The visa allows you to remain in Italy and look for work in your subject of study. You can apply for a work permit once you've found a job.
Self-Employment: You can start your own business or work as a freelancer in Italy with a  post-study work visa.
Language Requirements: To work in Italy, you must have a strong command of the Italian language. You may be asked to submit proof of your language skills.
Job Market in Italy for Indian Students
The Italian labor market provides chances for Indian students in a variety of fields, particularly in technology, engineering, and healthcare. These are a few instances of job openings in Italy:
Information technology (IT): Italy has a thriving IT industry, with numerous multinational corporations doing business there. Indian students can work in software development, data analysis, and IT consulting.
Engineering: Italy has a long history of engineering, with many companies involved in the automotive, aerospace, and renewable energy industries. Mechanical, electrical, and civil engineering students from India might find work in these industries.
Healthcare: The Italian healthcare system is well-developed, and there are chances for Indian students with degrees in medical, nursing, and healthcare administration. Numerous Italian hospitals and clinics employ healthcare workers from other countries.
Hospitality and Tourism: Italy is a major tourist destination, and there are chances in the hospitality and tourism industries for Indian students. Hotel management, tour guides, and travel agents are all examples of jobs in this business.
Education: English-speaking teachers are in high demand in Italy, notably at foreign schools and language institutions. Jobs in this area are available for Indian students with degrees in education or teaching English as a second language (TESOL).
Tips for Finding Employment After Graduation
Networking: is essential in Italy, and connecting with professionals in your sector might lead to career chances. Meet possible employers and industry professionals by attending employment fairs, industry events, and professional associations.
Companies to research: Look into Italian companies that operate in your subject of study or interest. Begin by reviewing the job posts on their websites and LinkedIn accounts.
Learn Italian: If you want to work in Italy, you must first learn the language. The majority of professions in Italy require fluency in the Italian language, especially in customer-facing roles.
Contemplate internships: To obtain job experience and improve your language abilities, apply for internships in Italian companies. Internships can also lead to full-time employment.
Refine your resume and cover letter: Your resume and cover letter should be personalized to the job you're looking for and showcase your relevant abilities and experiences.
Be adaptable: Be open to new chances, especially if they are outside your field of study. Beginning in a different function or industry can assist you in gaining work experience and expanding your network in Italy.
Utilize online job search platforms: To find work prospects in Italy, use online job search platforms such as Monster, Indeed, and LinkedIn.
Tips for Managing Finances While Studying in Italy
Make a budget: Before you leave for Italy, make a budget that covers all of your expenses, including rent, food, transportation, and entertainment. To avoid overpaying, stick to your budget as much as possible.
Utilize student discounts: Several places in Italy, including museums, movies, and public transit, provide student discounts. To take advantage of these savings, have your student ID with you at all times.
Utilize public transit: In Italy, public transportation is both economical and efficient. To save money on transit, consider purchasing a monthly pass.
Search for a part-time job: If you have a student visa, you may be able to work in Italy part-time. Search for a part-time job to supplement your income and assist you to cover your bills.
Prevent Unnecessary Spending: It's easy to overpay on things like coffee and snacks, but these costs can soon add up. Spend with caution and prevent unnecessary expenses whenever possible.
Establish a Bank Account: If you're going to remain in Italy for an extended period, you should consider opening a bank account. This might help you avoid costly ATM fees and make money management easier.
Utilize Public Transit: In Italy, public transportation is both economical and efficient. To save money on transit, consider purchasing a monthly pass.
Search for a Part-Time job: If you have a student visa, you may be able to work in Italy part-time. Search for a part-time job to supplement your income and assist you to cover your bills.
Why Take Admission Through Us?
RMC Elite constantly assists students with entrance, scholarship availability, placements, and other services.
Counseling and Mentoring
The experienced staff at RMC Elite advises you on the finest colleges, courses, scholarship opportunities, and more.
College Profiles
We frequently provide thorough information about individual schools and universities, such as academic programs, campus culture, student life, and admission data, on our website. This information can assist students in gaining a better understanding of what a certain school is like and whether it is a suitable fit for them.
College Search Tools
The RMC educational website includes college search tools that allow students to filter and compare institutions based on factors including location, size, majors, pricing, and entrance requirements. These tools can assist students in narrowing their options and locating colleges that fit their specific requirements.
Test Planning
The team is dedicated to assisting you in preparing for international language exams and clearing screening tests such as TOEFL, IELTS, and others using the most up-to-date practice and curriculums.
The Application Procedure
RMC Elite prioritizes all processes, including profile evaluation, application form completion, admissions locking, Visa preparation, and much more.
Frequently Asked Question
Universities of Abroad