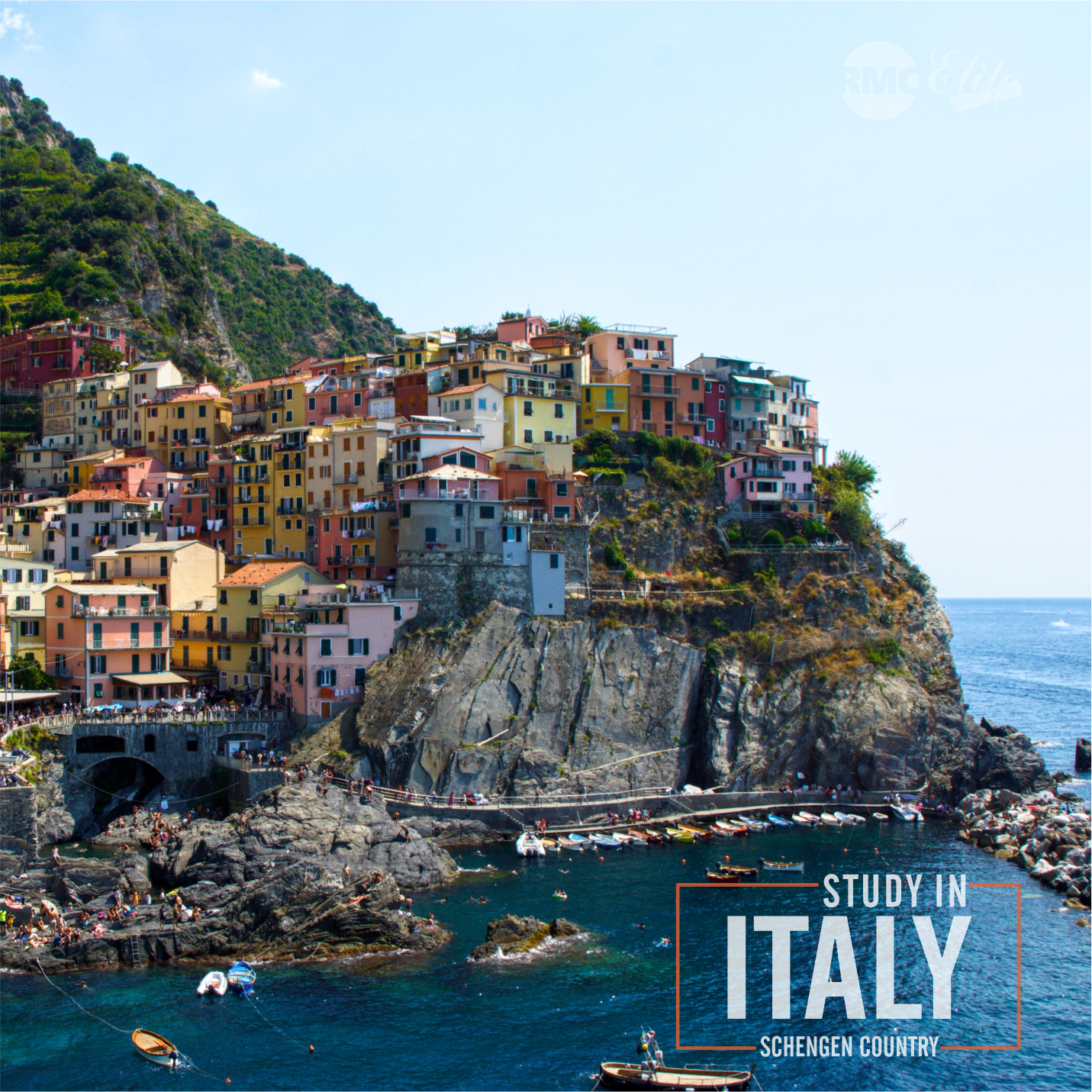 About Italy
Italy's historic treasures and fine cuisine have captivated visitors for centuries. From the snow-capped Dolomites in the north to the warm Mediterranean culture by the sea in the south, the Italian region is diverse and exciting. Few countries are as exciting as studying in Italy for international students seeking affordable, quality education and a wide range of social and leisure activities.
The cultural importance of this country dates back to ancient times, with students studying history and archaeology everywhere. For many, Rome is an eternal city, the centre of an empire that stretched from the rainy England to the Syrian desert about 2,000 years ago. At its peak, it covered almost everything in Egypt, North Africa, and mainland Europe.
The ancient Roman ruins of Italy are as huge as they are today and tell only part of the story. The 14th and 17th-century renaissance began in Italy (Rinascimento) and brought innovation and revolution throughout Europe in the fields of art, architecture, philosophy, religion and scientific culture. To learn. Intellectual activity and creativity flourished, bringing the pearls of ancient and medieval thought to the modern world.
Why Study In Italy
Here are some of the benefits of studying in Italy:
High-Quality Education: Italy has a long history of intellectual brilliance, with its universities ranking among the world's oldest and most prominent. Students can benefit from the knowledge of world-renowned professors and researchers at Italian institutions, which offer a diverse selection of courses and programs. 
Language Learning: Italian is a widely spoken language, and studying in Italy allows students to learn or enhance their Italian. Because Italian is the language of culture, art, and design, and is spoken in areas such as fashion, food, and tourism, this can be good for both personal and professional development.
Employment opportunities: Italy is home to some of the world's most successful enterprises in fields such as fashion, design, engineering, and automotive. Students who study in Italy can gain significant skills and knowledge that will help them stand out in the job market, both in Italy and abroad.
International exposure: Italy is a popular destination for foreign students, and studying in Italy allows you to meet individuals from all over the world and create an international network.
Personal development: Studying in Italy may be a rewarding and challenging experience that allows students to acquire independence, adaptability, and resilience. It can also be an opportunity for personal development, self-discovery, and viewpoint expansion.
Overall, studying in Italy as an Indian student can be a good experience, but you must be prepared and conduct preliminary research.
Benefits
Eligibility
Universities
Scholarships
Living Cost
Work While Study
Job Opportunities
Benefits
Benefits of Studying in Italy
Italy Education System
Italy's educational system is divided into four levels
Primary education is compulsory and free in Italy for all children aged 6 to 11 years. It normally takes five years of schooling.
Lower secondary education is likewise compulsory, and it is available to kids aged 11 to 14 years. This level of study is referred to as scuola secondaria di primo grado and lasts three years.
Upper secondary education is optional and is available to students between the ages of 14 and 19. This level of study is referred to as scuola secondaria di secondo grado and lasts five years. Students at this level can select between numerous paths, including Liceo, Istituto tecnico, and Istituto professional, based on their interests and career ambitions.
Higher education is available in Italy through universities, polytechnics, and other institutes of higher learning. In Italy, there are both public and private universities, with public universities being less expensive than private ones. Entrance to universities is extremely tough, and students must pass an entrance examination to be admitted.
The Italian school system places a significant focus on academic accomplishment, and pupils are under a lot of pressure to do well on tests. The curriculum is demanding, and students are required to do extensive coursework and research. Nonetheless, creativity and originality are valued in the educational system, and pupils are encouraged to think independently and generate their ideas.
Broadly, the Italian educational system is considered well for its intellectual rigor and emphasis on excellence. It gives students a solid foundation in a variety of courses, as well as chances for personal and professional development.
Quality of Education
Italy has a long history of intellectual brilliance, and its education system is well-recognized. Following are some of the aspects that contribute to Italy's excellent educational quality:
Italy is home to some of the world's oldest and most prominent universities, including the University of Bologna, which was founded in 1088. These universities have a strong tradition of academic quality, producing numerous world-renowned professors and researchers.
High Academic Standards: Academic achievement is highly valued in the Italian school system, and pupils are expected to perform at high levels. The program is hard and demanding, and students must complete a significant amount of coursework and research.
Expert Faculty: Professors and researchers at Italian universities are highly qualified and experienced. Several of these professors are world-renowned specialists in their disciplines, bringing a wealth of knowledge and expertise to the classroom.
Emphasis On Research: Research is highly valued at Italian universities, and students are encouraged to participate in research projects and create their ideas. This emphasis on research helps to guarantee that students have the skills and information required to thrive in their vocations.
International Acclaim: Both domestically and globally, Italian universities are highly recognized. Numerous Italian colleges are regarded as among the best in the world, and degrees from Italian institutions are recognized and esteemed all over the world.
Overall, education in Italy is of excellent quality, and the Italian education system is renowned for its academic rigor, prestigious universities, professional professors, and emphasis on research.
Career Opportunities
Italy is known for its thriving economy and various industries, which provide a variety of career options for both native and international students. Here are some of the most important sectors and job possibilities in Italy:
Fashion and Design: Italy is well-known around the world for its fashion and design sectors, with cities such as Milan and Florence at the forefront of the fashion world. Studying in Italy can provide students with valuable skills and experience in fashion design, textiles, and marketing, leading to employment in fashion design, fashion marketing, fashion journalism, and other fields.
Engineering and Manufacturing: Italy has a strong engineering and manufacturing sector, including notable Italian brands such as Ferrari, Lamborghini, and Ducati. Studying in Italy can equip students with experience in engineering, robotics, automation, and other fields, paving the way for careers in automotive engineering, manufacturing, and other fields.
Food and Hospitality: Italy is well-known for its cuisine, and the food and hospitality industry contributes significantly to the Italian economy. Studying in Italy can provide students with excellent skills and experience in the culinary arts, hospitality management, and tourism, leading to professions in the food and beverage sector, hotel management, and tourism.
Arts and Culture: Italy is well-known for its rich cultural legacy, and the arts and culture industry contributes significantly to the Italian economy. Studying in Italy can equip students with knowledge of art history, music, literature, and other subjects, as well as lead to professions in museums, galleries, publishing, and other fields.
Information Technology: Italy's information technology sector is expanding, with corporations such as IBM and Microsoft establishing a major presence in the country. Studying in Italy can give students with knowledge in computer science, software development, and other fields, as well as opportunities in IT consulting, software engineering, and other fields.
Cultural Exposure
Studying in Italy gives students a once-in-a-lifetime opportunity to immerse themselves in the country's rich cultural history. Here are some examples of how studying in Italy might provide cultural exposure:
Art and Architecture: Italy is recognized for its stunning art and architecture, including the Colosseum, the Vatican City, the Leaning Tower of Pisa, and the Florence Cathedral. Students studying in Italy have the opportunity to visit these historic locations and learn about their history and culture.
Food: Italy is famous for its cuisine, with traditional dishes like pasta, pizza, and gelato known and adored all over the world. Studying in Italy allows students to enjoy these delectable delicacies while also learning about the traditions and culture that surround them. Italy is also well-known for its wine, with regions like Tuscany and Piedmont producing some of the world's best.
Music and Dance: Famous composers such as Verdi, Puccini, and Rossini have contributed to Italy's rich musical tradition. Students studying in Italy have the opportunity to explore the country's music and dance traditions, with festivals and performances taking place all year.
Language and Literature: Italy is well-known for its beautiful language as well as its rich literary legacy. Students can learn the Italian language and read the works of notable Italian writers such as Dante, Petrarch, and Boccaccio while studying in Italy.
Eligibility
Universities
Scholarships
Living Cost
Work While Study
Job Opportunities
Why Take Admission Through Us
RMC Elite constantly assists students with entrance, scholarship availability, placements, and other services.
Counseling and Mentoring
The experienced staff at RMC Elite advises you on the finest colleges, courses, scholarship opportunities, and more.
College Profiles
We frequently provide thorough information about individual schools and universities, such as academic programs, campus culture, student life, and admission data, on our website. This information can assist students in gaining a better understanding of what a certain school is like and whether it is a suitable fit for them.
College Search Tools
 The RMC educational website includes college search tools that allow students to filter and compare institutions based on factors including location, size, majors, pricing, and entrance requirements. These tools can assist students in narrowing their options and locating colleges that fit their specific requirements.
Test Planning
The team is dedicated to assisting you in preparing for international language exams and clearing screening tests such as TOEFL, IELTS, and others using the most up-to-date practice and curriculums.
The Application Procedure
RMC Elite prioritizes all processes, including profile evaluation, application form completion, admissions locking, Visa preparation, and much more.