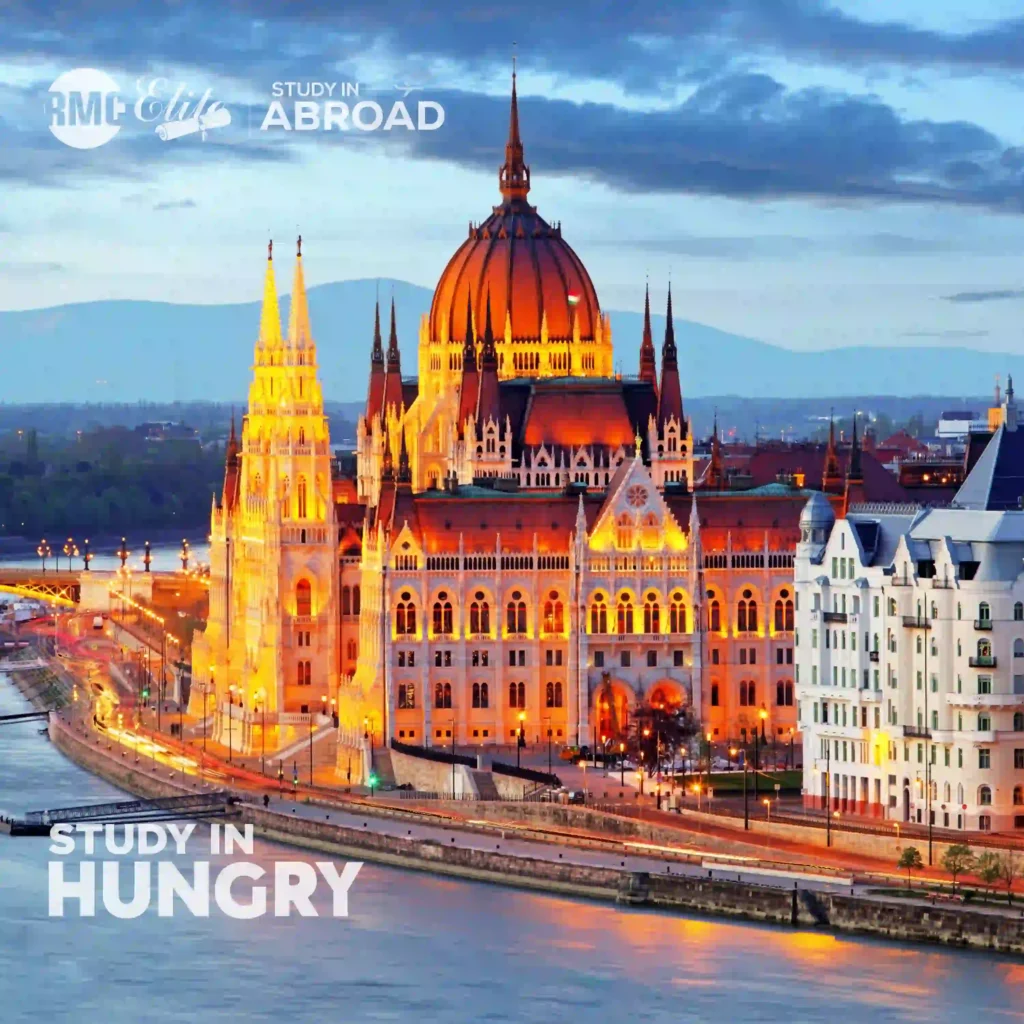 About Hungary
Hungary is a landlocked sovereign country located in the Carpathian Basim of Central Europe, bordering Austria, Slovakia, Ukraine, Romania, Serbia Croatia, and Slovenia. Its capital is Budapest. Hungary is a member of OECD, NATO, EU, and a Schengen state. The official language is Hungarian, which forms part of the Uratic family. It is one of the four official languages of the European Union that is not of Indo – European origin.
Hungary is considered a developed country with a high-income economy and a very high Human Development Index. Hungarians enjoy universal health care and tuition-free secondary education. Hungary's cultural history includes significant contributions to its arts, music, literature, sports, science, and technology. It is a small country with a rich history of more than one thousand years. Since its foundation, Hungary has always played a significant role in the regions, as well as in the whole of Europe.
For many international students, the Hungarian climate can be very different from that of their countries, as Hungary has four different seasons. Whilst summers are warm, winters can be really cold; average temperatures range from -4°C in January to 26°C in July. Hungary is in the temperate zone and has a relatively dry continental climate. The country is protected from extreme weather conditions by the surrounding mountain ranges, the Alps, and the Carpathians. It's not always easy to find the right clothes to suit the weather, but the beauty of each season is definitely worth the effort.
Why Study in Hungary?
Hungary is becoming an increasingly popular study abroad destination, having gained great credibility over the years and has a very strong tradition in the sciences, particularly medicines. Beyond high–quality education, Hungary also offers a lively and welcoming culture, a fascinating history, and beautiful cities. Universities in Hungary offer high-quality education at affordable tuition fees. Hungary is a modern and safe country, but the cost of living is among the lowest in Europe. Hungary is a diverse, multicultural nation with lots of fun experiences for foreign students.
At the point when numerous students consider concentrate study abroad. Hungary colleges work to set you up for an effective future; the employment showcase values are driven, inventive, and insightful cooperative individuals so Hungary colleges attempt to impart these qualities to their students. The Hungarian higher education system includes universities and other higher education curricula and related degrees up to doctoral degrees and also contributes to research activities. English and the German language are important in Hungarian higher education. Several degree programs are taught in these languages which attract thousands of exchange students every year.
Beyond high–quality education, Hungary also offers a lively and welcoming culture, a fascinating history, and beautiful cities. For the past twenty years, over 10,000 international students have attended education in Hungary. Some of the top countries from which international students come to study in Hungary are Germany, Israel, Norway, Iran, China, and Canada. Hungary is becoming an increasingly popular study-abroad destination.
Hungary is committed to becoming a leading higher education hub. Universities in Hungary are welcoming growing numbers of international students, both on exchange programs and for full degrees, and are increasingly offering courses taught in languages other than Hungarian, most commonly English.
Universities in Hungary offer three levels of degree:  Bachelor's, Master's, and Doctorate. Bachelors program typically lasts three or four years, Master's programs last one or two years, and Doctorate program last for three years.
The highest-ranked universities in Hungary are: –
University of Szeged
Motto: Where knowledge and challenge meet
Type: Public
Established: 1872/1921
Administrative staff: 2,200
Students: 21,000
Location: Szeged, Hungary
Campus: College town
Website: http://www.u-szeged.hu/
The University of Szeged is one of Hungary's leading and internationally ranked higher education institutions. The University of Szeged offers a wide range of educational programs, such as Bachelor's, Master's undivided, Ph.D. (doctoral) as well as postgraduate specialist training programs. It is located in Hungary's third-largest city m Szeged in Csongrad County in the Southern Great Plain. The University of Szeged is a large research university in Hungary. It offers 52 full-time degree programs. Among its teachers was Albert Szent-Gyorgyi one of the founders of the Faculty of Science, who received the Nobel Prize in Physiology or Medicine in 1937 for his discoveries in connection with Vitamin C.
Szeged University has 12 primary faculties:-
Faculty of Agriculture – MGK
Faculty of Health Sciences and Social Studies – ETSZK
Faculty of Engineering – MK
Faculty of Humanities and Social Sciences – BTK
Faculty of Economics and Business Administration – GTK
Faculty of Law and Political Sciences – ÁJTK
Faculty of Medicine – ÁOK
Faculty of Music – ZMK
Faculty of Pharmacy – GYTK
Faculty of Sciences and Informatics – TTIK
Faculty of Dentistry – FOK
Faculty of Education –JGYPK
University of Debrecen
Type: Public
Established: 1538,1912
Academic staff: 2,000
Students: 30,000
Location: Debrecen, Hungary
Affiliation: EUA
Website: hu/en
The University of Debrecen, as an elite research university, offers the widest range of programs in the country for students, who can study at an institution with outstanding academic values. As a University of National Excellence, the institution has training and research capacities and scholarly achievements in several disciplines, which contributes to its central role in the implementation of national strategic objectives. At the most popular university in the country outside the capital, there are close to 28,000 people studying, either on state scholarships or paying tuition fees. The number of international students is over 3,500 and this increases year by year. Besides Hungarian programs, students from outside Hungary can study in 54 English-language programs as well. With their educational, research, and development activities more than 1,500 faculty members in 14 faculties and 23 doctoral schools help to graduate professionals enter the world of work successfully with a competitive degree in their hands.
The university has two major campuses, both in Debrecen: the older man, which hosts the majority of the departments of the faculties of humanities, science, medicine, music, and also the botanical garden; and the younger "Kassai-road campus" where most of the buildings of the faculties of law economy, and informatics are located.
Debrecen university has the following faculties:-
Faculty of Agriculture and Food Sciences and Environmental Management
Faculty of Humanities
Faculty of Dentistry
Faculty of Economics and Business
Faculty of Medicine
Faculty of Informatics
Faculty of Law
Faculty of Music
Faculty of Pharmacy
Faculty of Science and Technology
Faculty of Public Health
Faculty of Engineering
Faculty of Child and Special Needs Education
Eötvös Loránd University
Motto: Community of Knowledge
Type: Public research university
Established: 1635
Affiliation: Coimbra group, UNICA, EUA, AUF
Academic staff: 1,800
Undergraduates: 16,017
Postgraduates: 8,547
Doctoral: 1,442
Location: Budapest, Hungary
Campus: Urban
Website: elte.hu/en
Eötvös Loránd University is a Hungarian public research university based in Budapest. Founded in 1635, ELTE is one of the largest and most prestigious public higher education institutions in Hungary. The 28,000 students at ELTE are organized into eight faculties, and into research institutes located throughout Budapest and on the scenic banks of the Danube. ELTE is affiliated with 5 Nobel laureates, as well as winners of the Wolf Prize, Fulkerson Prize, and Abel Prize, the latest of which was Abel Prize winner Endre Szemerédi in 2012.
The campus is home to the Faculty of Science, the Faculty of Informatics, and the Faculty of Social Sciences. The campus is located in the 11th district of Budapest.
ELTE is Hungary's largest scientific establishment with 118 Ph.D. programs at 17 doctoral schools, and also offers 38 bachelor's programs, 96 master's programs, and over 50-degree programs in foreign languages. The course credits awarded are transferable to universities in Europe through the Bologna process.
The eight faculties are:-
Faculty of Law and Political Sciences (ÁJK)
Bárczi Gusztáv Faculty of Special Education (BGGyK)
Faculty of Humanities (BTK)
Faculty of Informatics (IK)
Faculty of Education and Psychology (PPK)
Faculty of Social Sciences (TáTK)
Faculty of Elementary and Nursery School Teachers' Training (TÓK)
Faculty of Science
University of Pecs
Type: Public
Established: 1912
Academic staff: 1854
Students: 20,000
Location: Pecs, Hungary
Campus: Urban
Affiliation: Compostela group of universities
Website: pte.hu
The first university of Hungary was established in Pecs by Louis I of Hungary in 1367, the letters patent issued by pope Urban V, similar to that of the University of Vienna. The university existed for a few decades, then split into two schools, one of jurisprudence and one of theology in the course of the 15th century. The university was completely discontinued during the Ottoman occupation, then restarted in 1785 by Joseph II moving the Royal Academy from Gyor to Pecs. In 1802 the Royal Academy was moved back to Gyor by the order of Francis I, and higher education was discontinued in Pecs until 1833, when the bishop of Pecs in conjunction with the city senate founded the Pecs Academy, comprising a legal and a philosophical faculty.
The faculties at the University of Pecs are:-
Faculty of Agriculture and Food Sciences and Environmental Management
Faculty of Humanities
Faculty of Dentistry
Faculty of Economics and Business
Faculty of Medicine
Faculty of Informatics
Faculty of Law
Semmelweis University
Motto: Protecting and serving life
Type: Public
Established: 1769
Students: about 10,300
Location: Budapest, Hungary
Campus: Urban
Affiliation; NCFMEA, EUA, WHO
Semmelweis University's history started more than 240 years ago in 1769 when Queen Maria Theresa added a medical faculty to the University of Nagyszombat. Not long after, the university moved first to Buda then to Pest (now Budapest) and, once the university settled in its permanent location, a period of great development commenced. The number of departments and clinical beds grew – so much so, in fact, that by 1838 congestion had become so great, that even the Hungarian National Assembly addressed the Medical Faculty's situation.
Despite the tight circumstances, the Faculty's professors strove to keep pace with international medicine, which was gaining momentum and becoming increasingly specialized during this time. Unfortunately, many were imprisoned or forced into emigration following the defeat of the Hungarian Revolution of 1848. As a result of the large-scale construction projects that commenced in the 1870s, and then considered the outskirts of the city, became the central axis of the Medical Faculty, complete with clinical departments, a botanical garden, and the directorate.
Semmelweis University is a specialized university offering undergraduate and graduate courses only in the field of health science. The university has around 10,000 students from 60 nations over five continents. Foreign students account for about 18% of the total community. The largest and oldest faculty of the university is the Faculty of Medicine with 4,500 students accounting for 40% of the total number of students.
Faculty of Dentistry
Faculty of Health and Public Services
Faculty of Health Sciences
Faculty of Medicine
Faculty of Pharmacy
Károly Rácz School of Ph.D. Studies
Budapest University of technology and economics
Motto: Courses in Contemporary Engineering – harmonizing theory and practice
Type: Public university
Established: 1782
Affiliation: EUA, IAU,DRC,SEFI
Students: 20,152
Location: Budapest, Hungary
Website: bme.hu
Budapest University of technology and economics is the most significant University of Technology in Hungary and is considered the world's oldest institute of Technology which has university rank and structure. It was the first institute in Europe to train engineers at the university level.  It was founded in 1782.
More than 110 departments and institutes operate within the structure of eight faculties. About 1100 lecturers, 400 researchers, and other degree holders, and numerous invited lecturers and practicing expert specialists participate in education and research at the Budapest University of Technology and Economics. Approximately 1381 of the university's 21,171 students are from 50 countries abroad. The Budapest University of Technology and Economics issues about 70% of Hungary's engineering degrees. 34 professors/researchers of the university are members of the Hungarian Academy of Sciences.
Training courses are provided in five languages: Hungarian, English, German, French and Russian.
The faculties in the order of their founding:
Faculty of Civil Engineering (ÉMK)
Faculty of Mechanical Engineering (GPK)
Faculty of Architecture (ÉPK)
Faculty of Chemical Technology and Biotechnology (VBK)
Faculty of Electrical Engineering and Informatics (VIK)
Faculty of Transportation Engineering and Vehicle Engineering (KJK)
Faculty of Natural Sciences (TTK)
Faculty of Economic and Social Sciences (GTK)
Corvinus University of Budapest
Motto: My knowledge is my helper
Type: Public university
Established: 1920
Administrative staff: 867
Students: 14,500
Location: Budapest, Hungary
Campus: Urban
Affiliation: DRC, EAPAA, EUA, ICA, IUA
Website: uni-corvinus.hu
The Corvinus University of Budapest is a university in Budapest, Hungary. The Corvinus University of Budapest is a research university oriented towards education. The university currently has an enrollment of approximately 14,500 students, offering educational programmers' in business administration, economics, and social sciences.
Corvinus University accepts students at six faculties and offers courses leading to degrees at the bachelor, master, and doctoral level in specializations taught in Hungarian, English, French, or German.
The university has three faculties:-
Faculty of Business Administration
Faculty of Economics
Faculty of Social Sciences
These are some of the courses offered:
MIM
BBA
BE / B.tech
MA
BHM
MS
Sc
The entry requirement for universities in Hungary
For admission to a university or college course in Hungary, students must meet certain entry requirements. These consist mainly of a high school diploma or bachelor's degree (for a master's program), proof of language proficiency, and entrance exam.
This is only part of the entry requirements for some specific courses in Hungary. If you have not taken or passed the university entrance examination in your home country or you are not an EU student, you will most probably need to enroll in a preparatory course at the institution you are interested in before applying for your studies. These courses last around 2 semesters and students are charged tuition fees that vary depending on the program and institution.
For English-speaking education programs in Hungary, part of the entrance exam evaluates students' English skills. Otherwise, students may be asked to provide proof in the form of IELTS or TOEFL test scores. The minimum average English language score that schools in Hungary ask for is:
For bachelor degrees:

between 5.0 – 6.0 for the IELTS test
between 60 – 80 for the TOEFL test

For master degrees:

between 5.5 – 6.5 in IELTS
between 70 – 90 in TOEFL test
Documents required for your student visa for Hungary are:
Proof of having paid the tuition fee
An acceptance letter from the university regarding your admission
Passport valid at least 6 months beyond your date of entry
Copy of the photograph page of your passport
Passport photo no more than 6 months old
Proof of health insurance
Proof of address or housing in Hungary
Proof of sufficient funds to cover living expenses in the form of bank assurance/statement
Visa application form
3 stamped envelopes addressed to the applicant
You will need to apply for your residence permit within 15 days of arrival in Hungary. This applies to both EU and non-EU citizens planning to stay in Hungary for longer than 90 days.
To apply for a residence permit, EU and EEA citizens need to submit the following documents:
Proof of payment of tuition fees
Approval document of the host university in Hungary
Proof of health insurance
Tuition fees at public universities
Public Hungarian universities are much more affordable when compared to their Western counterparts. As an international student, you can expect to pay:
between 1,200–5,000 EUR/year for most degrees
between 12,000–16,000 EUR/year for Medicine and Dentistry degrees
Tuition fees at private universities
It is common for private universities to charge higher tuition fees. As always, we recommend visiting the official university page to discover how much you need to pay.
Hungary is known for offering top-quality education at very affordable costs. This is one of the main reasons why over 28,000 international students from all over the world choose to study at a Hungarian university every year.
The average costs of living in Hungary range between 375 and 700 EUR depending on your spending habits and type of accommodation.
The Hungarian forint (HUF) is the official currency. At the time of writing this article, 364 forints equal 1 EUR.
Food costs in Hungary
Depending on your lifestyle, food and groceries will cost between 115 and 150 EUR per month. Let's look at some of the average prices for food products in Hungary:
1 loaf of bread: 0.65 EUR
1 liter of milk: 0.65 EUR
12 eggs: 0.90 EUR
1 kg of apples: 1.15 EUR
1 kg of bananas: 1.20 EUR
1 meal at affordable restaurants: 5.25 EUR
Transportation costs
monthly public transport pass: 10–15 EUR, discounted for students
bike-sharing system (only in Budapest): 22 EUR/semester
taxi: starting fee of 1.95 EUR; around 0.85 EUR per km
Extra costs in Hungary
entertainment (e.g. cinema, concerts, theatre): 20–35 EUR/month
private medical insurance: usually needed by non-EU citizens; the monthly cost varies depending on the length of your stay and the type of medical services which are included
The Stipendium Hungaricum is a fully-funded scholarship for international students to study a wide variety of bachelor's, master's, one-tier master's, non-degree and doctoral programs at 31 Hungarian higher education institutions.
The Hungary Scholarships 2020-2021 is just like the Chinese Government Scholarship, US Fulbright scholarship, Korean Government Scholarship Program, Turkiye Burslari Scholarship, Australian Awards, Swedish Institute Scholarships in Sweden, or MEXT Scholarship Japan. It covers all of your expenses and applicants don't need to pay for anything.
The courses for which this scholarship is available:-
Bachelor's Degree Programs
Master's Degree Program
One-tier master programs
Doctoral programs
Non-degree program
Preparatory course in the Hungarian language
Specialization courses
Scholarship program:-
Bachelor's Scholarships: 2-4 Years
Master's Scholarships: 1.5-2 Years
One-tier master: 5-6 Years
Doctoral Scholarships: 4 Years
Non-degree Programs: 1 Year
1.    Choose your university and program
Hungary has 66 higher education institutions to choose from, out of which 9 ranks in global education tops. Some of the most well-known universities to foreign students — and their typical destinations in Hungary are:
Central European University (CEU)
University of Debrecen
International Business School
Budapest Metropolitan University
Naturally, the study program you choose depends on your skills, your previous studies, and where you want to head your career. But if you are unsure or have different graduate programs in mind, it might help you to know that the most popular study options in Hungary are:
Masters in Business Administration
Masters in Computer Science
Masters in Environmental Sciences
Masters in International Relations
2. Check entry requirements and deadlines
Once you have chosen the exact academic program or programs for which you want to apply, you should check the specific application documents and submit them before the application deadlines. Here are some typical documents you'll need:
An up-to-date CV
Copy of your passport or ID card
Proof of language proficiency (English, German or Hungarian depending on the language the program is taught in)
Certified English translations of transcripts of records
Certified English translation of your diplomas
Listing two academic referees or including two reference letters
A letter of motivation
Other possible specific application requirements can be:
An academic paper (especially for Social Sciences and Humanities degrees)
A competitive GMAT or GRE score (for STEM degrees)
An entrance exam (mostly for Bachelor's studies)
A face-to-face or Skype interview (mostly for Master's studies)
The application deadlines vary according to university, but the most common are:
For the autumn semester: 15th of February
For the spring semester: 15th of November
3. Apply online and pay the application fee
Generally, you can upload all the required documents online, on the page of your chosen study programme. To make sure you have all you need, you can contact the university to ask them if there is anything else you have to do.
Note that Hungarian universities perceive an application fee between 100 and 150 EUR.
4. Wait to receive confirmation from the university
When you're accepted you'll be notified by e-mail or post (hurray!) and you will receive info about the next steps. If you are a fee-paying student, you will be asked to transfer at least part of the tuition fee before your enrolment.
Average tuition fees at Hungarian universities for non-EU/EEA students range between 2,000-5,000 EUR/year. Private universities can have higher tuition costs.
5. Get your student visa for Hungary
If you are not from an EU/EEA country, you will need a visa to study in Hungary, which you can apply for after you have been accepted to your chosen program. The general visa application documents are:
University tuition fee receipt
University acceptance letter
Your passport should be valid at least 6 months after the entry day
Proof of health insurance
Proof of accommodation in Hungary
Proof you have enough funds to cover living expenses during your studies
Visa application form
When you get to Hungary, you will need to apply for your residence permit within 15 days. This is necessary even if you are an EU/EEA resident.
Why Take Admission Through Us?
RMC Elite constantly assists students with entrance, scholarship availability, placements, and other services.
Counseling and Mentoring
The experienced staff at RMC Elite advises you on the finest colleges, courses, scholarship opportunities, and more.
College Profiles
We frequently provide thorough information about individual schools and universities, such as academic programs, campus culture, student life, and admission data, on our website. This information can assist students in gaining a better understanding of what a certain school is like and whether it is a suitable fit for them.
College Search Tools
The RMC educational website includes college search tools that allow students to filter and compare institutions based on factors including location, size, majors, pricing, and entrance requirements. These tools can assist students in narrowing their options and locating colleges that fit their specific requirements.
Test Planning
The team is dedicated to assisting you in preparing for international language exams and clearing screening tests such as TOEFL, IELTS, and others using the most up-to-date practice and curriculums.
The Application Procedure
RMC Elite prioritizes all processes, including profile evaluation, application form completion, admissions locking, Visa preparation, and much more.
Universities of Abroad