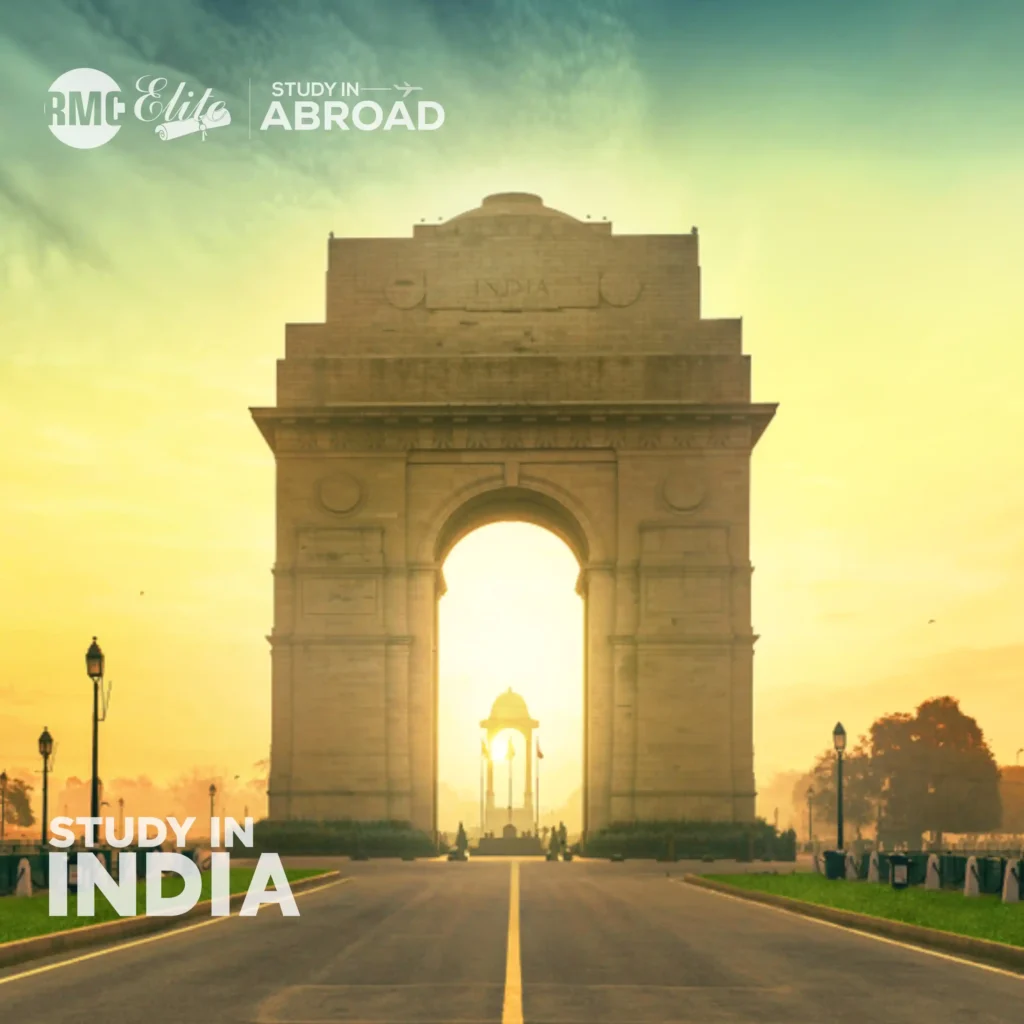 About India
Study In India: India is a vast, diverse and beautiful country. Surrounding by water on its three sides, India is not only beautiful but it also has a vast contribution to education. India is a culturally, educational, traditionally rich country. It is a hub of educational institutions. India is a home for so many communities, languages, cultures, and religions. It is a place which is famous for its monuments as well like Taj Mahal, Qutub Minar, Golden temple, etc. Delhi is not only India's political capital but is also the heart and a hub of the Indian education system. Students from worldwide desire to study in universities in India.
There is a vast culture of study in India from the very early period. From gurukul to vast universities, India has traveled a lot in the field of education. The country's impressive historical background attracts a lot of students from all over the world to come, visit and study in India. Moreover, the courses to study in India, on one hand, have a lot of options and on the other, they are quite feasible.
India is now one of the major power in Asia. Around 2.7 % GDP of India is invested in higher education in India. The Indians are everywhere in every field, be it NASA or the world bank. You may find Indians everywhere. India is also a good option for those who want to study abroad. If they chose to study in India, they would get a chance to learn a lot about history, culture, and traditions for which India is most famous in the world.
Why Study in India
India is a vast and diverse country and so is its education system it is among the top 30 education systems in the world. Education in India is affordable for foreign students as well. The universities here offer a lot of opportunities and in-course experiences and training to the students. Moreover, India has a rich and diverse culture, which supports unbiased and more logical learning in universities in India. The increasing growth rate of the Indian economy is also a factor that makes studies feasible in India.
The universities in India are well ranked and known for quality education in India. These factors make India a good place for students. However, sometimes the diverse culture and traditions bring a communal problem but India has a rich secular and unity from early periods. The students who wish to study in India experience a vast and diverse mixed culture which enhances their skills and knowledge apart from education.
After China, India is the second-largest populous county n the world. With its fast-growing and momentous economy, India's education system is also expanding with time. Now, India has the most complex and one of the largest higher education systems in the world. There are so many universities in India, which offer a dozen of courses to study in India. The universities in India differ on the basis of size, specialization, and origins. Some of them are run by the state and some are private.
In 2018, according to the QS higher education system strength, India's higher education system was ranked 26th in the world. India is well known among the world for its science, technology, and engineering disciplines in the world.
If you are confused about how to study in India, then here is a list of some of the top universities in India and their specialization which will certainly help you out to choose the best.
Indian Institute of Technology Bombay
In 2021, according to the QS world university ranking, IITB is ranked 172nd in the world. And it is ranked first among the universities in India. It is a part of the famous IIT group, despite its specialization it also offers courses to study in India like arts and humanities. IITB is India's one of the oldest universities in India. To be a part of IITB, students need to pass its entrance exam, which is of next-level competition.
Indian Institute of Technology Delhi
Ranked 193rd in the world, IITD is another vast public institution in India. It is situated in Delhi, the capital of India.  It is ranked fourth among the universities in India. The Indian Institute of Technology Delhi is internationally ranked for 14 subjects, performing best for computer science, civil and structural engineering, electrical and electronic engineering, and mechanical engineering.
Indian Institute of Science
The University is ranked 185th in the world. This is the second top university in India. It is known for 12 subjects and is one of the best options to study in India. It performs best (among the top 150 worldwide) for materials sciences, chemical engineering and electrical engineering, mechanical engineering, and chemistry disciplines.
It is situated in Delhi and is recognized by the University Grants Commission of India. DU is a very large co-educational university in India. It offers a variety of courses to study in India. International applicants are eligible to apply for enrolment. DU also provides several academic and non-academic facilities and services to students including a library, housing, sports facilities, study abroad and exchange programs, as well as administrative services. Moreover, the University of Delhi is divided into large beautiful campuses as north and south campus.
Du offers undergraduate, postgraduates degrees as well as research studies for national as well as international students.  It is one of the top-rated universities in India. Students from all over India pray a lot to be a part of this magnificent university. Even the students from abroad who wish to study in India can found the University of Delhi as one of the best options.
Jawaharlal Nehru university
A central Indian university located in Delhi, Jawaharlal Nehru University is one of the best universities in India. It embodies 13 schools, 55 centers, and 7 special centers. It has 13 campuses. The University is recognized as a center of excellence by the University grants commission.
Jawaharlal Nehru University offers 106 courses in 11 streams including, sciences, arts, and humanities. It is the first university where courses in foreign languages are introduced in its MA program. If you are wondering how to study in India, then this university is a good option for foreign as well as Indian students. The University also offers distance courses along with full-time regular courses. It is ranked No. 2 in NIRF ranking 2020. The University also offers the scholarships like four G Parthasarathy endowment fellowship, merit-cum-means scholarship, ford foundation scholarship, etc.
To study in India and gain maximum, the Banaras Hindu University is in of the Best universities in India. It is a public institution with the main campus in Varanasi in Uttar Pradesh and the second Campus in Mirzapur. The University has 14 faculties, 140 departments, 4 interdisciplinary centers, 3 constituent schools, a constituent women's college. Banaras Hindu University also comprises six advanced studies centers and several specialized research centers.
The university offers 352 courses across 16 streams at undergraduate, postgraduate, and Ph.D. levels. The University is ranked No. 3 in NIRF ranking 2020. The university also has a beautiful infrastructure, having big departments, a sports complex, a library, a house of residence, and many more.
There are a lot of options to study in India. The universities in India offer a vast variety of courses and worldwide recognizable degrees to their students. Moreover, the fees are quite affordable and the mediums are mostly English which makes it easy to study in India. Some other top universities in India are:
Jamia Millia Islamia University, Delhi
Aligarh Muslim University, Aligarh
Calcutta university
Vellore Institute of technology
Homi Bhabha national institute
Anna university
Jamia Hamdard, etc.
India is one of the economically most viable countries for local as well as foreign students. The cost of living in India is less compared to other countries. To study in India, the basic central tuition fees lie between INR 5000 to INR 50000 approx. The central universities offer courses to study in India at a low cost. However, the private institution may charge relatively higher tuition fees.
Most of the universities in India offer on-campus accommodation for the students. The expense of which lies in between from INR 1,00,000 to INR 3,00,000 annually. The hostels offered by universities in India provide a lot of facilities including mess, gym, reading area, laundry, and many more. Moreover, the students also have options to live in a rented room or flat or a private hostel. The expenses of which may vary according to what facilities you choose.
The other expense of lining in India like the cost of traveling, wasting, bills, is also not that high in comparison to other countries. Moreover, the quality of education is high while the expenses are very low. It makes India a good options for foreign students as well
To study in India the most necessary language is English. The foreign students need to pass the language proficiency test like TOEFL and IELTS. The universities in India also allow studying in Hindi and Urdu and other regional languages along with English.
To study in India the necessary documents required by foreign students include
Valid passport
Admission application form
Certified copies of academic transcripts
Curriculum vitae
Language proficiency in test scores
Statement of purpose
Proof of financial capability
Recommendation letter
It is quite affordable to live and study in India. There are lots of scholarships also which makes it more feasible for the students to have quality education in some of the best universities in India. To study in India many private and Central scholarships are proposed for students in clouding the merit, merit-cum-means, means, and talent-based scholarships for UD, PG, and Ph.D. students. Some universities in India offer scholarships for national as well as international students for their universities only.
Some of the scholarships in India are :
Merit-based scholarships
Swami Dayanand college scholarship
L &T build India scholarship
INSPIRE scholarship for higher education
Kishore vaigyanik protsahana yojana (KVPY)
National scholarship exam, etc
Means based scholarships
Post matric scholarship scheme for minorities
National overseas scholarship for SC students
SHDF scholarships
Azim Premji undergraduate scholarship
IDFC first MBA scholarship
Merit-cum-means based scholarships
LIC HFL Vidyadhan scholarship
Keep India smiling foundation scholarship program
LIC golden jubilee scholarship
Shubh arambh scholarship
Federal Bank Hormis Memorial Foundation Scholarships, etc.
Talent-based scholarships
Toto music award
Kalakriti fellowship
Sahitya akademi yuva puraskar
New India foundation fellowships
Young artists scholarship
Comix completion, etc.
Sport-based scholarships
AAI sports scholarship scheme in India
University of Sussex sports scholarship scheme, etc.
Scholarship for women
Santoor women's scholarship
Begum Hazrat Mahal national scholarship scheme for minority girls
The UGAM-Legrand scholarship program, etc.
Scholarships for foreign students
General scholarship schemes for foreign students
Indira Gandhi Institute of development research scholarship
KIIT University International scholarship program
Indian school of business international scholarship
ITEC/SCAAP Government of India fully funded scholarship, etc.
Thus, a study in India is very affordable and comfortable for students. Students from countries like Brazil, Afghanistan, Mauritius, Singapore, etc came to India a lot to study in universities in India.
India has about 17500 colleges and universities that admit international students as well. To apply to any university in India there are different factors. Some Indian universities make an admission on merit-based only, while some conduct entrance exams and interviews for admissions. Here are some of the basic tips for admission to universities in India
Apply to more than one university, at least 3
Go through the admission process of each university individually
Early and accurate submissions of applications may prove advantageous.
For the foreign students, admission may be direct for engineering and some other programs the International students have to apply through DASA( Direct admission of student abroad scheme).
Some universities in India also need foreign applicants to pass tests like TOEFL, IELTS, GMAT, SAT, etc. Moreover, for the admissions in IIT, the students need to pass the JEE tests, me or national or foreign candidate.
Why Take Admission Through Us
RMC Elite constantly assists students with entrance, scholarship availability, placements, and other services.
Counseling and Mentoring
The experienced staff at RMC Elite advises you on the finest colleges, courses, scholarship opportunities, and more.
College Profiles
We frequently provide thorough information about individual schools and universities, such as academic programs, campus culture, student life, and admission data, on our website. This information can assist students in gaining a better understanding of what a certain school is like and whether it is a suitable fit for them.
College Search Tools
The RMC educational website includes college search tools that allow students to filter and compare institutions based on factors including location, size, majors, pricing, and entrance requirements. These tools can assist students in narrowing their options and locating colleges that fit their specific requirements.
Test Planning
The team is dedicated to assisting you in preparing for international language exams and clearing screening tests such as TOEFL, IELTS, and others using the most up-to-date practice and curriculums.
The Application Procedure
RMC Elite prioritizes all processes, including profile evaluation, application form completion, admissions locking, Visa preparation, and much more.
Universities of Abroad