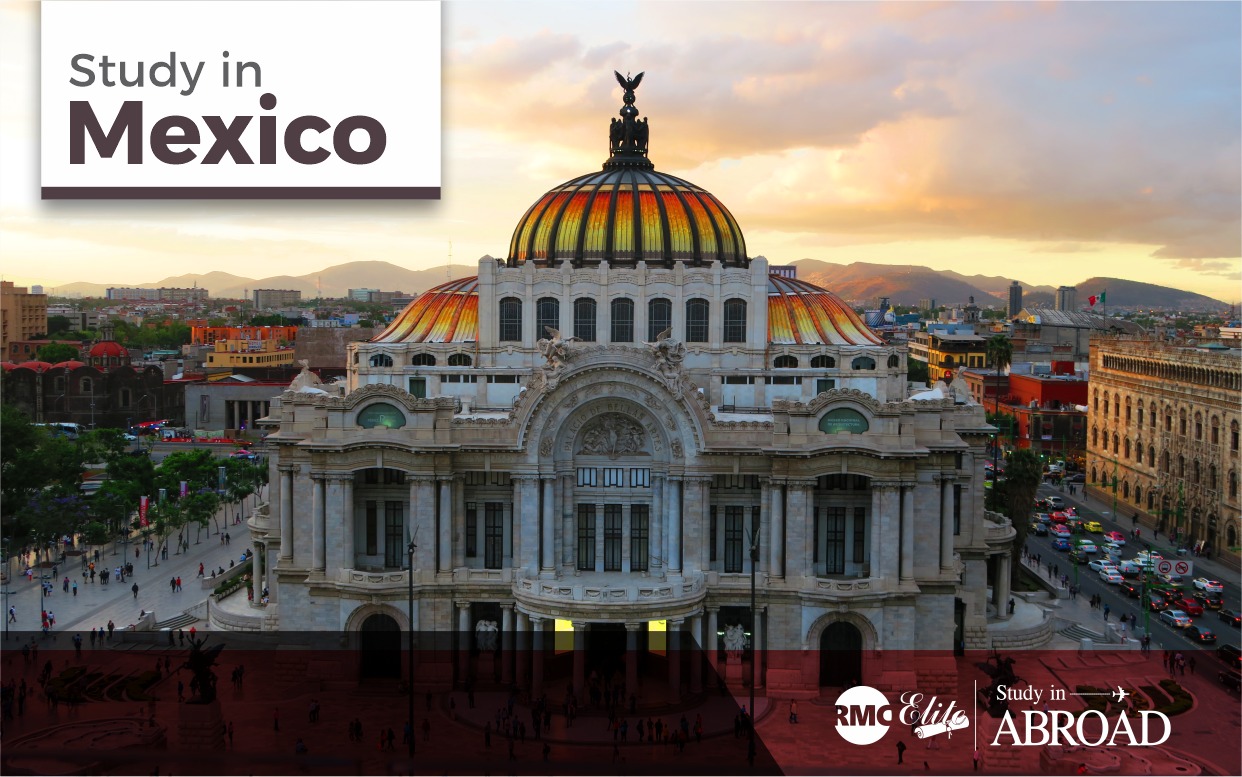 About Mexico
Mexico, country of southern North America and the third-largest country in Latin America, after Brazil and Argentina. Mexican society is characterized by extremes of wealth and poverty, with a limited middle class wedged between an elite cadre of landowners and investors on the one hand and masses of rural and urban poor on the other. But in spite of the challenges, it faces as a developing country, Mexico is one of the chief economic and political forces in Latin America. It has a dynamic industrial base, vast mineral resources, a wide-ranging service sector, and the world's largest population of Spanish speakers—about two and a half times that of Spain or Colombia.  As its official name suggests, the Estados Unidos Mexicanos (United Mexican States) incorporates 31 socially and physically diverse states and the Federal District.
Why Mexico
Universities
Courses
Eligibility
Document
Scholorships
How to Apply
Why Mexico
Mexico's population has greatly increased since World War II, but the distribution of wealth remains imbalanced. Due to negligible legislative assistance, the poor are generally unable to improve their socio-economic status. The state of Chiapas exemplifies the problems caused by financial imbalance. In 1994, the Zapatista National Liberation Army rose to challenge discrimination against Chiapas' poor.
Mexico City, the second-largest metropolitan area in the world after Tokyo, is home to numerous attractions, including the Palacio Nacional and the Catedral Metropolitan.
The Tropic of Cancer effectively divides the country into temperate and tropical zones. Land north of the Tropic of Cancer experiences cooler temperatures during the winter months. South of the Tropic of Cancer, temperatures are fairly constant year-round and vary solely as a function of elevation. This gives Mexico one of the world's most diverse weather systems.
Mexican institutions offer hundreds of master's degree programs in a wide range of subjects, including humanities, social sciences, and engineering. Many programs are offered on a part-time basis or have classes at night and some programs, especially business master's degrees, are taught in English. Students who are already proficient in Spanish or who want to increase their Spanish fluency will find studying in Mexico to be very rewarding. More than 7,600 international students already study at more than 100 higher education institutions in Mexico, with most of them coming from France, the United States, Spain, Germany, and Colombia. In addition to obtaining a high-quality education at a low cost, students can also experience Mexico's diverse culture and natural beauty during breaks.
The reasons to study in Mexico:
Access quality education at a lower cost.
According to the U.S. Department of Education, less than 20% of all applicants to a university will enroll, not only because of the demanding admission processes but also because of the financial commitment involved in the process, a situation that does not occur in Mexico.
Obtain a Double Degree or another international experience.
More than a decade ago CETYS Universidad began an important Double Degree program with the City University of Seattle, which allows those who successfully finish the program to obtain a professional degree in Mexico and another in the United States, a differentiating value that provides a competitive advantage in the labor market.
Immerse yourself in your career from day one.
Unlike United States Colleges, Mexican universities immerse students in courses and learning activities about the degree of choice since day one, thus allowing a student to graduate in a period of 4 years.
Acquire work experience in the industry.
Having a job upon graduation is a concern for every student. CETYS University has a solid corporate relations program, which includes professional internships and other linkage opportunities that provide students with actual job experience early in their program, thus making them part of the 97% of graduates who obtain employment within the first year after graduation.
Live the dynamism of both sides of the border.
The Calibaja region is a space where diverse cultures, ways of life, and perspectives converge. For university students, this represents an excellent learning environment, fueled by the dynamism that characterizes both sides of the border, providing a learning experience in two languages (English and Spanish) in a bi-cultural setting.
Universities
Courses
Eligibility
Document
Scholorships
How to Apply