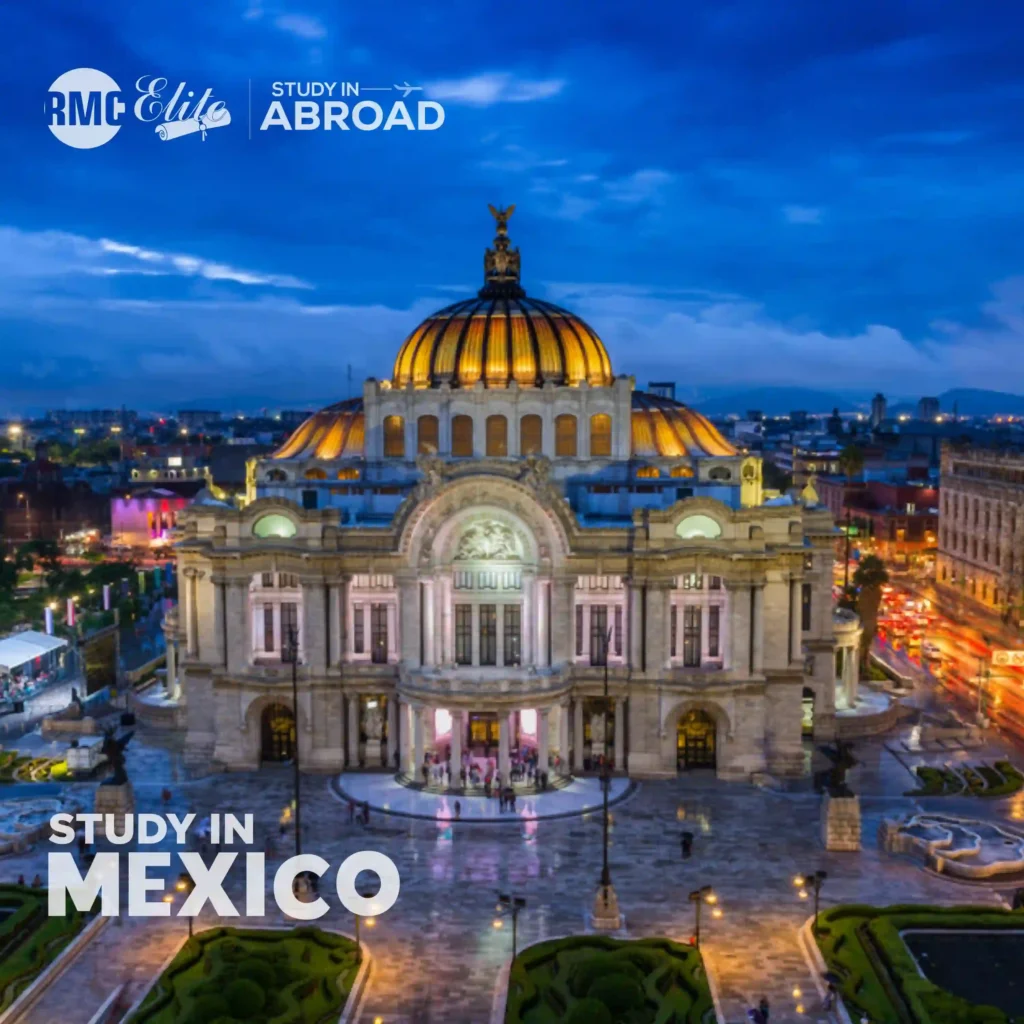 About Mexico
Mexico, country of southern North America and the third-largest country in Latin America, after Brazil and Argentina. Mexican society is characterized by extremes of wealth and poverty, with a limited middle class wedged between an elite cadre of landowners and investors on the one hand and masses of rural and urban poor on the other.
But in spite of the challenges, it faces as a developing country, Mexico is one of the chief economic and political forces in Latin America. It has a dynamic industrial base, vast mineral resources, a wide-ranging service sector, and the world's largest population of Spanish speakers—about two and a half times that of Spain or Colombia. As its official name suggests, the Estados Unidos Mexicanos (United Mexican States) incorporates 31 socially and physically diverse states and the Federal District.
Why Study in Mexico
Mexico's population has greatly increased since World War II, but the distribution of wealth remains imbalanced. Due to negligible legislative assistance, the poor are generally unable to improve their socio-economic status. The state of Chiapas exemplifies the problems caused by financial imbalance. In 1994, the Zapatista National Liberation Army rose to challenge discrimination against Chiapas' poor.
Mexico City, the second-largest metropolitan area in the world after Tokyo, is home to numerous attractions, including the Palacio Nacional and the Catedral Metropolitan.
The Tropic of Cancer effectively divides the country into temperate and tropical zones. Land north of the Tropic of Cancer experiences cooler temperatures during the winter months. South of the Tropic of Cancer, temperatures are fairly constant year-round and vary solely as a function of elevation. This gives Mexico one of the world's most diverse weather systems.
Mexican institutions offer hundreds of master's degree programs in a wide range of subjects, including humanities, social sciences, and engineering. Many programs are offered on a part-time basis or have classes at night and some programs, especially business master's degrees, are taught in English. Students who are already proficient in Spanish or who want to increase their Spanish fluency will find studying in Mexico to be very rewarding. More than 7,600 international students already study at more than 100 higher education institutions in Mexico, with most of them coming from France, the United States, Spain, Germany, and Colombia. In addition to obtaining a high-quality education at a low cost, students can also experience Mexico's diverse culture and natural beauty during breaks.
The reasons to study in Mexico:
Access quality education at a lower cost.
According to the U.S. Department of Education, less than 20% of all applicants to a university will enroll, not only because of the demanding admission processes but also because of the financial commitment involved in the process, a situation that does not occur in Mexico.
Obtain a Double Degree or another international experience.
More than a decade ago CETYS Universidad began an important Double Degree program with the City University of Seattle, which allows those who successfully finish the program to obtain a professional degree in Mexico and another in the United States, a differentiating value that provides a competitive advantage in the labor market.
Immerse yourself in your career from day one.
Unlike United States Colleges, Mexican universities immerse students in courses and learning activities about the degree of choice since day one, thus allowing a student to graduate in a period of 4 years.
Acquire work experience in the industry.
Having a job upon graduation is a concern for every student. CETYS University has a solid corporate relations program, which includes professional internships and other linkage opportunities that provide students with actual job experience early in their program, thus making them part of the 97% of graduates who obtain employment within the first year after graduation.
Live the dynamism of both sides of the border.
The Calibaja region is a space where diverse cultures, ways of life, and perspectives converge. For university students, this represents an excellent learning environment, fueled by the dynamism that characterizes both sides of the border, providing a learning experience in two languages (English and Spanish) in a bi-cultural setting.
Universidad Nacional Autónoma de México (UNAM)
Motto: "For my race, the spirit shall speak"
Type: Public
Established: 1551
Academic Staff: 41,318
Students: 356,530
Location: Mexico city
Campus: Urban
UNAM was founded, in its modern form, on 22 September 1910 by Justo Sierra as a liberal alternative to its predecessor, the Royal and Pontifical University of Mexico, the first to be founded in North America, UNAM obtained its autonomy from the government in 1929. This has given the university the freedom to define its own curriculum and manage its own budget without government interference. This has had a profound effect on academic life at the university, which some claim boosts academic freedom and independence.
UNAM was the birthplace of the student movement of 1968, which turned into a nationwide rebellion against autocratic rule and began Mexico's three-decade journey toward democracy.
The campus is a UNESCO World Heritage site that was designed by some of Mexico's best-known architects of the 20th century. Murals in the main campus were painted by some of the most recognized artists in Mexican histories such as Diego Rivera and David Alfaro Siqueiros. The UNAM is widely regarded by many university world rankings as the leading university of the Spanish-speaking world. All coursework is taught in Spanish.
UNAM has five Higher Education Schools, four in the State of Mexico and one in Mexico City, which was established in the seventies within the framework of an education decentralization project in order to benefit a larger number of students, introduce educational innovations, to impel inter-discipline and multi-discipline, to link research and teaching, to integrate theory and practice and to relate to its environment.
UNAM offers 41 postgraduate programs with 83 curricula for master and doctoral programs, with the advantage that these are jointly taught by diverse academic entities of the National University schools, institutes, and centers offering the students a major variety of expert tutors in different branches of the discipline of their choice. It also offers 30 programs in 167 specializations.
Tecnológico de Monterrey (ITESM)
Type: Private
Established: 1943
Affiliation: SACS, APRU
Academic Staff: 9,916
Students: 91,200
Location:Monterrey, Mexico
Campus: 26
Heading north to Monterrey, the private Tecnológico de Monterrey (ITESM) is ranked second in the Mexico ranking and has been steadily improving in the world university rankings in recent years, currently appearing in 178th place. It scores in the top five for all but two of the eight indicators, ranking first for citations per paper (a measure of research impact). Founded in 1943, ITESM has expanded rapidly since the 1960s and now operates 31 campuses across 25 Mexican cities.
Academically, the university is organized into several departments and divisions —as opposed to the traditional faculty school scheme used by most Mexican public universities— and it was the first Mexican university in history to divide the academic year into semesters.
Since 1969 the Institute requires every college applicant to achieve a minimum pass mark at an academic aptitude test which is 900 out of 1600. (Prueba de Aptitud Académica, PAA) delivered by The College Board, a not-for-profit examination board in the United States. However, each campus is free to request additional requirements; such as a grade average of 80 or 90 in high school (on a 100-point scale) for those willing to transfer or apply to the Monterrey Campus.  As for the graduate schools, the requirements may vary according to the discipline, such as a grade average of 80/100 and 550-points in both the GMAT and the TOEFL for some programs at its Graduate Business School (EGADE).
The institute has at least thirty-three libraries in twenty-five Mexican cities holding over 2.4 million books, publications, and 46 types of electronic databases with at least 51,000 specialized magazines and academic journals and over 9000 e-books
Instituto Politécnico Nacional (IPN)
Motto: The Technique at the Service of Fatherland
Type: Public
Established: 1936
Academic Staff: 17,534
Administrative Staff: 10,383
Students: 171,581
Location: Mexico city
Campus: Urban
Affiliation: AUIP
Instituto Politecnico Nacional was founded on January 1, 1936, during the administration of President Lázaro Cárdenas in what had been previously known as the Ex hacienda Santo Tomás — a large estate initially owned by Spanish conqueror Hernán Cortés in the 16th century and donated by the federal government.
The institute consists of 98 academic units offering 293 courses of study. It includes 78 technical careers, 80 undergraduate and 135 postgraduate programs.  Its main campus, called 'Unidad Profesional Adolfo López Mateos' or 'Zacatenco', is on approximately 530 acres (2.1 km2) north of Mexico City.
The IPN is based primarily in Mexico City, but with several research institutes and facilities distributed over 22 states.
IPN offers 80 undergraduate programs leading to four- or five-year bachelor's degrees and 135 postgraduate programs leading to 29 postgraduate diplomas, 70 master's degrees, and 36 doctorate degrees.
Like most public universities in Mexico, in addition to its undergraduate and graduate schools, the institute sponsors several vocational high schools called 'Centros de Estudios Científicos y Tecnológicos' (C.E.C. y T.), most of which are in Greater Mexico City. Upon completion, they lead to a technician degree. For this level of study, the institute offers 78 technical careers.
Universidad Autónoma Metropolitana (UAM)
Motto: House open to time
Type: Public
Established: 1974
Location: Mexico city
Affiliation: ANUIES
The Metropolitan Autonomous University also known as UAM is a Mexican public university, founded in 1974, with the support of then-President Luis Echeverria Alvarez. The institution aims to be closely linked to the social and human environment.
An autonomous university is a public agency of the State (Article 3 of the Organic Law of the UAM), based on the principles of academic freedom and research, and inspired by all the currents of thought.
It has five academic units located in Mexico City and Greater Mexico City: Azcapotzalco, in north, Iztapalapa, in the east, Cuajimalpa, in the west, Xochimilco, in the south, and Lerma in the State of Mexico.
UAM offers 82 undergraduate programs and 114 graduate programs and there are more than 59,000 undergraduate and graduate students annually.
Of the 82 bachelor's degree programs, 41 are accredited and/or assessed by an external agency. Of the 114 postgraduate degree programs, 82 (two specializations, 50 master's, and 30 Doctorate programs) are incorporated into the National Postgraduate Quality Program (PNPC) of the National Council of Science and Technology (CONACyT).
Universidad Iberoamericana (UIA)
Motto: The truth shall set us free
Type: Private
Established: 1943
Academic Affiliation: SUJ
Location: Mexico city
Campus: Urban
The Ibero-American University is one of the most prestigious universities in Mexico. The private institution of higher education is sponsored by the Society of Jesus, and it is recognized as having an international-grade level of excellence. In 2009, the UIA received the SEP-ANUIES Prize as the best private university in Mexico. The Ibero's flagship campus is located in the Santa Fe district of Mexico City. It is ranked by QS World University Rankings as 701-750 worldwide and 7 in Mexico.
Universidad Iberoamericana moved to its modern 48-acre (20 hectares) campus in 1988, in the Santa Fe area of Mexico City. Besides classrooms, laboratories, and workshops in physics, chemistry, photography, psychology, engineering, communications, architecture, design, and nutrition, the university houses the Francisco Xavier Clavigero library, the FM 90.9 radio station, and several auditoriums. Other facilities on campus include sports fields and related conveniences, a medical center, three cafeterias, an on-campus bookstore, a stationery shop, bank branches, and other university stores.
IBERO is an institution entrusted to the Society of Jesus, whose mission is to contribute to the achievement of a more free, solitary, just, inclusive, productive, and peaceful society, through the development and spreading of knowledge and the formation of professionals and researchers with a high human and intellectual quality, internationally competent, committed to the greatest service to others, and inspired by authentic human, social and transcendent values.
Instituto Tecnológico Autonomo de México (ITAM)
Motto: For a free fairer and prosperous Mexico
Type: Private
Established: 1946
Academic Staff: 239
Students: 5000
Location: Mexico city
Campus: Urban
The Instituto Tecnológico Autónomo de México, commonly known as ITAM, is a private Ph.D.-granting research university. It is one of Mexico's most important institutions of higher learning, highly prestigious in the social sciences; regarded as the best undergraduate Economics, International Relations, Law, and Political Science school in Mexico. Also, it is considered one of Mexico's think tanks and has the highest rank of admission to the Mexican Foreign Service.
During its first four years, the ITAM was originally located in a house in Mexico City's Centro in 518 La Palma Street. In 1950 the institute moved to 65 Serapio Rendón Street in the Colonia San Rafael. During the late 1950s, it moved once more to a new building built especially for the institute at the corner of Marina Nacional Street and Lago Zirahuen Street in the Colonia Anahuac. Finally, in 1978, ITAM moved to its current campus in 1 Río Hondo, in San Ángel. In 1991 the smaller graduate school campus, in 939 Camino Santa Teresa, was opened.
The ITAM, through this department, offers education in modern economics, with a considerable emphasis on analytic techniques and economic models, in line with the subjects being taught in economics departments around the world. The Department of Economics has been especially influential. It is a major feeder for Latin American candidates into top international graduate programs and has played an important role in the economic liberalization process that the Mexican Government started in the mid-1980s.
The following are some of the most popular academic disciplines among international students in Mexico:
Business Administration degrees in Mexico
International Business degrees in Mexico
Computer Science degrees in Mexico
Legal Studies degrees in Mexico
Health Science degrees in Mexico
Graduate Degree in Digital Strategy
Data Analytics Boot camp Course
Intensive Spanish Courses
School for Foreign Students: Spanish language and culture courses
Spanish Academic Course For Foreigners (EAPE)
Drawing and Digital Illustration Course
Neurosciences for Psychotherapists
Eligibility requirements:
Undergraduate Studies
To get admission in undergraduate courses in Mexico, students are required to have a minimum high school Grade Point Average (GPA). Most of the universities in Mexico accept cumulative 2.0 GPAs on a 4.0 scale.
Students interested in undergraduate studies should have high school graduation.
Master's Degree
Students who are interested in a Master's program in Mexico must have a baccalaureate degree or its equivalent degree.
 Ph.D. Studies
Students interested in the Doctoral program in a Mexican university must have a Master's degree or relevant diploma.
Well, the admission procedure is different for different universities/colleges. Some depend on the GPA (Grade Point Average) and other academic excellence while some other institutes conduct entrance tests. Students from non- English speaking countries have to appear for standardized tests like TOEFL mandatorily to gain admission to Mexican Universities. You can either mail the filled-in application form directly to the university office or else, do it online. University cross matches your profile with the eligibility criteria of the university. If it matches your profile, you will get a confirmation letter or tickets for the test (in case of an entrance test). If you have appeared for the entrance test, the results will be mailed to you. You can avail of it online as well. The qualifications needed for each course depend upon the subject and level of course selected.
Students applying for study programs in Mexico must submit the online entrance test. It will be scheduled before the deadline of the Application (students may be required to have an interview with the university's delegate)
Upon finishing the entrance test, students should take the next step, to get a student visa. On the contrary, Candidates from some countries do not need to get a visa. While others need to fulfill the requirements of a student visa in Mexico and to get a student visa, all students must have medical insurance.
International students applying for Mexican universities have to get their high school certificates from the Mexican Embassy. Moreover, Students have to carry this document during the enrollment process.
For admission to a Mexican university, the student must attend personally to the admission office in the university at the time of admission with the following documents:
Passport,
Two ID sized photographs, and
Notification of candidate's acceptance of admission and evidence of the validity of high school studies
Additionally, to apply for a Mexican university, you will have to apply directly to it through the admission department. Also, Admission requirements vary from one institution to another, but you may be required to have an entrance exam and/or a language proficiency test depending on your circumstances.
When you apply for a Mexico Student Visa, you must submit the following documents (in original and copy) at the Mexico embassy:
Completed and signed Mexico Visa Application Form
Your passport along with photocopies of the relevant pages (first and last page, any visas, and stamps you have received)
The passport-size picture with a white background and taken in the last six months.
A booked flight ticket (not necessarily purchased)
Letter of acceptance from your educational institution, addressed to the Mexico embassy, containing the following:

Your full name
The level, degree, and area of the study you will take
The name of the course in which you have been accepted
The duration of the course, including start and end dates
The cost of the tuition fee, along with specification on whether you have received a scholarship
The school's contact information

Bank statements or investments from the last three months
Proof of sufficient financial means to cover your stay, such as:

Proof you have a steady income of at least US$400 per month
Proof you have savings or investments
Proof you have received a scholarship

If you are a minor: Include your birth certificate and the IDs of your parents or legal guardians.
If you are not a national of the country you are currently living in: Include proof of legal residence there, such as a residence permit.
Student Visa processing fee
Mexican Government Scholarships for International Students 2023
International students who desire to study in Mexico can now study for free or at less cost. The Mexican Government receives applications from eligible international students annually.
 Scholarships are offered for full specialization, master's or doctoral programs, and postdocs. The offer also includes scientific mobility for undergraduate and graduate courses. On the other hand scholarships for special programs are offered.
 Applicants cannot live in Mexico at the time of application.
 Except in special cases, scholarships cannot begin in November or December.
Requests for information and all scholarship applications must be submitted to the Mexican Embassy or to simultaneous embassies of the Applicant's country or to the designated Mexican institution. Only applications that meet all requirements are considered.
 All documents and forms must be in Spanish or submitted with Spanish translations.
 Applicants will be informed of the results by the appropriate Mexican embassy or institution designated by Mexico.
 Scholarships are not transferable and cannot be transferred to subsequent years.
The academic duration of the Mexican Scholarship:
 Academic mobility programs for students and doctoral students – one academic semester (quarter, quarter, or semester)
 Scholarships and Postdocs – 12 months (at least 1 month)
 Specialization -1 year
 Master – 2 years
 Doctorate- 3 years
 Specialties and medicinal specialties 3 years
<h3>Candidates have to present the following documents:</h3>
Official academic transcripts of the past 3 years of study,
Two recommendation letters,
Copy of passport,
Two ID sized photographs,
Receipt of fee payment besides the application form of the applicant.
Why Take Admission Through Us?
RMC Elite constantly assists students with entrance, scholarship availability, placements, and other services.
Counseling and Mentoring
The experienced staff at RMC Elite advises you on the finest colleges, courses, scholarship opportunities, and more.
College Profiles
We frequently provide thorough information about individual schools and universities, such as academic programs, campus culture, student life, and admission data, on our website. This information can assist students in gaining a better understanding of what a certain school is like and whether it is a suitable fit for them.
College Search Tools
The RMC educational website includes college search tools that allow students to filter and compare institutions based on factors including location, size, majors, pricing, and entrance requirements. These tools can assist students in narrowing their options and locating colleges that fit their specific requirements.
Test Planning
The team is dedicated to assisting you in preparing for international language exams and clearing screening tests such as TOEFL, IELTS, and others using the most up-to-date practice and curriculums.
The Application Procedure
RMC Elite prioritizes all processes, including profile evaluation, application form completion, admissions locking, Visa preparation, and much more.
Universities of Abroad