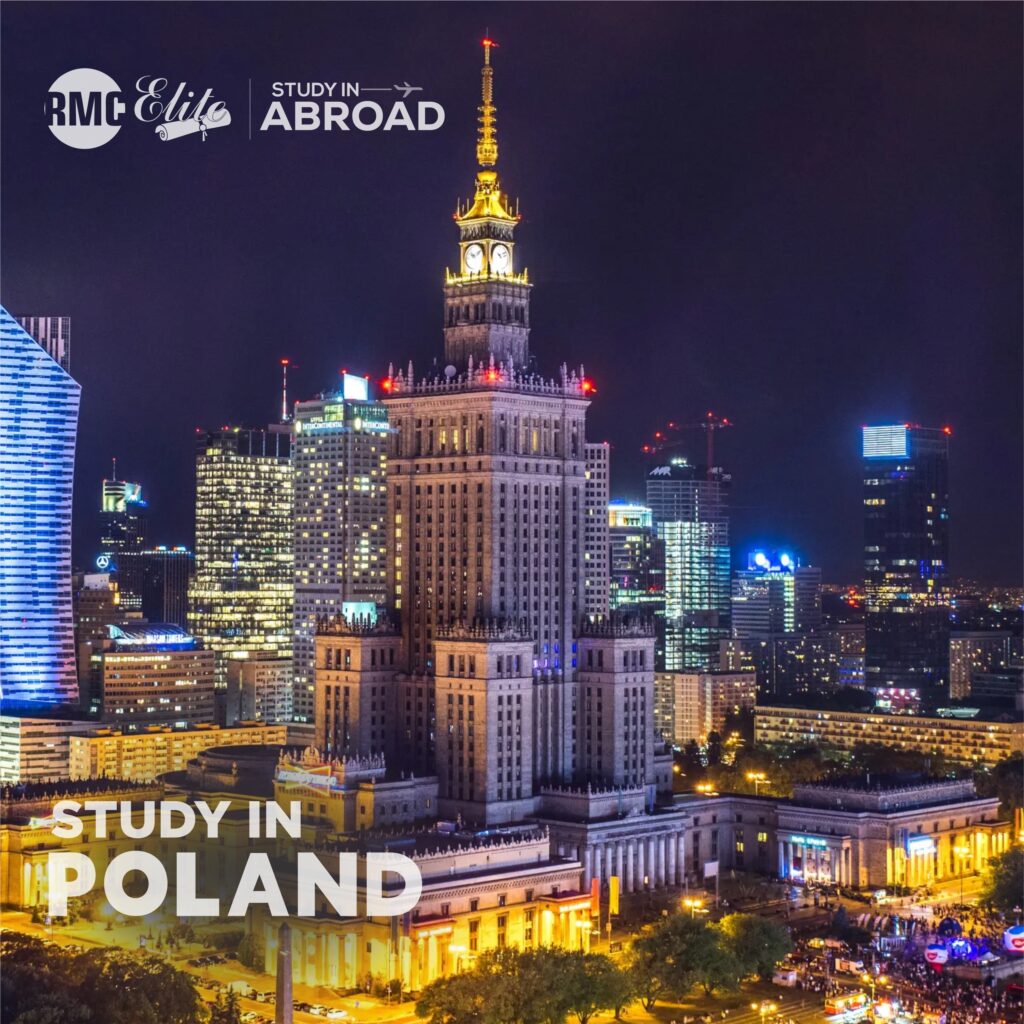 About Poland
Study In Poland – A huge country with a rich heritage, a vibrant culture, and welcoming people. This is all because of recent efforts in internationalization, Poland is attracting ever more students from abroad. The country offers world-class education at fair tuition fees and a surprisingly affordable cost of living. Higher education in Poland has a history dating back nearly 800 years, and the country is home to over 400 institutions – many of which now also offer study programs in English. Poland's higher education system is also known for its specialized technical institutions. They educated tens of thousands of specialists every year in subjects like engineering or computer science. Warsaw University of Technology and AGH University of Science and Technology enjoy an exceptional standing in global rankings, and there are many other best institutions you can choose from.
Why Study in Poland?
Poland is famous for its rich culture and diversity. Poland also has the sixth-largest economy in the European Union with the largest stock exchange in the East-Central European zone. Apart from its rich history, culture and economy, Poland also attracts the attention of students because of their top-class academic institutions, vibrant culture and relevantly cheaper education in comparison to the other parts of Europe.
Here are some of the reasons for why you should study in Poland:
Affordable Tuition Costs : Poland is considered a cheaper and affordable option amongst international students when compared with other study destinations in Europe. The high quality of education exceeds the costs which makes Poland one of the great options for pursuing studies. The average fees vary from private universities to public universities but more or less it ranges between 1000 euros to 4000 euros per year. The affordable cost of studying is another major reason to study in Poland as it offers economical education when compared with top study abroad destinations like Australia, the USA, France, etc.
Advanced Quality Of Education : Home to more than 450 higher education institutions, Poland is one of the most popular study destinations in Europe. One of the top reasons to study in Poland is the internationally famed Polish education system follows the standards set by the Bologna process and thus the degrees earned are recognized internationally. With innumerable short-term and full-time programs on offer, Polish academic institutions emphasize on the essentiality of gaining practical knowledge, creative skills and exposure over theoretical knowledge.
Vibrant culture : Poland is home to a rich and glorious culture which is a core part of the Western civilization and the country's great leaders and personalities have contributed massively to art, music, philosophy, science and literature. Amongst the top reasons to study in Poland is the amazing opportunity to delve deeper into the Polish culture which is a wonderful combination of influences from Germanic, Hungarian, Latinate as well as Ottoman cultures, amongst others. 
Economical Living Costs : Living costs can also be a crucial factor in choosing a study destination abroad and when it comes to Europe, the living expenses are quite high. But Poland offers economical costs of living without compromising with its quality and standards. The rent rates and travel tickets are relatively cheaper. You can easily rent a flat for anywhere between 100 to 200 euros. Public transport also provides cheap tickets. So, this is another prominent reason to study in Poland and experience a European country without going out of your budget.
Student Life : Amongst the preferred reasons to study in Poland is its scintillating student life that international students fall in love with! While the country's education system has its core focus on practical learning and creative skills, it is ensured that students get to explore its bustling cities, cosmopolitan vibes as well as cultural fests around the year!
What to study in Poland? 
There are many courses and programs for which you can apply in Poland but some of the best courses are mentioned below:-
Agriculture degrees in Poland
As an academic field, agriculture looks at the cultivation of land, breeding of animals, and the growth and harvesting of plants, amongst other things. These are all important processes as they provide food, fibers, medicinal properties, and other products to sustain and enhance life. Agriculture has long been acknowledged as one of the main contributors to the development of modern civilization and dates back thousands of years. The field of agricultural science is also fast developing and has a great impact on the climate and environment.
Biology degrees in Poland
The study of living organisms and biology covers a wide range of topics. These topics include humans, animals, plants, as well as the world in which they are contained. The science of biology helps us to understand how we have developed over the years, and how our habitat has adapted with the human race.
Biomedical Engineering degrees in Poland
Biomedical engineering is a field that combines medicine and biology with engineering for healthcare purposes. As a biomedical engineer, you will use your technical skills to help improve people's lives. This could mean developing groundbreaking medical devices, health diagnostic systems, or working with prosthetics. In a world with an aging and growing population, the knowledge and skills of a biomedical engineer are becoming increasingly desirable, in the fight against diseases and incidents that shorten or decrease the quality of life.
Business Management degrees in Poland
The way a business is run is very important, as it can be make or break. If a business does not have effective management, it cannot perform at its best. Management is required across all departments, including marketing, human resources, and accounting. A degree in business management will provide you with the skills to efficiently lead an organization, no matter the size. You will develop skills in monitoring performance, activities, and employees, as well as planning for all aspects of the business.
Chemistry degrees in Poland
One of the main arms of science, chemistry is the study of substances of which matter is composed. This can include the composition and structures, properties, reactions and changes of these substances. Chemistry plays a vital part in our lives, as it is responsible for the world you observe today. Simple things such as cooking, and the changing color of leaves, rely on chemical reactions.
In Poland, universities have to go through a pretty rigorous process of judgment and accreditation. Before they can enroll students and start teaching classes, the Polish authorities have to make sure these schools and institutions live up to a nationwide standard for research and education. Some of the top universities of Poland are as mentioned below:-
| | |
| --- | --- |
| Sl No. | University Name |
| 1. | Jagiellonian University |
| 2. | University of Warsaw |
| 3. | Adam Mickiewicz University Poznan |
| 4. | AGH University of Science & Technology |
| 5. | Gdansk University of Technology |
| 6. | Warsaw University of Technology |
In Poland, universities have to go through a pretty rigorous process of judgment and accreditation. Before they can enroll students and start teaching classes, the Polish authorities have to make sure these schools and institutions live up to a nationwide standard for research and education. Some of the top universities of Poland are as mentioned below:-
Poland uses the Polish zloty (PLN) as its currency. Higher education in Poland is free for Polish citizens. If you would also like to study for free, you must sit the same entrance exams as Polish students, and study a course taught in Polish. If you cannot fulfill these criteria, you will be expected to pay tuition fees. At a public institution, you can expect to pay between PLN 8,539 and PLN 16,000 per year. At a private institution, tuition fees will be higher, up to PLN 25,300.
Living costs will depend on where you choose to live and the lifestyle you choose to lead. It is recommended that you allow at least PLN 2,500 per month for living costs. If you choose to live in university accommodation this will be cheaper than living in a privately rented apartment.
How to study in Poland with scholarships
Here is the list of five best scholarships for international students who are willing to pursue higher education from Poland
Visegrád Scholarship Programmes
Students from Visegrád Four nations — Czech, Hungary, Poland, and Slovakia — and neighboring countries may apply for this scholarship to study in Poland at any level, in any discipline, and in any language. You will be covered for four semesters at one of the 190 universities across Central and Eastern Europe. Neighboring countries include Albania, Armenia, Azerbaijan, Belarus, Bosnia and Herzegovina, Georgia, Kosovo, Moldova, Montenegro, Northern Macedonia, Serbia, and Ukraine.
The gen. Anders Programmes
This scholarship is for the Polish diaspora groups overseas who wish to return to study in Poland. Who qualifies? Foreigners of Polish origin from Belarus, Bulgaria, Czech, Estonia, Lithuania, Latvia, Moldova, Romania, Slovakia, Hungary, countries of former Yugoslavia, Ukraine, USA, Russia, and countries of Central Asia and the Caucasus, Latin America, and Africa i.e. those who hold a Card of the Pole (Karta Polka).
Konstanty Kalinowski Scholarship Programmes
Coordinated by the Centre for East European Studies at the University of Warsaw, this opportunity is for young people from Belarus who have been discriminated against back home for their political views. If you can't study in Belarus, you are welcome to apply for bachelor's, master's, and doctoral scholarships in any discipline.
Ignacy Łukasiewicz Scholarship Programmes
Ignace Łukasiewicz was a Polish inventor and pharmacist who created the kerosene lamp. Today, students from developing countries may study in Poland in his name. Students from Angola, Colombia, Ethiopia, India, Indonesia, Kenya, Lebanon, Mexico, Myanmar, Nigeria, Palestine, Peru, The Republic of South Africa, The Philippines, Senegal, Tanzania, Uganda, and Vietnam could clinch a tuition-free ride to do their master's degree in Polish public universities.
Stefan Banach Scholarship Programmes
Begin your adventure in Poland with a preparatory course, where you will learn the Polish language and culture before starting a postgraduate program. Much like scholarship patron Stefan Banach (father of functional analysis), students will dive deeper into their scientific study to widen the scope of their impact.
Students from these countries may study engineering and technical sciences, agricultural sciences, exact sciences, or life sciences: Albania, Angola, Argentina, Armenia, Azerbaijan, Belarus, Bosnia and Herzegovina, Brazil, Colombia, Ethiopia, Georgia, India, Indonesia, Iraq, Iran, Jordan, Kazakhstan, Kenya, Kosovo, Lebanon, Mexico, Moldova, Montenegro, Nigeria, North Macedonia, Palestine, Peru, the Philippines, Senegal, Serbia, South Africa, Tanzania, Tunisia, Ukraine, Uzbekistan, and Vietnam.
Career/jobs after studying in Poland
Job opportunities available in Poland are mentioned below
Qualified blue-collar employees
There are many vacancies related to manual labor in Poland, yet local residents are not eager to fill in such positions. Among immigrants, this segment remains the most popular. Freight movers, unskilled workers, cooks, and caregivers receive a quite decent salary. In construction, there is an acute shortage of concrete layers, steel fixers, tile layers, engineering structure installers, bricklayers, and plasterers, operators, and mechanics of excavation equipment, finishing works specialists. In the industrial field, one may be sure to find a job as a machine operator, welding operator, tailor or clothing sewing specialist, woodwork specialist, locksmith, electrician, electrical engineer, and electric fitter.
Poland also needs workers in the field of agriculture. Farmers from provinces are steadily inviting foreigners for seasonal works
Employees in the field of trade
The Polish labor market needs trade specialists in various fields. Companies dealing in the sale of medicines, electronic equipment, food, cosmetics, construction materials, tours, and real estate need sales agents, salespersons, and brand representatives. There are also many vacancies available in Polish network supermarkets.
There are many jobs available for drivers. However, to get one of such jobs, a candidate will have to purchase a license, which is rather expensive. There is a significant shortage of drivers of buses and trucks with an elevating capacity of over 3.5 tones.
Technicians, storekeepers
Polish plants and factories experience a shortage of both workers and managers. They need product engineers, managers of workshops, laboratories, and warehouses. The storekeeper is one of the most needed professions in the Polish labor market. The Polish consider a salary at Polish enterprises too low, therefore factory HR departments are forced to hire foreigners.
An engineer is one of the most needed occupations in the world. In Poland, a qualified engineer is guaranteed to find a job. Engineers in the field of electrical installations, mechanics, and construction are especially needed. Many companies are ready to hire as managers foreigners who have a degree in engineering, extensive experience, and know Polish.
A lack of qualified IT specialists characterizes all Western states. The Polish labor market badly needs competent programmers, mobile app, and desktop software, developers. The programmer is obviously one of the leading professions in 2019. IT industry is constantly looking for qualified specialists, and there are no signs indicating any changes in the nearest future.
Application process to study in Poland
Application process to study in Poland is as follows:-
Choose a program
Check the admission requirements
Prepare the necessary documents
A fully signed and filled application form.
A valid passport and passport-size photographs.
Previous high school diploma or degree certificates, depending on the level you are applying for.
Sufficient English or Polish language proficiency provided through language test results.
A curriculum vitae if you are applying for a Master's.
Submit your application
The most difficult part is done! Now that you have gathered, translated, filled and signed all the necessary documents, it is finally time to submit your application. In Poland you can either apply online, through an online application system, or via email.
Apply for a student visa
Why Take Admission Through Us?
RMC Elite constantly assists students with entrance, scholarship availability, placements, and other services.
Counseling and Mentoring
The experienced staff at RMC Elite advises you on the finest colleges, courses, scholarship opportunities, and more.
College Profiles
We frequently provide thorough information about individual schools and universities, such as academic programs, campus culture, student life, and admission data, on our website. This information can assist students in gaining a better understanding of what a certain school is like and whether it is a suitable fit for them.
College Search Tools
The RMC educational website includes college search tools that allow students to filter and compare institutions based on factors including location, size, majors, pricing, and entrance requirements. These tools can assist students in narrowing their options and locating colleges that fit their specific requirements.
Test Planning
The team is dedicated to assisting you in preparing for international language exams and clearing screening tests such as TOEFL, IELTS, and others using the most up-to-date practice and curriculums.
The Application Procedure
RMC Elite prioritizes all processes, including profile evaluation, application form completion, admissions locking, Visa preparation, and much more.
Frequently Asked Question
Universities of Abroad