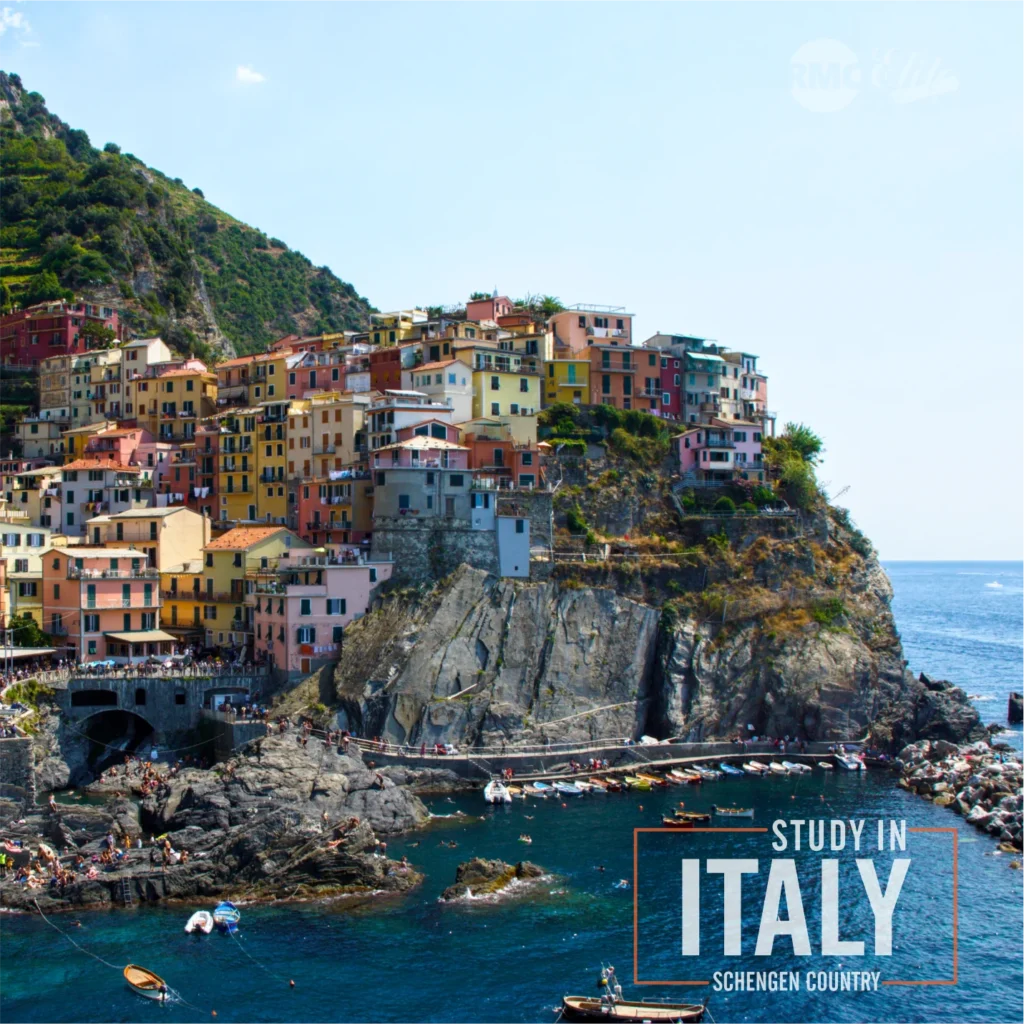 About Spain
One of Europe's most popular destinations for study abroad, Spain is a popular destination for many international students who want to experience an exciting culture and lifestyle. Infused with history, the Kingdom of Spain offers a fascinating experience in big cities, countryside or beaches. It is important to know how much money you need to study in Spain as an international student. Read on to learn about the tuition and living costs you should expect in this beautiful country. Spain is one of Europe's most popular travel destinations, and for good reason. Spain is located on the Iberian Peninsula and borders France and Portugal. A beautiful country with centuries of history and rich culture, it is known for its architecture, cuisine, and wonderful climate.
At Spanish universities, you can enjoy both a good stay and a good bachelor's or master's degree program. But what else do you need to know about Spain? Now, studying abroad in Spain gives you access to some of the best universities in the world, including the famous Spanish business school. Student life is also very interesting.
Why Study in Spain?
The Spanish higher education system consists of 480 research institutes and 67 science and technology zones, as well as 87 universities (50 public and 37 private). As a member of the European Higher Education Region (EHEA), all official degrees awarded by Spanish universities are recognized in 53 countries around the world (45 of which are in Europe) for academic and professional purposes.
Expand your horizons in Spain, one of the most important countries of the European Union, providing both educational opportunities and special exchanges for international students from different countries and educational backgrounds. Studying in Spain provides Indian students with an excellent foundation for learning Spanish culture and language.
Compared to other destinations, studying abroad in Spain for international students has a significantly lower standard of living compared to other European and Western countries. Spain's laid-back lifestyle, warm climate, and diverse and fascinating cultural opportunities throughout Spain are key to Spain's popularity.
There are many universities in Spain, many of which have a high international reputation and a high international ranking. Most Spanish universities focus on teaching Spanish, but many courses tend to be offered in English.
What To Study In Spain
A clear understanding of Spain's most internationally recognized courses will make it easier for you to choose courses that will help you in the long run. Some of Spain's most popular courses are:
Law Program
Of course, a degree in Spanish law is recognized around the world. The Spanish legal system focuses on the legal systems of Spain, the European Union, and the United States. Some programs may be completely devoted to civil law.
Arts and Humanities
Studying Arts and Humanities in Spain is a great experience finding the best courses in Europe. The art course introduces visual and performing arts such as painting, music theory and sculpture.
Marketing and Finance
Spain offers a wide range of courses and higher education programs at all levels, making it a great choice for learning marketing and finance.
STEM Course
The STEM course includes science, technology, engineering and math programs. The STEM degree program requires research and the development of thinking skills to solve complex problems.
Hotel Management
A degree in Hotel Management is the right choice for many highly qualified managers. This degree gives you a variety of skills focused on building and managing relationships with clients.
Top Universities In Spain
| | | | |
| --- | --- | --- | --- |
| World University Rank 2022 | Spain Rank 2022 | University | City |
| 156 | 1 | Pompeu Fabra University | Barcelona |
| 170 | 2 | Autonomous University of Barcelona | Barcelona |
| 193 | 3 | University of Barcelona | Barcelona |
| 251–300 | 4 | University of Navarra | Pamplona |
| 301–350 | 5 | Autonomous University of Madrid | Madrid |
| 401–500 | =6 | Universitat Ramon Llull | Barcelona |
| 401–500 | =6 | University of Valencia | Valencia |
| 401–500 | =6 | The University of Vic – Central University of Catalonia | Barcelona |
| 501–600 | =9 | CEU Universities | Barcelona, Madrid, Valencia |
| 501–600 | =9 | Complutense University of Madrid | Madrid |
Study In Spain Cost
Good news for students: Spanish tuition is one of the cheapest in Europe. Bachelor's tuition costs € 750-2500 per year and Master's tuition costs € 1000-3500 per year, making Spain an affordable destination for international students. Private universities charge up to € 20,000 a year.
Living expenses in Spain vary from region to region, but living as a student in Spain is generally easy. The food is cheap and of high quality and there are many cheap fashion shops. However, finding accommodation in big cities such as Madrid and Barcelona can be expensive. If your budget is very tight, you can consider cheap cities like Valencia and Seville. And remember. Spain's public transport is efficient and affordable, and you can experience everything Spain offers everywhere.
Living expenses range from 900 to 1100 euros per month, depending on where you study. Large Spanish cities like Madrid and Barcelona are much more expensive than small towns and villages. EU and international students can work part-time with study, but should not depend on this income to finance your studies. If you do wish to get a part-time job, having good Spanish language skills will help your applications.
How to study in Spain with a scholarship?
However, there are scholarships that fund study abroad in Spain because study abroad programs or living costs in Europe are not necessarily cheap. The US and Spanish governments, some universities, and third-party providers offer special scholarships to study in Spain. And because the internet can be a huge storehouse of information, we've done the research for you.
Financial Aid for Spanish Studies Abroad: Since 2001, Spanish Studies Abroad has provided more than $230,000 in scholarships for study programs in Spain, Puerto Rico, Cuba and Argentina in the form of two scholarships, a merit-based scholarship and a diversity scholarship. .
ISA Diversity Scholarships for U.S. Students: ISA offers the ISA Diversity Scholarship to provide the benefits of a global education to past disadvantaged students.
CIEE and Bursary Scholarships:
The need-based CIEE scholarships are designed to assist students who have financial difficulties while studying abroad. CIEE awards fund as needed based on the student's choice of EFC and program.
Career/Jobs after Studying in Spain
The requirements to work in Spain while studying are different for EU and non-EU citizens. Both sides will have to go through certain procedures to enter the labour market in Spain. However, non-EU nationals are also subject to the regulations/restrictions set by their Spain student visa. Of course, there are certain conditions you must meet if you want to work in Spain as an international student and certain rules you must follow.
International students can work in Spain after graduation, but it's not quite so simple. Upon graduation, with an undergraduate or postgraduate degree in Spain, you will be allowed to apply for a "post-study work visa", which allows you to stay in Spain for up to one year after completing your studies. graduate from your degree and look for a Job.
You must apply for this temporary residence permit at least 60 days before your student visa expires at the Spanish immigration offices (Oficina de Extranjería).
Many graduates also take advantage of volunteering opportunities for better exposure while you can find teaching jobs at TEFL Iberia, Premier TEFL, i-to-i and TtMadrid. You can also find work at the British Council, through the
English Support program. Employers in Spain view work experience positively. So you should do an internship through IAESTE UK, AIESEC UK and Intern Group. You can also search for jobs through the government portal Empleate and the state's public employment services.
Application process to study in Spain
If you are from a non-EU country, you will need a recognized high school diploma. This certificate serves as confirmation that your degree is valid as required in Spain. You can easily verify your qualifications at the Spanish Embassy in your country
The Spanish Embassy offers Volante certification which can be used to apply to selected universities. You must also pass an entrance exam called the university or college elective entrance exam.
This exam can be taken twice a year in your country of residence. If accepted, you can study at a public or private Spanish university.
The Entrance Exam has four sections that must be passed.
Spanish text analysis.
Questions on Spanish history and philosophy.
Language test: Choose from French, English, German, Portuguese, or Italian.
Individual Choices: The final part of the exam is yours, the choices offered include subjects related to art, fine arts, dance and music; or science and technology related topics.
Why Take Admission Through Us?
RMC Elite constantly assists students with entrance, scholarship availability, placements, and other services.
Counseling and Mentoring
The experienced staff at RMC Elite advises you on the finest colleges, courses, scholarship opportunities, and more.
College Profiles
We frequently provide thorough information about individual schools and universities, such as academic programs, campus culture, student life, and admission data, on our website. This information can assist students in gaining a better understanding of what a certain school is like and whether it is a suitable fit for them.
College Search Tools
The RMC educational website includes college search tools that allow students to filter and compare institutions based on factors including location, size, majors, pricing, and entrance requirements. These tools can assist students in narrowing their options and locating colleges that fit their specific requirements.
Test Planning
The team is dedicated to assisting you in preparing for international language exams and clearing screening tests such as TOEFL, IELTS, and others using the most up-to-date practice and curriculums.
The Application Procedure
RMC Elite prioritizes all processes, including profile evaluation, application form completion, admissions locking, Visa preparation, and much more.
Frequently Asked Question
Universities of Abroad