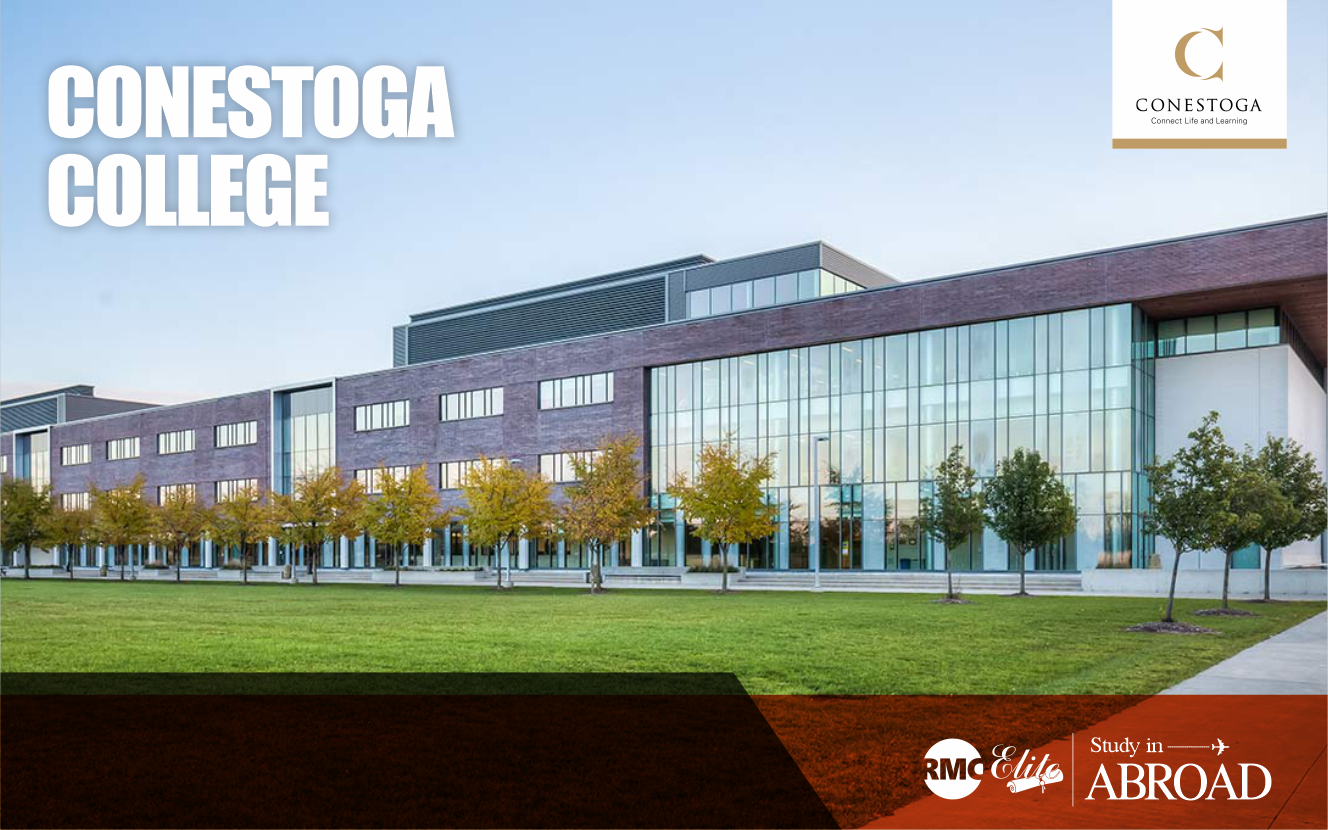 Conestoga College, established in 1967, is one of Canada's leading schools. It is one of Canada's top 100 schools, and it has consistently been ranked first in Ontario for course teaching, student placement, and employer satisfaction. About 22,500 students attend Conestoga College's campuses and training centers in Kitchener, Waterloo, Cambridge, Guelph, Stratford, Ingersoll, and Brantford. Conestoga College is the only college in Ontario that offers the widest variety of academic and workforce development courses, including Full-Time, Part-Time, Open, Degree, Diploma, Graduation, Post-Graduation, Accelerated, Continuous, and Trade & Apprenticeship Programs.
The School of Business, Community Service, Creative Industries, Engineering & Technology, Health & Life Sciences, Applied Computer Science & Information Technology, Hospitality & Culinary Arts, Language & Communication Studies, Liberal Studies, Trade Apprenticeship, and the School of Workforce Development are among the 11 schools that offer these courses. Students have access to the most up-to-date lab and testing facilities, as well as application-based classes, field studies, and career counseling. There is one faculty member for every 127 students. The college's faculty has been honored with several awards.
IELTS and TOEFL scores are required for admission to this college, with a minimum of 6.5 bands in IELTS and 88 in TOEFL (IBT). The campus is more than 150 acres in size and has the best facilities for academics and extracurricular activities. Student Recreation Facilities with a gymnasium, fitness centers, a running track, and health and wellness centers are available at the college. Students will play badminton, basketball, indoor soccer, rugby, outdoor soccer, volleyball, and softball at a sports complex. Conestoga College is a member of the Ontario Colleges Athletic Association and the Canadian Collegiate Athletic Association, all of which host intercollegiate tournaments in which Conestoga students participate.
Bookstores, dining, library facilities, and accommodation for foreign students are among the other amenities available. The accommodation given has all of the requisite facilities, including a kitchen, microwave, refrigerator, freezer, television, and Wi-Fi. Initiation courses are required for new students on campus to familiarize them with course credits, student facilities, and resources in order to help them adapt to their new surroundings. The college is very accepting of students with disabilities, whether permanent or temporary. Academic and testing accommodations, tutoring, writing, and learning skills are all provided.
Students have access to a variety of career development resources, including career coaching, career activities, and facilities such as soft skill development programs and resume and cover letter writing. Students who are interested in entrepreneurship are given a lot of help in terms of business development, competitiveness, and funding. Scholarships, bursaries, and other home awards are among the financial aid opportunities available to students at college.
History
Campuses
Students Life
Campus Facilities
Courses
Admission Process
How to Apply
History
The Conestoga College of Applied Arts and Technology was founded in 1967, one of several such institutions established by the Ontario government at the time to grant diplomas and certificates in career-related, skills-oriented programs. As the government expanded the school's scope, namely to award degrees in technology-based fields, it was renamed in 2002.
It has grown its offerings over time, including a Master of Business Administration degree in conjunction with the University of Windsor. A new nursing program leading to a Bachelor of Science in Nursing (B.Sc.N.) degree is now available at the College. Accepted students in Conestoga's Nursing Program study for the entire four years at the Doon Campus in Kitchener. McMaster University will award a degree to the program's graduates.
Beginning in August 2003, two new programs were initiated, the first of which would offer students a degree entirely through the college. The B.Eng. Mechanical Systems Engineering program, which is completely accredited by Engineers Canada, and the B.A.Tech Architecture – Project and Facility Management programs are the two programs.
In 2005, the School of Health Sciences, Community Services, and Biotechnology launched a new Bachelor of Applied Health Sciences degree in Health Informatics Management. The college paid nearly $6 million for the former University Heights High School in Waterloo in 2006 and moved its Waterloo campus there later that year. A third B.A. Tech in Integrated Telecommunication and Computer Technology degree program was added in 2007, with the goal of designing and manufacturing embedded system hardware and software.
Campuses
Students Life
Campus Facilities
Courses
Admission Process
How to Apply