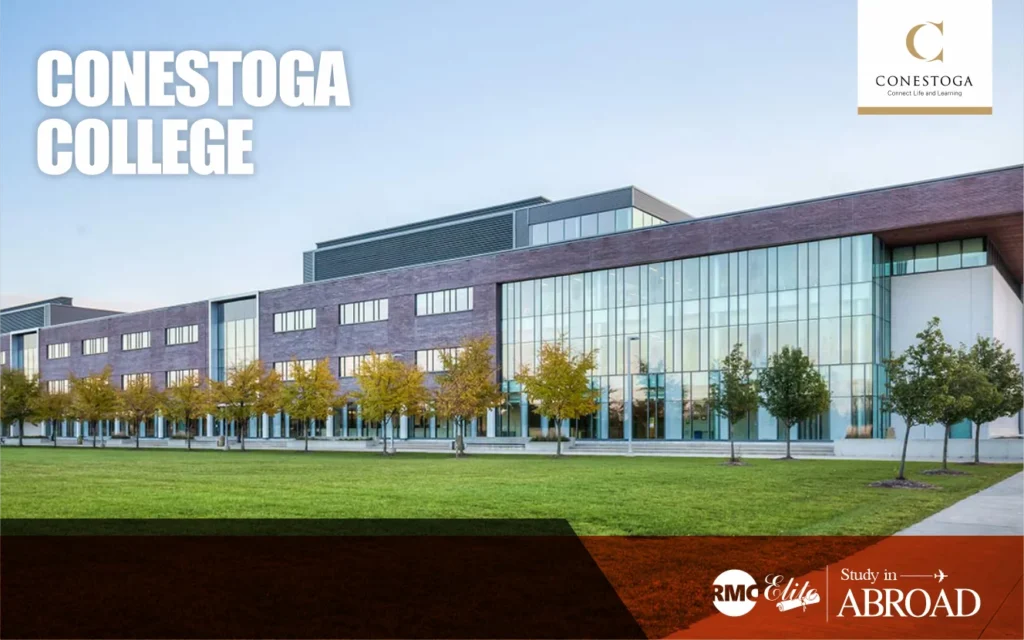 About Conestoga College
Conestoga College, established in 1967, is one of Canada's leading schools. It is one of Canada's top 100 schools, and it has consistently been ranked first in Ontario for course teaching, student placement, and employer satisfaction. About 22,500 students attend Conestoga College's campuses and training centers in Kitchener, Waterloo, Cambridge, Guelph, Stratford, Ingersoll, and Brantford. Conestoga College is the only college in Ontario that offers the widest variety of academic and workforce development courses, including Full-Time, Part-Time, Open, Degree, Diploma, Graduation, Post-Graduation, Accelerated, Continuous, and Trade & Apprenticeship Programs.
The School of Business, Community Service, Creative Industries, Engineering & Technology, Health & Life Sciences, Applied Computer Science & Information Technology, Hospitality & Culinary Arts, Language & Communication Studies, Liberal Studies, Trade Apprenticeship, and the School of Workforce Development are among the 11 schools that offer these courses. Students have access to the most up-to-date lab and testing facilities, as well as application-based classes, field studies, and career counseling. There is one faculty member for every 127 students. The college's faculty has been honored with several awards.
IELTS and TOEFL scores are required for admission to this college, with a minimum of 6.5 bands in IELTS and 88 in TOEFL (IBT). The campus is more than 150 acres in size and has the best facilities for academics and extracurricular activities. Student Recreation Facilities with a gymnasium, fitness centers, a running track, and health and wellness centers are available at the college. Students will play badminton, basketball, indoor soccer, rugby, outdoor soccer, volleyball, and softball at a sports complex. Conestoga College is a member of the Ontario Colleges Athletic Association and the Canadian Collegiate Athletic Association, all of which host intercollegiate tournaments in which Conestoga students participate.
Bookstores, dining, library facilities, and accommodation for foreign students are among the other amenities available. The accommodation given has all of the requisite facilities, including a kitchen, microwave, refrigerator, freezer, television, and Wi-Fi. Initiation courses are required for new students on campus to familiarize them with course credits, student facilities, and resources in order to help them adapt to their new surroundings. The college is very accepting of students with disabilities, whether permanent or temporary. Academic and testing accommodations, tutoring, writing, and learning skills are all provided.
Students have access to a variety of career development resources, including career coaching, career activities, and facilities such as soft skill development programs and resume and cover letter writing. Students who are interested in entrepreneurship are given a lot of help in terms of business development, competitiveness, and funding. Scholarships, bursaries, and other home awards are among the financial aid opportunities available to students at college.
The Conestoga College of Applied Arts and Technology was founded in 1967, one of several such institutions established by the Ontario government at the time to grant diplomas and certificates in career-related, skills-oriented programs. As the government expanded the school's scope, namely to award degrees in technology-based fields, it was renamed in 2002.
It has grown its offerings over time, including a Master of Business Administration degree in conjunction with the University of Windsor. A new nursing program leading to a Bachelor of Science in Nursing (B.Sc.N.) degree is now available at the College. Accepted students in Conestoga's Nursing Program study for the entire four years at the Doon Campus in Kitchener. McMaster University will award a degree to the program's graduates.
Beginning in August 2003, two new programs were initiated, the first of which would offer students a degree entirely through the college. The B.Eng. Mechanical Systems Engineering program, which is completely accredited by Engineers Canada, and the B.A.Tech Architecture – Project and Facility Management programs are the two programs.
In 2005, the School of Health Sciences, Community Services, and Biotechnology launched a new Bachelor of Applied Health Sciences degree in Health Informatics Management. The college paid nearly $6 million for the former University Heights High School in Waterloo in 2006 and moved its Waterloo campus there later that year. A third B.A. Tech in Integrated Telecommunication and Computer Technology degree program was added in 2007, with the goal of designing and manufacturing embedded system hardware and software.
Kitchener – Doon campus
Conestoga's first – and biggest – campus, Kitchener – Doon, is located just off Highway 401 at the Homer Watson Boulevard interchange. The main administrative offices of the college are situated here, as are full-time and part-time programs in a variety of fields. Full-time students will live directly across the street from the campus
Kitchener – Downtown campus
Conestoga's new Market Square campus opened in January 2020, with nearly 1,000 students initially enrolled in business programs. As the campus becomes more mature, additional programming will be added.
Brantford Campus
The company, community services, liberal studies, and trades diploma, certificate, and graduate degree programs are available on the Brantford campus. At the Brantford Municipal Airport, Conestoga managers choose trade certificates. Students will also receive a degree and graduate certificate in four years thanks to a collaboration with Wilfrid Laurier University and its Brantford campus.
Cambridge – Downtown campus
This facility, located in downtown Cambridge, offers academic upgrading, career-focused workshops, LINC (Language Instruction for Immigrants to Canada) classes, and continuing education opportunities.
Cambridge – Fountain Street campus
The Cambridge campus opened in August 2011 and is direct across Highway 401 from the Kitchener – Doon campus. Conestoga's School of Engineering & Technology, as well as several programs from the School of Trades & Apprenticeship and the Institute of Food Processing Technology, are housed in the 260,000 square foot building. Full-time students will live directly next to the Kitchener – Doon campus, which is around a 3-minute drive or 15-minute walk away.
Guelph campus
Conestoga's Guelph campus, in the city's northwest end, is a regional pioneer in motive power trades education and training, including automotive, truck and coach, heavy machinery, recreational vehicles, and motorcycles. Company Foundations, General Business, and Office Management, as well as academic upgrading and career-focused services, are available on campus. Students in Guelph's PSW curriculum have the ability to learn in The Village of Riverside Glen's Living Classroom.
Stratford campus
Conestoga's Stratford site, which is located at Stratford General Hospital, offers academic upgrading, career-focused programs, and continuing education opportunities. It also has a Career Centre where the public can get help with work searching, career advice, job postings, and education and training information.
Ingersoll Skills Training Centre
In 2010, this 12,000-square-foot training center was opened. The Ingersoll Skills Training Centre was established to provide training programs in the electrical utility powerline sector, but it now offers additional power-related programs as well as skilled trades programs that complement the industry. It is the only facility in the southern part of the world.
Waterloo campus
The Waterloo campus of the John W. Tibbits College offers a variety of programs in professional trades, hospitality and culinary arts training, computer and communications technology, academic upgrading, English Language Studies, and career-focused programs. A dedicated Masonry Centre, Roofing Skills Training Centre, HRAC (Heating, Refrigeration, and Air Conditioning) Training Centre, and Bloom, a full-service restaurant run by Conestoga's hospitality and culinary students, are among the campus amenities. Full-time students will live directly across the street from the Kitchener – Doon campus, which is around a 20-minute drive away.
Conestoga College has nine academic and training centers in the region.
The 12,000-square-foot Ingersoll Training Center offers training in electrical utilities and power-related activities, as well as skilled trades programs.
The company, community services, liberal studies, and trades diploma, certificate, and graduate degree programs are available on the Brantford campus.
Academic enhancement, career-focused classes, and continuing education opportunities are all available at the Stratford campus.
A dedicated Masonry Center, Roofing Skill Training Center, HRAC Training Center, and a full-service restaurant are all located on the Waterloo campus.
Bloom, a student-run restaurant, a child care center, a rec center, and a bookstore are all available on the Conestoga campuses.
Conestoga College's main campus is located in Doon Valley, Kitchener. Student housing is available on the main campus for students. The main campus is where the majority of the institute's courses are taught.
These are the courses offered:
3D Computer Animation
Academic Upgrading
Administrative Business Management
Advanced Police Studies
Advertising and Marketing Communication
Agricultural Equipment Operator
Animation
Applied Electrical Motion and Control Ma…
Applied Energy Management
Applied Manufacturing Management
Applied Network Infrastructure and System
Applied Research (Optional Co-op)
Architecture – Construction Engineering
Autism and Behavioural Science
Automotive Service Technician
Aviation – General Arts and Science
Bachelor of Applied Health Information
Bachelor of Applied Technology (Honours)
Bachelor of Business Administration (Honours)
Bachelor of Business Administration (Honours)
Bachelor of Community and Criminal Justice
Bachelor of Computer Science (Honours)
Bachelor of Design (Honours)
Bachelor of Early Learning Program
Bachelor of Engineering – Building System
Bachelor of Engineering – Electronic System
Bachelor of Engineering – Mechanical Sys
Bachelor of Engineering – Power Systems
Bachelor of Environmental Public Health
Bachelor of Interior Design (Honours)
Bachelor of Public Relations (Honours)
Baking and Pastry Arts
Baking and Pastry Arts Management
Bartending
Big Data Solution Architecture (Optional)
Biotechnology Technician
Bookkeeping
Brick and Stone Mason (Apprenticeship)
Broadcast – Radio
Broadcasting – Television, and Independent
Broadcasting Performance and Digital
Business
Business – Finance
Business – Insurance (Optional Co-op)
Business – International Business
Business – Marketing
Business – Marketing – Accelerated
Business – Purchasing
Business Administration-Accounting
Business Administration – Management
Business Administration – Marketing
Business Analytics
Business Development and Sales
Business Fundamentals
Cabinetmaker (Apprenticeship)
Career Development Professional
Carpentry and Renovation Technician
Civil Engineering Technology (Optional)
Community and Social Service Management
Community Integration Through Co-operation
Computer Application Security (Optional)
Computer Applications Development
Computer Engineering Technology (Optional)
Computer Programming
Computer Programming and Analysis
Computer Systems Technician – Information
Computer-Aided Drafting and Design
Construction Foundations
Construction Management (Optional)
Construction Project Management
Construction Techniques – Brick and Stone
Construction Techniques (Carpentry)
Cook I (Apprenticeship)
Cook II (Apprenticeship)
Culinary Management (Co-op)
Culinary Skills (Co-op)
Data Processing and Reporting
Design Foundations
Diploma Registered Practical Nurse
Early Childhood Education
Educational Support
Electrical Engineering Technician
Electrical Engineering Technology (Optional)
Electrical Technician – Industrial (Optional)
Electrical Techniques
Electrician – Construction, and Maintenance
Electrician – Industrial (Apprenticeship)
Electro-Mechanical and Automation
Electronics Engineering Technician
Electronics Engineering Technology (Optional)
Embedded Systems Development (Optional)
Energy Systems Engineering Technology
English for Academic Studies
Enhanced Nursing Practice – Clinical
Enhanced Practice for Internationally Education
Enhanced Professional Practice – Gerontology
Enterprise Content Management
Environmental – Civil Engineering Technology Environmental Building Sciences
Environmental Engineering Applications
Esthetician
Event Management
Financial Planning Services
Financial Technology
Fitness and Health Promotion
Food and Beverage Management – Hotel …
Food Processing Technician (Optional)
Food Safety and Quality Assurance – Food
Food Service Worker
Game – Design
General Arts and Science – Diploma Option
General Arts and Science – One Year
General Arts and Science: English Language
General Carpenter (Apprenticeship)
General Machinist (Apprenticeship)
Global Business Management
Global Hospitality Management (Optional)
Graphic Design
Health Care Administration and Service
Health Office Administration
Hearing Instrument Specialist
Heating, Refrigeration and Air Conditioning
Heavy Construction Equipment Operation
Heavy Duty Equipment Technician
Hospitality Operations – Food and Beverage
Human Resources Management (Optional)
Human Services Foundation
Industrial Mechanic (Millwright)
Information Technology Business Analysis
Information Technology Business Analysis
Information Technology Infrastructure
Information Technology Network Security
Instrumentation and Control Technician
Intensive English Language for Academic
Interactive Media Management – Interaction
Interior Decorating
Internet Applications and Web Development
IT Innovation and Design (Optional Co-op)
Journalism
Language Instruction for Newcomers
Machine Tool Builder and Integrator
Manufacturing Engineering Technology
Mechanical Engineering Technician
Mechanical Engineering Technology
Mechanical Engineering Technology
Mechanical Technician – CNC
Mechanical Techniques – Industrial Miller
Mechanical Techniques – Plumbing
Mechanical Techniques – Precision Machi
Media Foundations
Medical Office Practices
Mental Health and Substance Use
Mobile Solutions Development
Motive Power Fundamentals
Motive Power Technician Motive Power Technician – Heavy Duty Equipment
Motive Power Techniques – Motorcycle
Motive Power Techniques – Truck
Motorcycle Technician (Apprenticeship)
Network Technical Support
Nursing – BScN (McMaster)
Nutrition and Food Service Management
Occupation Specific Language Training
Occupational Health, Safety and Wellness
Occupational Therapist Assistant & Physician
Office Administration – Executive
Office Administration – Legal
Operations Leadership in Food Manufacture
Packaging Engineering Technician (Optional)
Paramedic
Personal Support Worker
Personal Support Worker – FAST Delivery
Personal Support Worker – International
Plumber (Apprenticeship)
Police Foundations
Power Engineering Techniques – 3rd Class
Power Engineering Techniques – 4th Class
Powerline Technician (Optional Co-op)
Practical Nursing
Pre-Apprenticeship Truck and Coach
Pre-Apprenticeship Welder
Predictive Analytics
Pre-Health Sciences Pathway to Advancement
Pre-Health Sciences Pathway to Certificate
Pre-Service Firefighter Education and Training
Process Operator – Food Manufacturing
Process Quality Engineering
Production GMAW Welder
Professional Cheese Making
Project Management
Protection, Security, and Investigation
Public Relations
Public Relations – Integrated Communication
Public Service (Optional Co-op)
Quality Assurance – Manufacturing and Management
Recreation and Leisure Services
Refrigeration and Air Conditioning System
Renewable Energy Techniques (2021-2022)
Residential (Low Rise) Sheet Metal Installation
Respiratory Therapy
Robotics and Industrial Automation (Optional)
Roofer (Apprenticeship)
Social Service Worker
Software Engineering Technician
Software Engineering Technology (Optional)
Software Quality Assurance and Test Engineering
Strategic Global Business Management
Strategic Marketing Communications
Structural Packaging Design and Management
Structural Steel Management and Detailing
Supply Chain Management – Global
Sustainable Business Management (Optional)
Teaching English as a Second Language
Technical Communication (Optional Co-op)
Technology Foundations
Tool And Die Maker (Apprenticeship)
Tourism – Destinations and Travel Management
Truck and Coach Technician (Apprenticeship)
Virtualization and Cloud Computing
Visual Merchandising Arts
Web Design and Development
Web Development (formerly: Web Design
Web Development and Internet Application
Welder (Apprenticeship)
Welding and Fabrication Technician
Welding Engineering Technician – Robotics
Welding Engineering Technology – Inspection
Welding Techniques
Welding Techniques – Metal Fabrication
Wireless Network Infrastructur
Women in Skilled Trades (WIST) General
Woodworking Technician
Woodworking Techniques – CNC
Woodworking Technology (Optional Co-op)
Conestoga College in Canada provides a work-study program to help students pay for their college education. Many foreign students can study in Canada with ease and comfort thanks to the work-study scheme. Students who choose to enroll in the Conestoga College Work-Study Program must prove a financial need as defined by Student Financial Services.
Conestoga College has sponsored a variety of work-study positions, some of which are listed below:
Peer Teacher – Availability Services
Sales/Operations Worker at a bookstore.
Learning Commons – Marketing Intern, Peer Tutors, Math Mentors.
Office Technology Assistant IT Services – Help Desk, Software/Hardware Support, Lab Monitor
Student Life Centre Information Desk, Student Engagement Promotions Assistant, Respect Leaders, and Orientation Interns are all part of the Student Engagement Department.
Technicians – Trades and Apprenticeships
Conestoga College Accommodation:
The Doon and Cambridge campuses are both within walking distance of the Conestoga residence.
On both campuses, there is a dedicated shuttle service.
The residences are equipped with all of the comforts of home, including a telephone, Wi-Fi connection, TV, refrigerator, and kitchenette with a microwave.
There are two styles of rooms in the residences: suite design and open plan.
Before being admitted into the program, candidates must apply for admission.
Students must pay a non-refundable processing fee of $100 USD when applying for a residential facility. The residence fees do not include this charge.
Conestoga College offers two styles of on-campus housing to its students: two-bedroom open concept style and two-bedroom suite-style. Students may also use Place4Students.com, which is recommended by the university, to find off-campus accommodation.
Conestoga College welcomes students from all over the world for admission to more than 200 certificate, diploma, degree, and post-graduate programs. It is one of Canada's top universities, with a moderately selective admissions process that puts a heavy focus on academic achievement and English language test scores.
Candidates should be aware of the following points when applying for admission to Conestoga College.
Students interested in attending a college in Ontario may apply online via the Ontario college application portal.
Students may apply to up to five separate programs from various Ontario colleges, with a limit of three from any one institution.
Before February 1, students must apply their applications.
After February, applications are still processed, but on a first-come, first-served basis.
Before applying, students must ensure that they fulfill the college's basic course requirements or their foreign equivalencies.
If the basic criteria are not met, Conestoga College offers many preparatory programs.
Depending on the position and affiliation of your institutions, applicants must submit their transcripts directly, electronically, or via their previous institutions.
At the student portal, students will apply for awards and scholarships. The deadlines for autumn, winter, and spring term awards submissions are October, February, and June, respectively.
Conestoga College has nearly 7,000 foreign students from 80 countries among its 16,500 full-time students (2020).
Although domestic applicants are given preference for some classes, foreign students who meet the eligibility requirements and demonstrate outstanding academic ability still have a good chance of being admitted to Conestoga College.
Basic Admission Requirements:
Students must build an account on the Ontario foreign application portal to submit an international application.
Students may apply to up to five classes, but no more than three at any one time.
Applicants must submit their transcripts and upload the relevant documents to the Ontario application center. It's important to remember that transcripts should not be sent to Conestoga College directly.
International students must also request reports from approved evaluation websites such as the International Certification Assessment Service of Canada (ICAS) or World Education Services (WES). Depending on the software, one might be preferred over the other. As a result, applicants can double-check their target program's criteria.
Students who must apply a portfolio or participate in a Skype interview can experience longer processing times.
Copies of passports and identification papers
Initial transcripts, as well as translations if they are not in English.
Students may also be expected to send official transcripts directly from their educational institutions to the college.
Report on the evaluation of credentials.
Test results for English proficiency.
Permission to research.
International students must submit an application through a different Ontario international is the application portal.
100 CAD is the application fee.
You may contact RMC Elite team to apply to Conestoga College.
Why Choose to Take Admission Through RMC Elite?
RMC Elite is a reputed and renowned educational institution that offers various courses in business management, IT, and engineering.
Reasons to consider taking admission through RMC Elite:
Quality education: RMC Elite offers high-quality education that is recognized globally. The faculty at RMC Elite are highly experienced and knowledgeable, and they use modern teaching methods to help students learn better.
Accreditation: RMC Elite is accredited by various accreditation bodies such as ABET, AACSB, and ACBSP. This accreditation ensures that the education provided by the institution meets the highest standards.
Global network: RMC Elite has a global network of alumni, which can be helpful in building your professional network.
Career opportunities: RMC Elite has strong connections with various industries and businesses, which can provide students with excellent career opportunities.
Flexible learning options: RMC Elite offers various learning options, such as full-time, part-time, online, and hybrid programs. This allows students to choose the learning option that best suits their needs and schedule.
Financial aid: RMC Elite offers various financial aid options, such as scholarships, grants, and loans, to help students finance their education.
In summary, RMC Elite is an excellent choice for anyone looking for quality education, accreditation, global network, career opportunities, flexible learning options, and financial aid.
Universities of Abroad