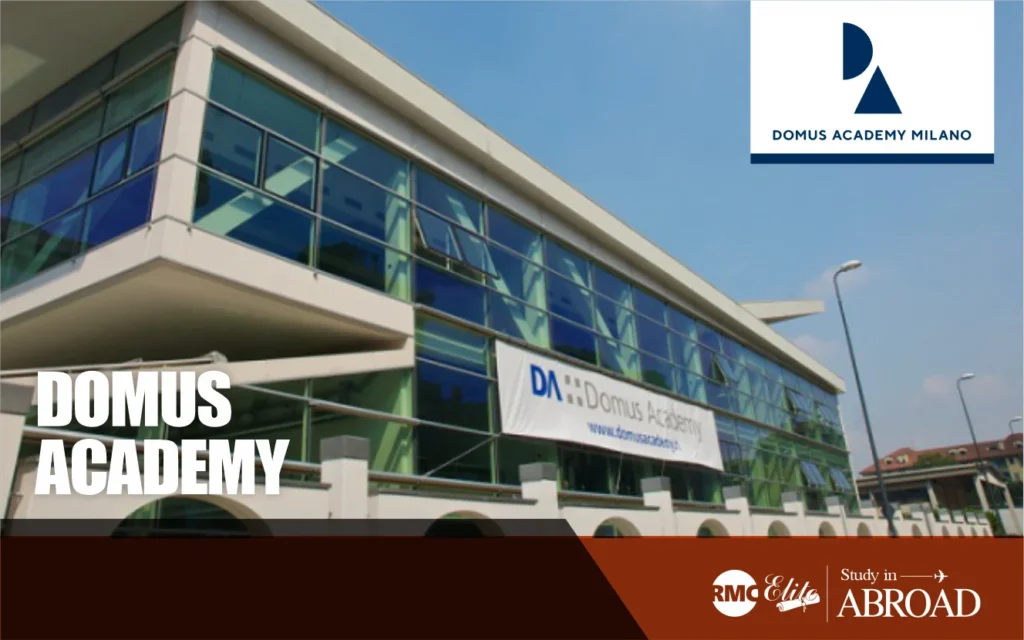 About Domus Academy
Domus Academy is an Institute of Higher Education in Milan, Italy. It is a private Institute which was founded in 1982 and established by Mazzocchi family who is the owner of editorial domus at the first postgraduate design school in the country. In the field of design and fashion higher education facilities provided by the domus Academy.
1. According to QS World University ranking 2021 The Domus Academy was included in the top 5 universities in Italy and in the top 150 universities in the world in the art and design field.
2. In 2019 The special badges of Excellence were awarded to Domus Academy by The Business of Fashion Assessment.
3. In 2017 Domus Academy was ranked in the top 13 Global fashion schools by The Business of Fashion.
4. In 2016 Domus Academy was among the top 8 interior design schools in the world which were featured by Azure magazine.
….. And many more like this.
1. Design
Design Master's programme
Design semester courses
Design short courses
2. Experience
Experience Master's programme
Experience semester courses
Experience short courses
3. Fashion
Fashion Master's programme
Fashion semester courses
Fashion short courses
4. Business
Business Master's programme
Business semester courses
Business short courses
1. Serenissimo
2. Gingo
3. A new concept for co-cleaning in the family
4. Must
5.Medimate
6. Mano, the Italian touch
7. Final Thesis, Redesigning An Island. Venice 2016
8. Envolve
9. Share your line
10. Insight flow
…… And many more.
For students from EU and EFTA countries:
€3,000 – Pre-enrollment fee, to be paid within 30 days of the date on your acceptance letter.
€17,900 – Tuition fee, to be paid in full one month or more before the program start date.
For non – EU students:
€3,000 – Pre-enrollment fee, to be paid within 30 days of the date on your acceptance letter.
€26,000 – Tuition fee, to be paid in full one month or more before the program start date.
These are the Campus facilities offered by the University of Alberta
1. Design lab
2. Fashion lab3. Language support
4. Restaurant / Cafeteria
5. Library
6. Network and Wi-Fi services
7. Other facilities
The requirement includes at least 15 years of previous, a first-level academic degree in which you want to continue your master's, certificate of English language proficiency.
In Domus Academy in the seats for the students are limited. The applicants are required to apply from the official website of the Domus Academy and submit your CV and required documents, then later on the admission cell of the Academy go through the applications of applicants and contact the applicants for the further procedure if they are selected.
You may contact RMC Elite team to direct admission at Domus Acadmey.
Why Choose to Take Admission Through RMC Elite?
RMC Elite is a reputed and renowned educational institution that offers various courses in business management, IT, and engineering.
Reasons to consider taking admission through RMC Elite:
Quality education: RMC Elite offers high-quality education that is recognized globally. The faculty at RMC Elite are highly experienced and knowledgeable, and they use modern teaching methods to help students learn better.
Accreditation: RMC Elite is accredited by various accreditation bodies such as ABET, AACSB, and ACBSP. This accreditation ensures that the education provided by the institution meets the highest standards.
Global network: RMC Elite has a global network of alumni, which can be helpful in building your professional network.
Career opportunities: RMC Elite has strong connections with various industries and businesses, which can provide students with excellent career opportunities.
Flexible learning options: RMC Elite offers various learning options, such as full-time, part-time, online, and hybrid programs. This allows students to choose the learning option that best suits their needs and schedule.
Financial aid: RMC Elite offers various financial aid options, such as scholarships, grants, and loans, to help students finance their education.
In summary, RMC Elite is an excellent choice for anyone looking for quality education, accreditation, global network, career opportunities, flexible learning options, and financial aid.
Universities of Abroad