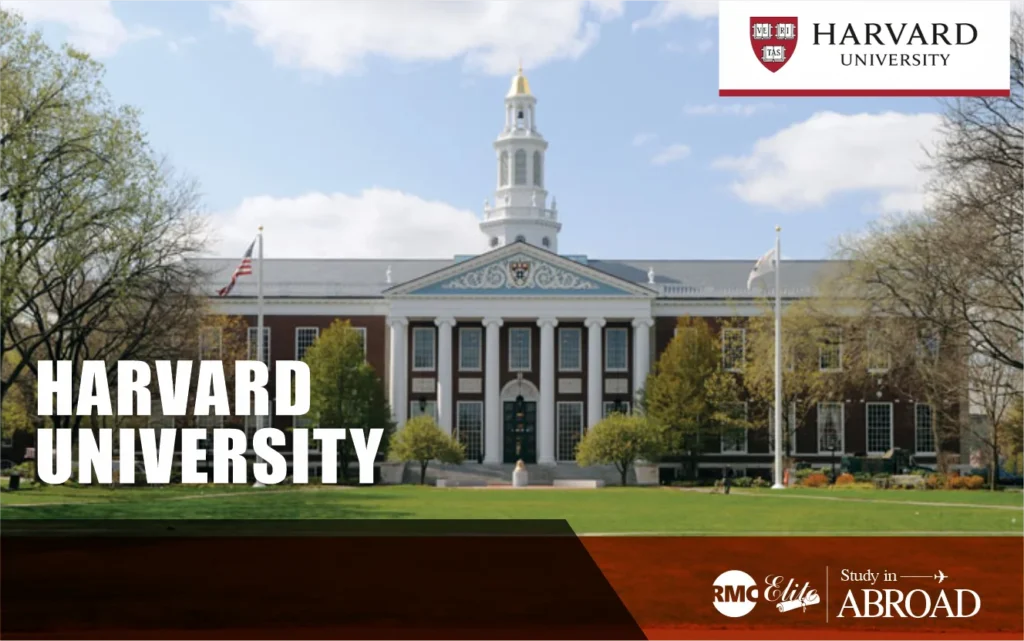 About Harvard University
Harvard University is the oldest and most well-known university in the United States, having been established in 1636. The University's most well-known landmark is a statue of John Harvard, the College's first patron, which stands in front of University Hall in Harvard Yard. This Ivy League university has a 375-year history not only in the United States but also around the world. In addition to the Radcliffe Institute for Advanced Study, Harvard has 12 degree-granting colleges. Since its establishment in the mid-1600s, the University has expanded from nine students with a single master's degree to over 20,000-degree applicants, including undergraduate, graduate, and technical students.
Harvard University is located in Cambridge, Massachusetts, on a 5457-acre campus. Cambridge, one of metropolitan Boston's most prominent urban centers, is organized around ancient city greens, tree-lined squares, and the sedgy banks of the Charles River. Harvard is situated in the heart of Cambridge, offering direct access to the city's eclectic mix of shops, restaurants, and entertainment. Cambridge is a member of Boston's vast public transportation system. You can easily get wherever you want to go with buses, cabs, and a subway stop right in the heart of Harvard Square. The field is just a 12-minute ride from downtown Boston.
Harvard has over 2.79 lakh alumni in the United States and 59,000 alumni in 202 countries. It has over 10,400 academic appointments in affiliated teaching hospitals and over 2,400 world-class faculty members. Harvard has been home to 48 Nobel Laureates, 32 heads of state, and 48 Pulitzer Prize winners as teachers, faculty, or scholars.
Why Study in Harvard College
Harvard College's mission is to educate people and citizen-leaders for our society. We do so by believing in the transformative potential of a liberal arts and sciences education.
Students embark on a journey of intellectual development that starts in the classroom with exposure to new concepts, new ways of learning, and new ways of knowing. Intellectual change is deepened and conditions for social transformation are generated in a diverse living environment, where students live with people who are learning different subjects, who come from different walks of life, and who have changing identities.
We hope that as a result of this, students can begin to shape their lives by deciding what they want to do with their gifts and abilities, analyzing their beliefs and interests, and exploring how they can better serve the world.
The benchmark for residential liberal arts and sciences education is set by Harvard College. We've committed to developing and maintaining the conditions that enable all Harvard College students to embark on an intellectually, socially, and personally transformative educational journey.
When you enroll at Harvard College, you become a part of the country's oldest higher education institution's rich past. Harvard has changed drastically since its founding in 1636, but it has still been a refuge for the world's most ambitious scholars and leaders.
Harvard University was established in 1636 and is the country's oldest higher education institution.
Colonial-era
Harvard was established in 1636 by a vote of the Massachusetts Bay Colony's Great and General Court. It bought the first established printing press in British North America in 1638. Harvard College was established in 1639 and named after deceased clergyman John Harvard, a University of Cambridge alumnus who left the school £779 and a library of 400 volumes. In 1650, the Harvard Corporation was founded by a charter.
During 19th century
Enlightenment concepts of rationality and free will were widely held by Congregational ministers in the nineteenth century, placing them and their congregations at odds with more traditionalist Calvinist groups. A struggle erupted over their replacements when Hollis Professor of Divinity David Tappan died in 1803 and President Joseph Willard died a year later. In 1805, Henry Ware was elected to the Hollis chair, and two years later, liberal Samuel Webber was appointed to the presidency, signaling a change away from conventional ideas at Harvard and toward liberal, Arminian ideas.
During 20th Century
Harvard's prestige increased in the twentieth century as a burgeoning endowment and influential academics broadened the university's reach. New graduate schools were created, and the undergraduate college was enlarged, resulting in continued rapid enrollment growth. Radcliffe College, established in 1879 as Harvard College's female counterpart, became one of the country's most prestigious women's colleges. In 1900, Harvard joined the Association of American Universities as a founding member.
During 21st Century
On July 1, 2007, Drew Gilpin Faust, the dean of the Radcliffe Institute for Advanced Study, became Harvard's first female president. Lawrence Bacow took over as her replacement on July 1, 2018.
Cambridge
Harvard's main campus, which covers 209 acres (85 ha), is based on Harvard Yard in Cambridge. Harvard Yard is home to main administrative buildings like University Hall and Massachusetts Hall, as well as libraries like Widener, Pusey, Houghton, and Lamont, Memorial Church, academic buildings like Sever Hall and Harvard Hall, and the majority of freshman dorms. Undergraduates in their sophomore, junior, and senior years live in twelve residential homes, nine of which are located south of Harvard Yard and along or near the Charles River. Each residential house has a dining hall, library, and recreational areas, as well as undergraduates, faculty deans, and resident tutors. Harvard owns a variety of commercial properties.
Allston
On a 358-acre campus in Allston, Harvard Business School, Harvard Innovation Labs, and several athletic facilities, including Harvard Stadium, are located. The university is developing rapidly in Allston, where it now owns more property than it does in Cambridge. The Business School, a hotel and conference center, graduate student lodging, Harvard Stadium, and other sports facilities are all part of the plans.
Longwood
On a 21-acre campus in Boston's Longwood Medical and Academic District, the Medical School, School of Dental Medicine, and School of Public Health are housed. Beth Israel Deaconess Medical Center, Boston Children's Hospital, Brigham and Women's Hospital, Dana–Farber Cancer Institute, Joslin Diabetes Center, and the Wyss Institute for Biologically Influenced Engineering are among the Harvard-affiliated hospitals and research institutes in Longwood. Additional affiliates, like Massachusetts General Hospital, can be found all over the Greater Boston area.
Econometrics and quantitative economics
Computer science
Political science and government
Social sciences
International public health/international health
Applied mathematics
Statistics
Experimental psychology
English language and literature
Evolutionary biology
History
Mathematics
Psychology
Cell/Cellular and molecular biology
Neurobiology and Anatomy
History and philosophy of science and technology
History
Sociology
Visual and performing arts
Spanish language and literature
Physics
Natural sciences
African-American/black studies
Philosophy
Engineering science
Developmental biology and embryology
Environmental studies
East Asian studies
Neuroscience
Music
Classics and classical languages, literature, and linguistics
Chinese language and literature
French language and literature
Anthropology
Women's studies
Linguistics
Humanities/humanistic studies
Mechanical engineering
Electrical and electronics engineering
Chemistry
Ethnic, cultural minority, gender, and group studies
Art history, criticism, and conservation
Comparative literature
Near and middle eastern studies
Romance languages, literature, and linguistics
Religion/religious studies
Planetary astronomy and science
Education
Behavioral sciences
Chemical physics
Folklore studies
Bioengineering and biomedical engineering
Archaeology
Chemistry
Italian language and literature
Film/cinema/video studies
Fine/studio arts
Russian language and literature
Astrophysics
Slavic languages, literature, and linguistics
German language and literature
Germanic languages, literature, and linguistics
African languages, literature, and linguistics
Japanese language and literature
Astronomy and astrophysics
Russian studies
Arabic language and literature
Celtic languages, literature, and linguistics
Liberal arts and sciences/liberal studies
Biology/biological sciences
Microbiological Sciences and immunology
Medieval and renaissance studies
Korean language and literature
South Asian studies
Caribbean studies
Swedish language and literature
Islamic studies
European history
Academic Ranking of World Universities by Shanghai Jiao Tong University
2020 – 1
2019 – 1
2018 – 1
Best Global Universities Rankings by U.S. News & World Report
2021 – 1
2020 – 1
2019 – 1
World University Rankings by Times Higher Education
2021 – 3
2020 – 7
2019 – 6
QS World University Rankings by TopUniversitie
2021 – 3
2020 – 3
2019 – 3
Housing services
Harvard University Housing (HUH) provides graduate students, staff, and workers with a wide variety of housing and real estate services.
Information on private sector rentals, hotels, and other options.
Harvard University Housing Sublets:
Harvard University Housing (HUH) does not explicitly provide short-term housing. However, we do allow qualifying Harvard Affiliates to sublet to our residents.
Accommodations for spouses, domestic partners, and children are available for graduate students who have stressful schedules.
Library services
The Harvard University Library 20.4 million volumes, 180,000 serial titles, an estimated 400 million manuscript items, 10 million photos, 124 million archived web pages, and 5.4 terabytes of born-digital archives and manuscripts make up the world's largest library. Nearly 800 library employees work in over 70 different library units to provide access to this vast collection.
ICT services
In a distributed computing system, ICF offers free academic computing and data processing tools. A broad range of applications, including Microsoft Office, PC-SAS, STATA, Smltree, Login, S-Plus, ArcView, Endnote, and anti-virus software, is available on 150 Dell PCs linked to a Novell network.
Medical services
The Emergency Room is open 24 hours a day, 7 days a week. We provide advice and care for acute physical and emotional health conditions that need immediate attention but are not life-threatening.
Sports facilities
Students, faculty, staff, and alumni are the only ones who can attend the recreation center (and their eligible family members). The Malkin Athletic Center, Blodgett Pool, Hemenway Gymnasium, QRAC, and Murr Center Fitness Room are all available to members.
Students club
Harvard students are engaged on and off-campus, with over 400 official student groups providing extracurriculars, co-curricular, and athletic opportunities in addition to academics. Whether in Harvard Stadium playing on the field or cheering on The Harvard Crimson, volunteering through organizations like PBHA, fostering entrepreneurial activities in the Harvard innovation lab, writing or editing at The Harvard Crimson or The Harvard Lampoon, or researching in one of the many labs, Harvard students are continuously learning and constantly busy!
Harvard University enrollment is a once-in-a-lifetime opportunity available in two intakes: early application and daily application. Harvard is one of the best colleges in the United States, with an early-round acceptance rate of 7.4%, which could decrease to 4 to 5% for the final round. Harvard tests all candidates in the same way, regardless of their nationality.
With 57,000 applicants for the class of 2025, Harvard admissions for the years 2021-2022 reached a new high of 42 percent. The secondary criteria that regulated early-round admissions for applicants wanting to be a part of the US Education System were extracurriculars, letters of recommendation, essays, and interviews.
Harvard University basic admission criteria include the following:
A GPA of 4.18 or higher is needed, as well as an ACT/SAT score of 2250/2400. (Please note that these are rough averages, and Harvard does not have a minimum cut-off.)
There is a $75 application fee that must be paid (waivable). Deserving applicants can study at Harvard for free by receiving up to 100% scholarships in the United States.
Harvard does not have a preference for a board (such as ISC, HSC, or CBSE), and STEM courses are not prioritized over humanities courses.
Since Harvard looks for specific applications, students can devote extra time to their essays and letters of recommendation (2 to 3).
The Harvard University MBA program is a popular alternative, costing about $74,000 per year. A GMAT score of 620-790 is needed, as well as 4-5 years of work experience (recommended).
For foreign applicants, IELTS (6.5 or higher) or TOEFL scores are needed (Appearing for IELTS).
Application gateway for
Harvard University:
Coalition Application
Common Application
Universal College Application
After you've agreed on an application portal, submit your application to Harvard by adding the documents mentioned below:
Official transcripts (from all colleges and universities attended): Only WES-evaluated English translations must be submitted.
Scores for English language proficiency: Test scores like the TOEFL (minimum 80) and IELTS are required for undergraduate applicants (min 6.5). Graduate requirements differ by program and are addressed in the sections above.
Required standardized exam scores for undergraduates and graduates are the SAT/ACT (1460/32) and GMAT/GRE (730/292), respectively.
Recommendation letter: At least three written by instructors or managers you've served directly under who can reliably demonstrate your strengths and weaknesses for Harvard to consider.
Statement of Purpose: A solid, well-written essay can raise a candidate's profile significantly. Make sure your argument does not contain any lies or sound mechanical.
Resume (if applicable): To showcase your professional background as well as your participation in the group. This is a significant factor in Harvard's admissions process.
You may contact RMC Elite team to apply to Havard University.
The Office of Career Services educates, communicates, and advises students about summer and post-graduation opportunities. Harvard College, Graduate School of Arts and Sciences (GSAS), and Harvard Extension School (HES) students are served by OCS.
Why Choose to Take Admission Through RMC Elite?
RMC Elite is a reputed and renowned educational institution that offers various courses in business management, IT, and engineering.
Reasons to consider taking admission through RMC Elite:
Quality education: RMC Elite offers high-quality education that is recognized globally. The faculty at RMC Elite are highly experienced and knowledgeable, and they use modern teaching methods to help students learn better.
Accreditation: RMC Elite is accredited by various accreditation bodies such as ABET, AACSB, and ACBSP. This accreditation ensures that the education provided by the institution meets the highest standards.
Global network: RMC Elite has a global network of alumni, which can be helpful in building your professional network.
Career opportunities: RMC Elite has strong connections with various industries and businesses, which can provide students with excellent career opportunities.
Flexible learning options: RMC Elite offers various learning options, such as full-time, part-time, online, and hybrid programs. This allows students to choose the learning option that best suits their needs and schedule.
Financial aid: RMC Elite offers various financial aid options, such as scholarships, grants, and loans, to help students finance their education.
In summary, RMC Elite is an excellent choice for anyone looking for quality education, accreditation, global network, career opportunities, flexible learning options, and financial aid.
Universities of Abroad