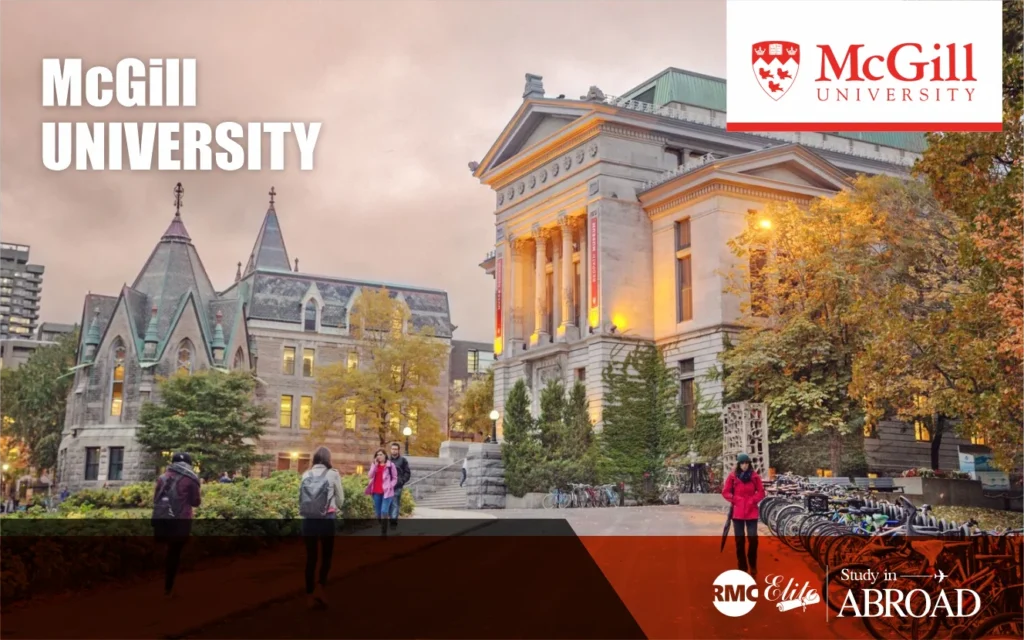 About McGill University
McGill University, located in Montreal, Quebec, Canada, is a public research university. The university was founded in 1821 by a royal charter granted by King George IV and is named after James McGill, a Scottish merchant whose bequest in 1813 established the university's predecessor, the University of McGill College (or simply McGill College); the name was changed to McGill University in 1885. McGill's main campus is located on the slopes of Mount Royal in downtown Montreal, with a second campus located 30 kilometers (19 miles) west of the main campus in Sainte-Anne-de-Bellevue, also on Montreal Island. Along with the University of Toronto, the university is one of only two universities outside of the United States that are members of the Association of American Universities, and it is the only Canadian member of the World Economic Forum's Global University Leaders Forum (GULF).
McGill university has the highest overall entering grades of any Canadian university and offers degrees and diplomas in over 300 fields of study. The five main faculties, Humanities, Technology, Medicine, Engineering, and Management, enroll the majority of students. McGill's student body is the most geographically diverse of any medical-doctoral research university in Canada, with 30% of students coming from over 150 countries. McGill is regularly ranked among the top 50 universities in the world and among the top three universities in Canada in all major rankings. It has topped the annual Maclean's Canadian University Rankings for medical-doctoral universities for the past 16 years.
Why Study in McGill University
The college promotes and supports a university-wide research excellence atmosphere in which faculty are motivated and challenged to expand the limits of information formation. They encourage science leaders in Canada and around the world to join us in advancing knowledge exploration and translating findings into meaningful benefits for society on a global scale. McGill is the research community's voice and makes the most efficient and productive use of intellectual, financial, and physical capital in order to promote a culture of research excellence across the university. Their aim is to become Canada's leading research-intensive university and a central player in the growth and advancement of national and international research and technology initiatives. They are one of the pioneers in developing a research atmosphere that is second to none in the world for the development of socially important research that is a global leader.
Royal Institution for the Advancement of Learning
The Royal Institution for the Advancement of Learning (RIAL) was established in 1801 by an act of the Legislative Assembly of Lower Canada called An Act for the Establishment of Free Schools and the Advancement of Learning in this Province (41 George III Chapter 17).
McGill College
James McGill, a successful merchant and slave owner in Quebec, was born on October 6, 1744, in Glasgow, Scotland. He matriculated at the University of Glasgow in 1756. McGill soon after left for North America to investigate business opportunities. He left his "Burnside farm," a 19-hectare (47-acre) tract of rural land, and 10,000 pounds to the Royal Institution for the Advancement of Learning between 1811 and 1813.
Despite receiving its Royal Charter in 1821, McGill College remained dormant until 1829, when the Montreal Medical Institution, established in 1823, became the college's first academic unit and Canada's first medical school. In 1833, the Faculty of Medicine received its first degree, a Doctorate in Medicine and Surgery, which was also Canada's first medical degree.
Women's education at McGill began in 1884 when Donald Smith (later Lord Strathcona and Mount Royal) began funding separate lectures provided by university staff members for women. In 1888, the first women's degrees were awarded at McGill. The Royal Victoria College (RVC) opened as a residential college for women at McGill in 1899, under the leadership of Hilda D. Oakeley. k
These are the courses offered
Agricultural & Env.Sc.-Dean (17)
Agricultural Economics (22)
Air and Space Law (19)
Anesthesia (1)
Anatomy and Cell Biology (37)
Animal Science (58)
Anthropology (199)
Architecture (112)
Art History & Communications (170)
Arts & Science Admin (Shared) (14)
Arts – Dean's Office (26)
Atmospheric & Oceanic Sciences (69)
Bieler School of Environment (35)
Biochemistry (38)
Bioengineering (35)
Biological & Biomedical Engr (10)
Biology (138)
Biomedical Engineering (31)
Bioresource Engineering (109)
Career & Professional Develop (396)
Chemical Engineering (80)
Chemistry (123)
Civil Engineering (107)
Commun Sciences & Disorders (61)
Comparative Law (30)
Computer Science (121)
Dentistry (218)
Diagnostic Radiology (1)
Earth & Planetary Sciences (97)
East Asian Studies (156)
Economics (148)
Education – Dean's Office (71)
Educational Counselling Psych (255)
Electrical & Computer Engr (220)
French Language & Literature (157)
French Language Centre (42)
Geography (136)
Gerald Bronfman Dept Oncology (7)
Grad & Postdoc Studies (Dean) (11)
Health Sciences Education (4)
History and Classical Studies (402)
Human Genetics (45)
Human Nutrition (110)
Information Studies (74)
Ingram School of Nursing (152)
Inst for Gender, Sex & Fem St (33)
Inst for the St of Development (24)
Inst Public Life-Arts & Ideas (4)
Inst. of Global Food Security (1)
Institute for Aerospace Eng. (4)
Institute for Study of Canada (34)
Integrated Studies in Ed (395)
Islamic Studies (132)
Jewish Studies (144)
Kinesiology and Physical Ed (128)
Language & Intercultural Comm. (143)
Languages, Literatures, Cultures (429)
Law (265)
Linguistics (92)
Management (575)
Mathematics and Statistics (186)
McGill Writing Centre (36)
Mechanical Engineering (118)
Medical Physics Unit (20)
Medicine (102)
Medicine and Health Sciences (88)
Microbiology & Immunology (52)
Mining & Materials Engineering (194)
Music Research (272)
Natural Resource Sciences (108)
Neurology and Neurosurgery (38)
Neuroscience, Integrated Pgm (3)
Obstetrics & Gynecology (1)
Occupational Health (28)
Ophthalmology (1)
Otolaryngology-Head/Neck Surg. (9)
Parasitology (37)
Pathology (13)
Pediatrics (4)
Performance (354)
Personal & Cultural Enrichment (1)
Pharmacology and Therapeutics (45)
Philosophy (131)
Phys and Occ Therapy (216)
Physics (109)
Physiology (63)
Plant Science (64)
Political Science (175)
Psychiatry (39)
Psychology (204)
Quantitative Life Sciences (17)
Redpath Museum (8)
Religious Studies (226)
School of Public Policy (31)
Science (15)
Social Studies of Medicine (17)
Social Work (113)
Sociology (140)
Student Services (1)
Surgery (48)
Translation (101)
Trottier Inst Sust, Engineering &Design (7)
Undeclared (3)
Urban Planning (72)
Education
McGill University's mission is to advance learning and information development and dissemination by delivering the best possible education, undertaking research and academic activities that meet the highest international standards and providing service to society.
Research
McGill University Library supports teaching, learning, study, and community service by offering outstanding collections, access to the world of information, outstanding service, and a suitable library atmosphere, all of which are client-focused and sensitive to the McGill community's needs.
Career
The Career Planning Service (CAPS) provides seminars, individual advising, a robust job posting service, and an extensive Career Resource Centre to assist students with their career growth and quest for permanent, part-time, and summer employment, as well as internships.
Campus life
Our downtown campus is accessible by public transportation (McGill metro station or bus), bicycle, or foot. Parking on campus is restricted if you have a vehicle. Please plan on parking off-campus.
Student services
Providing high-quality, easily accessible programs to McGill students on the downtown and Macdonald campuses, easing their transfer, re-entry, and academic growth. We are here to assist students in addressing hurdles that may be impeding their ability to have a good and enjoyable learning experience at McGill in any program.
To improve the quality of student life, working with the University as a whole and its different levels of government (e.g., student leadership, the Student Life and Learning Group, the Dean of Students, the Ombudsperson for Students, Senate and committees, and central administrative officers).
Accreditation
 Canadian undergraduate medical education programs are jointly accredited by the Committee on Accreditation of Canadian Medical Schools (CACMS) and the Liaison Committee on Medical Education (LCME) in the United States. A survey team visits each medical program onsite at least once every eight years on behalf of these accrediting bodies.
Housing services
We acknowledge that students come to us from a variety of ages, social, cultural, and other contexts, each with their own set of needs. They may have a wide range of physical and emotional abilities. Students can also identify as belonging to a gender or sexual orientation spectrum. This is by no means an exhaustive list, but it does represent the diversity of our student body.
Library services
The Library acts as a center for students, teachers, and staff from all faculties, aiding in the motivation and stimulation of today's and tomorrow's brilliant minds. If you need private research or community workroom, a public forum to expand your viewpoints, or a quiet retreat to reflect, library spaces are here to help you achieve academic excellence.
ICT services
McGill Library has over 600 computer workstations accessible for use by McGill students, teachers, and staff, as well as visitors from the general public. Guest access gives you access to the Library's website, catalogs, and electronic services (journals, e-books, databases, and so on), but not to the Internet as a whole.
Medical services
The Student Wellness Hub has a team of qualified professionals (ranging from counselors to Local Wellness Advisors) who will work with you to reduce stress, foster self-awareness and create constructive solutions to the problems that are impeding your growth and development.
Sports facilities
 Athletics and Recreation pledge to provide students and staff with opportunities to engage in sport and physical activity in an inclusive atmosphere that values fitness, well-being, and fair play, in line with McGill University's dedication to education and creativity. We aspire to instill academic and athletic excellence, as well as the importance of maintaining an active lifestyle, in our culture.
Student clubs
Student societies are run entirely by students for students. They are here to represent you and fight for your best interests. At McGill, every student is a member of at least one society.
Housing services
Harvard University Housing (HUH) provides graduate students, staff, and workers with a wide variety of housing and real estate services.
Information on private sector rentals, hotels, and other options.
Harvard University Housing Sublets:
Harvard University Housing (HUH) does not explicitly provide short-term housing. However, we do allow qualifying Harvard Affiliates to sublet to our residents.
Accommodations for spouses, domestic partners, and children are available for graduate students who have stressful schedules.
Library services
The Harvard University Library 20.4 million volumes, 180,000 serial titles, an estimated 400 million manuscript items, 10 million photos, 124 million archived web pages, and 5.4 terabytes of born-digital archives and manuscripts make up the world's largest library. Nearly 800 library employees work in over 70 different library units to provide access to this vast collection.
ICT services
In a distributed computing system, ICF offers free academic computing and data processing tools. A broad range of applications, including Microsoft Office, PC-SAS, STATA, Smltree, Login, S-Plus, ArcView, Endnote, and anti-virus software, is available on 150 Dell PCs linked to a Novell network.
Medical services
The Emergency Room is open 24 hours a day, 7 days a week. We provide advice and care for acute physical and emotional health conditions that need immediate attention but are not life-threatening.
Sports facilities
Students, faculty, staff, and alumni are the only ones who can attend the recreation center (and their eligible family members). The Malkin Athletic Center, Blodgett Pool, Hemenway Gymnasium, QRAC, and Murr Center Fitness Room are all available to members.
Students club
Harvard students are engaged on and off-campus, with over 400 official student groups providing extracurriculars, co-curricular, and athletic opportunities in addition to academics. Whether in Harvard Stadium playing on the field or cheering on The Harvard Crimson, volunteering through organizations like PBHA, fostering entrepreneurial activities in the Harvard innovation lab, writing or editing at The Harvard Crimson or The Harvard Lampoon, or researching in one of the many labs, Harvard students are continuously learning and constantly busy!
Significant note: If you are presenting an application or have effectively presented an application for spring 2021, kindly audit these application directions to present your alumni application on the web. On the off chance that you have applied for Fall 2021 before November 3, 2020, you can check your application status here.
On the off chance that you are presenting an application for fall 2021 or a later semester, kindly cautiously survey and adhere to the application directions beneath and you are en route to turning into an alumni understudy. Need assistance? Reach us whenever. In the event that you are keen on an exploration program, we would urge you to contact expected administrators in your general vicinity of interest after you apply.
The School of Graduate Studies recognizes the significance of value, variety, and incorporation in graduate instruction. This is reflected in our variety articulation and crafted by the SGS board of trustees on variety. We are aware of the need and our job to build admittance to graduate training for all understudies, yet especially the individuals who add to the variety in our alumni programs. In the event that you are an Indigenous understudy or a Black Canadian understudy applying for admission to a doctoral program, we can offer extra backings, including an application charge waiver, to assist you with your application for confirmation.
These are the steps that need to be followed to apply
Application information and the online application form are available at
www.mcgill.ca/gradapplicants/apply
Applicants must include the names and email addresses of two teachers familiar with their academic work who are able to provide letters of recommendation in support of their application (with certain exceptions).
McGill will seek reference letters on the applicant's behalf.
All applicants must submit an unofficial copy of their entire academic record from each university-level institution they have attended so far.
Admitted students will be required to submit, or have sent to them by the relevant university authorities, an official or accredited copy of their full, final academic record from each university-level institution they have attended to date.
McGill graduates are not expected to request transcripts from the university.
Instructions for uploading or mailing official documents to McGill can be found at www.mcgill.ca/gradapplicants/apply/ready/ submit
Please keep in mind that all documents submitted to McGill University in support of an admissions application, including but not limited to transcripts, diplomas, letters of recommendation, and test scores, become McGill University's property and will not be returned to the applicant or issuing institution in any circumstances.
The online application must be followed by a non-refundable charge charged by credit card in Canadian dollars.
Every term, the fee covers up to two program options. Applicants for Special, Visiting, and Qualifying status must also complete an online application and pay an application fee. Please notice that the Student Accounts website has a list of application fees and other costs.
Since transcripts often only offer code numbers, it is recommended that applicants send a list of course titles in the main subject.
Transcripts in a language other than English or French must be preceded by a licensed translator's translation. A clarification of the applicant's university's grading system is needed. The applicant may also specify the main subject area in which they wish to pursue further research.
Individual academic unit requirements and deadlines must be met when sending applications and supporting documents, for more details check out the below link www.mcgill.ca/gradapplicants/programs
Since immigration processes can take a long time, international students are encouraged to apply well ahead of the application deadlines. McGill's graduate programs are extremely competitive, so late and/or incomplete applications are only accepted if time and space allow.
The graduate academic unit's recommendation is used to make the admission decision. The application can be confirmed by the Graduate Admissions Unit in Enrolment Services and/or reviewed by the Graduate Admissions Committee, depending on the academic standard and strength of the application, as well as any special circumstances.
Graduate and Postdoctoral Studies approve all admission offers, which are submitted to applicants electronically via Enrolment Services.
You may contact RMC Elite team to apply to McGill University.
Why Choose to Take Admission Through RMC Elite?
RMC Elite is a reputed and renowned educational institution that offers various courses in business management, IT, and engineering.
Reasons to consider taking admission through RMC Elite:
Quality education: RMC Elite offers high-quality education that is recognized globally. The faculty at RMC Elite are highly experienced and knowledgeable, and they use modern teaching methods to help students learn better.
Accreditation: RMC Elite is accredited by various accreditation bodies such as ABET, AACSB, and ACBSP. This accreditation ensures that the education provided by the institution meets the highest standards.
Global network: RMC Elite has a global network of alumni, which can be helpful in building your professional network.
Career opportunities: RMC Elite has strong connections with various industries and businesses, which can provide students with excellent career opportunities.
Flexible learning options: RMC Elite offers various learning options, such as full-time, part-time, online, and hybrid programs. This allows students to choose the learning option that best suits their needs and schedule.
Financial aid: RMC Elite offers various financial aid options, such as scholarships, grants, and loans, to help students finance their education.
In summary, RMC Elite is an excellent choice for anyone looking for quality education, accreditation, global network, career opportunities, flexible learning options, and financial aid.
Universities of Abroad