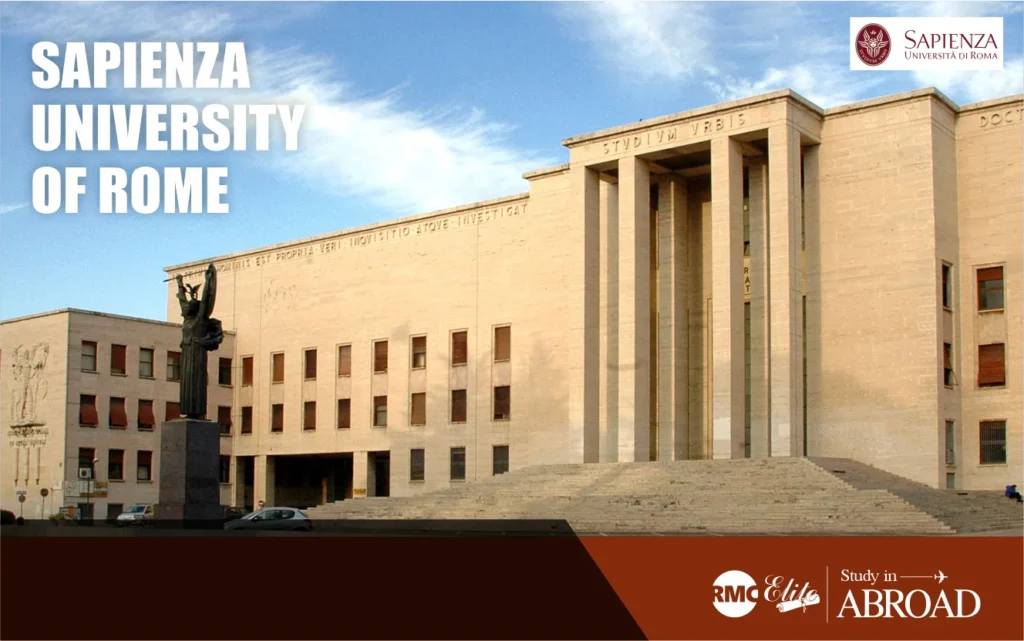 About Sapienza University of Rome
The Sapienza University of Rome was originally named Studium Urbis and was founded in 1303 by Pope Boniface. After the construction of the new building in 1660, the university began to know as Sapienza, Rome's oldest University. Now it is the largest University in Europe followed by 1,15,000 students and a nearby 4000 academic staff. This university offers 200 specialist courses of 63 departments, it also offers 250-degree programs and 59 libraries which is a number of any Italian University. It also has 21 museums. Till now the University counts 6 Nobel prize winners from their faculty and alumni.
These are the programs offered currently
Bachelor's degree Program.
Master degree courses.
First level and second level professional master.
PhDs.
Honors programs.
Professional courses.
Sapienza is divided into 12 faculties, each for various departments. Here are the following departments
Architecture
Arts and Humanities
Civil and industrial engineering.
Economics
Information Engineering, Computer Science and statistics.
Law
Mathematics Physics and neural science.
Medicine and dentistry.
Medicine and psychology.
Pharmacy and medicine.
Political science, sociology, and communication science.
School of aerospace engineering
Large Campus area
Separate boys and girls hostel
World's largest library (59 libraries)
Good quality of food in the mess
Sports complex including different sports.
Cricket Ground, Volleyball court, Basketball court, football ground, Table tennis court,
Separate boys and girls gym.
Running track.
MBA AdVenture scholarship.
MBA international scholarship, LUISS business school.
SCAR fellowship in Antarctic research.
ERCIM Alain Bensoussan Fellowship in Europe.
IAL Research Grants For Doctoral Studies.
HKADC overseas arts administration scholarships.
Department of management fellowship.
Ph.D. Positions For International Students In Neuroscience, Mathematics & Physics.
Ritchie-Jennings Memorial Scholarship Program.
For MS courses – 2 years
INR 1L – 2.6L / year
For MIM courses – 2 years
INR 2.5L / year
Admission
If you want to apply at the Sapienza University of Rome then primarily contact the Italian embassy of your region. For the students outside Italy, the applications will be examined which will be received through the embassies. After the approval of the application university will contact the student or embassy and then tell the further process of admission.
You may contact RMC Elite team to apply to Sapienza University of Rome.
Why Choose to Take Admission Through RMC Elite?
RMC Elite is a reputed and renowned educational institution that offers various courses in business management, IT, and engineering.
Reasons to consider taking admission through RMC Elite:
Quality education: RMC Elite offers high-quality education that is recognized globally. The faculty at RMC Elite are highly experienced and knowledgeable, and they use modern teaching methods to help students learn better.
Accreditation: RMC Elite is accredited by various accreditation bodies such as ABET, AACSB, and ACBSP. This accreditation ensures that the education provided by the institution meets the highest standards.
Global network: RMC Elite has a global network of alumni, which can be helpful in building your professional network.
Career opportunities: RMC Elite has strong connections with various industries and businesses, which can provide students with excellent career opportunities.
Flexible learning options: RMC Elite offers various learning options, such as full-time, part-time, online, and hybrid programs. This allows students to choose the learning option that best suits their needs and schedule.
Financial aid: RMC Elite offers various financial aid options, such as scholarships, grants, and loans, to help students finance their education.
In summary, RMC Elite is an excellent choice for anyone looking for quality education, accreditation, global network, career opportunities, flexible learning options, and financial aid.
Universities of Abroad