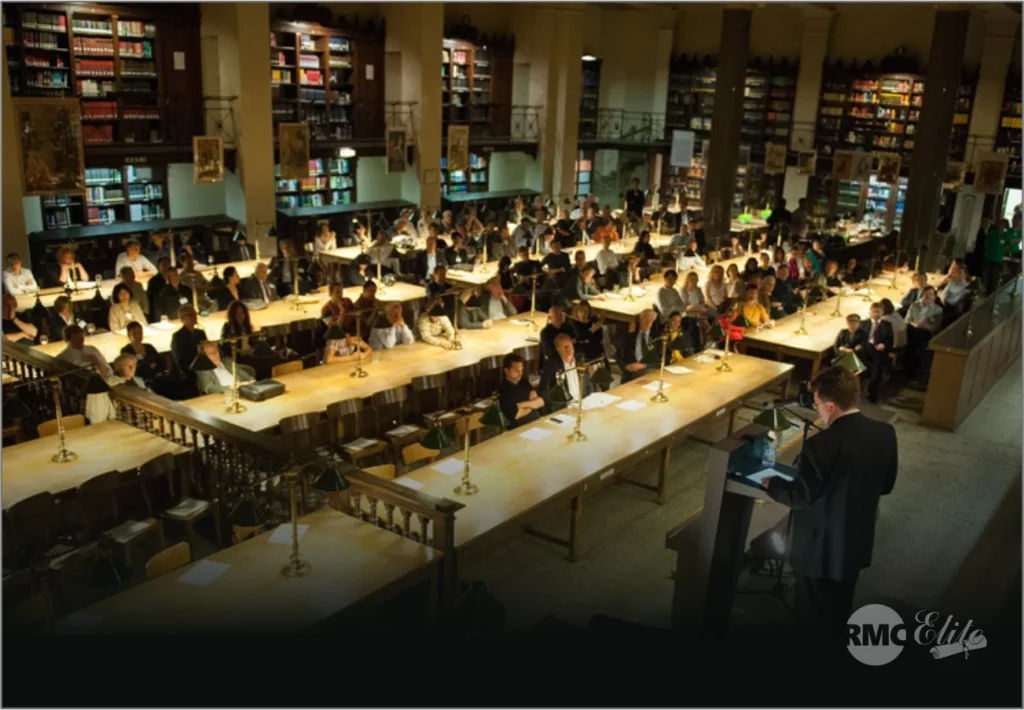 About University of Vienna
The University of Vienna (German: Universität Wien) is an Austrian public university with its headquarters in Vienna. The University of Vienna has grown into one of Europe's largest and most prestigious universities, especially in the Humanities, thanks to its long and rich history. It has been the intellectual home to many scholars of historical and academic significance, as well as 21 Nobel prize winners.
Duke Rudolph IV founded the University of Vienna in 1365. It is the world's oldest German-speaking university, as well as one of the largest in Central Europe. The University of Vienna is Austria's largest and most diverse educational institution, offering 178-degree programs, 40 university continuing education and training programs, and approximately 45,000 active students. The University of Vienna is Austria's largest teaching and research institution, with a workforce of approximately 7.000 academics. Its aim is to support a wide range of studies while also supporting new and emerging fields of study and forming new topic networks. The University of Vienna has joined ERASMUS-Partnerships with over 300 European universities. Every year, over 10,000 students from over 130 countries attend lectures at the University of Vienna.
The Vienna Master of Arts in Human Rights is designed to provide foreign students with the scientific expertise and practical skills needed to work as a human rights specialist in a variety of settings. A field trip to a post-conflict zone, visits to international organizations, and a required internship/research semester provide opportunities to learn about human rights work in action.
The Vienna Master of Arts program is fully accredited. The MA degree is completely accepted and transferable to other private and public universities. The curriculum consists of 9 compulsory modules (95 ECTS), a Master thesis (20 ECTS), and thesis defense (5 ECTS), for a total of 120 ECTS.
Why Study in University of Vienna
The University of Vienna establishes a shared collaboration forum for those working in the field of operations research at the university. Their collaboration improves the flow of knowledge between departments and stakeholders, as well as the organization's international networking capabilities. The University of Vienna strengthens departmental cooperation in terms of teaching initiatives and institutional (e.g., High-Performance Cluster) operations.
The faculty, its students, and its researchers all benefit from better staffing and resource distribution. Improved research performance and greater incorporation into the international scientific community would support the faculty. Students would have access to an even greater number of advanced and outstanding lectures. Furthermore, the researchers will have the opportunity to work on a shared forum with researchers from the University of Vienna, other Vienna universities, and other parts of the world.
Via partnerships or ventures, the center will increase its chances of obtaining external funding. On a national and international level, the center will assist researchers in creating third-party-funded research projects and partnerships. The center will also provide project administration support and serve as a participant in various projects on its own.
Researchers and researchers will benefit from cross-faculty research workshops and summer schools for Masters and Ph.D. students. Ph.D. and Master's students can learn from a number of experts in different fields of operations research about implementation and theory.
Vienna, Austria is host to the University of Vienna. It is one of the oldest universities in the German-speaking world, having been established in 1365. The University of Vienna has developed into one of Europe's largest universities thanks to its long and rich history.
The program management office and all lecture rooms are situated in Vienna's city center. Near the lecture rooms and program, office are supermarkets, canteens, restaurants, hairdressers, print shops, and doctors/health care services.
Student Services
 The university provides students with an exclusive study room with free access to a printer, photocopy machine, scanner, coffee/tea, and a small library with human rights literature.
Housing services
 Although the University of Vienna does not operate student residences, there are several student homes and private accommodations throughout the area.
Library services
 A small library of selected human rights literature is available at the Vienna Master of Arts of Human Rights. During open hours, the University of Vienna's 40 libraries have workrooms, free Wi-Fi, and electronic and print literature.
ICT services
 The University provides a comprehensive package of IT services through "u: net," including access to Wi-Fi and public computer facilities on campus, e-mail, u: space (access and download services for study-related information), and printing. The Vienna Master of Arts in Human Rights students have exclusive access to a study room with computers, as well as free use of a printer/photocopier and scanner.
Sports facilities
 Successful students can enroll in a variety of courses ranging from Aerobics to Zen Meditation at the University Sports Institute (USI).
1.Natural Sciences & Mathematics
Master – Banking and Finance
M.Sc. – Botany
Master – Ecology, and Ecosystems
Master – Evolutionary Systems Biology
Master – Mathematics
Master – Middle European Interdisciplinary Cognitive Science
Master – Molecular Microbiology, Microbial Ecology and Immunobiology
Master – Physics of the Eart
    2.Social Sciences
Master – Anglophone Literatures and Cultures
Master – Banking and Finance
Master – Communication Science
M.A. – East Asian Economy and Society
Master – Economics
Master – Middle European Interdisciplinary Cognitive Science
Master – Philosophy, and Economics
M.A. – Science – Technology – Society
     3.Environmental Studies & Earth Sciences
Master – Ecology, and Ecosystems
M.Sc. – Environmental Sciences
Master – Physics of the Earth
     4.Humanities
Master – Anglophone Literatures and Cultures
Master – English Language and Linguistics
Master – Philosophy, and Economics
     5.Arts, Design & Architecture
Master – Media Informatics
Master – Urban Studies
    6.Medicine & Health
Master – Drug Discovery and Development
Master – Health and Physical Activity
    7.Business & Management
Master – Banking and Finance
     8.Computer Science & IT
Master – Computational Science
    9.Engineering & Technology
M.A. – Science – Technology – Society
   10.Hospitality, Leisure & Sports
Master – Health and Physical Activity
   11.Journalism & Media
Master – Media Informatics
Admission Requirements
To apply for the MSc in Quantitative Finance, you must meet the minimum application criteria and demonstrate your aptitude for the program. Your application will be denied if one or more of the necessary proofs are missing.
Minimal requirements for application criteria:
1.Bachelor's degree in a relevant field:
Completion of a related Bachelor's program or other equivalent degree program at a recognised Austrian or international post-secondary institution, or enrollment in such a program.
The completed curriculum must meet the following conditions to be considered relevant:
Remarkable A bachelor's degree or an equivalent degree program is required (worth at least 180 ECTS credits). The Vienna University of Economics and Business's Bachelor's Program in Business, Economics, and Social Sciences is considered significant.
Exams in the following subjects must be registered if you apply for an identical degree program
Business administration/economics/finance, worth a minimum of 60 ECTS credits
OR
Mathematics/statistics/computing, worth a minimum of 45 ECTS credits
Note that completion of this program is not needed at the time of application; proof of completion of your first-degree program is not required until after you have been accepted into the program. Nonetheless, the above specifications must be recorded in the uploaded documents.
2.Achievement Possibilities
(Below are some examples of how to demonstrate the capacity for success):
GMAT Exam/GMAT Online Exam (official or unofficial GMAT score report) and/or
GRE (Graduate Record Examination) and/or SAT (Satisfactory Achievement Test) scores must be valid.
Letters of recommendation outlining the achievement potential, written by a course instructor, an advisor or supervisor of an academic thesis, or the educational institution where the course or courses were taken or the academic thesis was written.
A mission statement (in addition to one of the above-listed proofs)
3.English Proficiency
English should be the first language
The entire Bachelor's degree is completed in English (at least three years, university confirmation required)
The master's degree is completed entirely in English (at least two years, university confirmation required)
One of the following certificates is valid TOEFL, IELTS 7.0, TOEIC.
Cambridge English: CAE, CPE or BEC Higher, UNIcert III
A certificate from a university language department stating that the applicant has met the Common European Framework of Reference for Languages level C1.
Thecertificate must indicate that you took at least one exam to determine your reading, writing, listening, and speaking abilities. These skills should correspond to level C1 or higher according to the CEFR.
Course transcripts or confirmations of your overall language skills or specific language courses will not be considered as evidence of language proficiency. If you're not sure if your language certificate meets these requirements, take one of the above-mentioned standardized exams.
This requirement is already fulfilled by graduates of WU's Bachelor of Business Law and Bachelor of Business, Economics, and Social Sciences programs.
4.Additional skills and knowledge
Business management, economics, and finance skills and information
Mathematical and mathematical expertise and information.
You may contact RMC Elite team to apply to University of Vienna.
Why Choose to Take Admission Through RMC Elite?
RMC Elite is a reputed and renowned educational institution that offers various courses in business management, IT, and engineering.
Reasons to consider taking admission through RMC Elite:
Quality education: RMC Elite offers high-quality education that is recognized globally. The faculty at RMC Elite are highly experienced and knowledgeable, and they use modern teaching methods to help students learn better.
Accreditation: RMC Elite is accredited by various accreditation bodies such as ABET, AACSB, and ACBSP. This accreditation ensures that the education provided by the institution meets the highest standards.
Global network: RMC Elite has a global network of alumni, which can be helpful in building your professional network.
Career opportunities: RMC Elite has strong connections with various industries and businesses, which can provide students with excellent career opportunities.
Flexible learning options: RMC Elite offers various learning options, such as full-time, part-time, online, and hybrid programs. This allows students to choose the learning option that best suits their needs and schedule.
Financial aid: RMC Elite offers various financial aid options, such as scholarships, grants, and loans, to help students finance their education.
In summary, RMC Elite is an excellent choice for anyone looking for quality education, accreditation, global network, career opportunities, flexible learning options, and financial aid.
Universities of Abroad